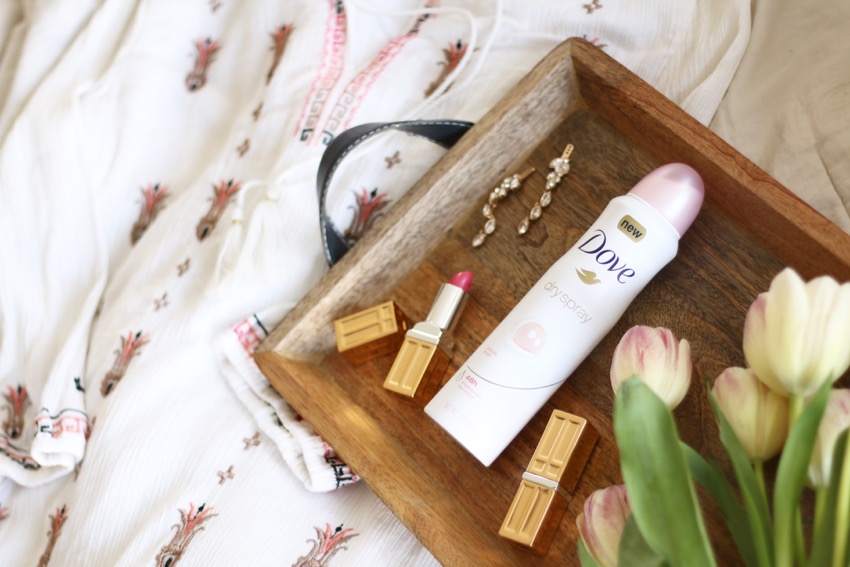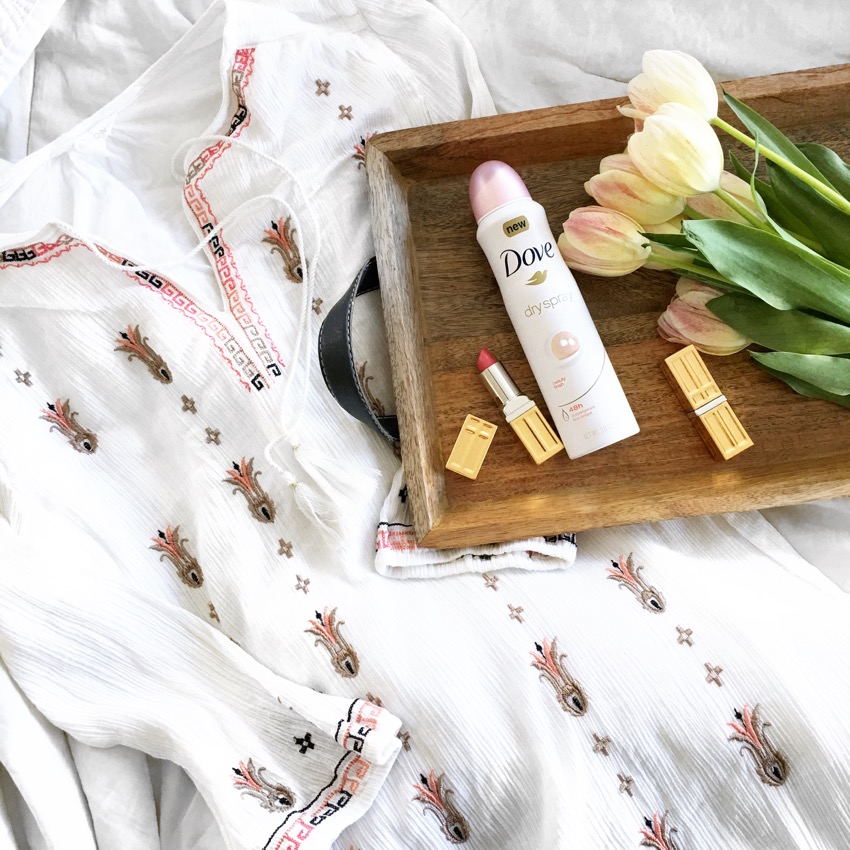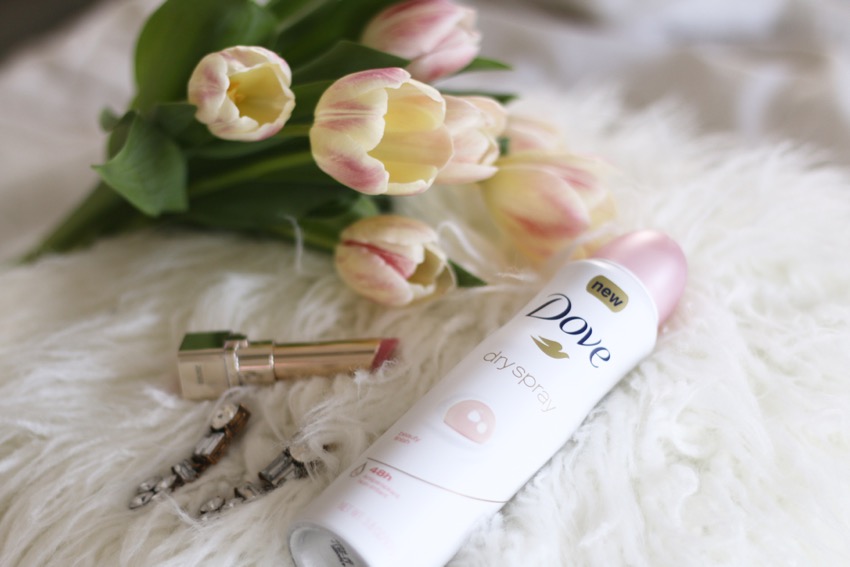 You know how we women go a million miles an hour? Yeah, well I need all the help I can get and that's where Dove Dry Spray Antiperspirant saves the day! I'm so excited to partner with Dove and share with you guys Dove Dry Spray Antiperspirant! I feel like I'm constantly on the go. Whether is chasing my 2 year old around the house begging him not to draw on the walls or running around town trying to get thousands of things done I don't get a break. I'm just going to put it out there and say – I'm a huge sweater! So I'm always down for a good Antiperspirant and one that seems good is simply a plus!
I love Dove's Dry Spray Antiperspirant! I have the Beauty Finish and it smells heavenly! Not only does it smell amazing it keeps me bone dry all day long! I have 2 and keep one in my car if I ever feel like I need a little freshening up but honestly if I use it once in the morning that's plenty! I love the Dove Dry Spray Antiperspirant because it is instantly dry, no visible residue anywhere, last me 48 hours, and has great wetness protection! I also love that Dove is so soft on the skin to leave me with softer smoother  under arms. The cherry on top is that I don't have to worry about waiting to put my clothes on and as a busy mom that's a huge bonus (we all know there is no time to wait).
I like to keep my days as planned out and scheduled as possible. Although, most days don't run as "scheduled" I find that preparing my day the night before helps! I try to lay my clothes out the night before based on what I will be doing the next day and I always add a couple of my morning essentials such as Dove Dry Spray Antiperspirant. Nothing beats assurance that you will stay fresh all day ready to handle whatever life throws at you!
Dove Dry Spray Antiperspirant is the latest beauty trend and you guys don't want to miss out! I love sharing great products with you guys and this is one of my top! Go to Dove.com/TryDry to find out more about the product.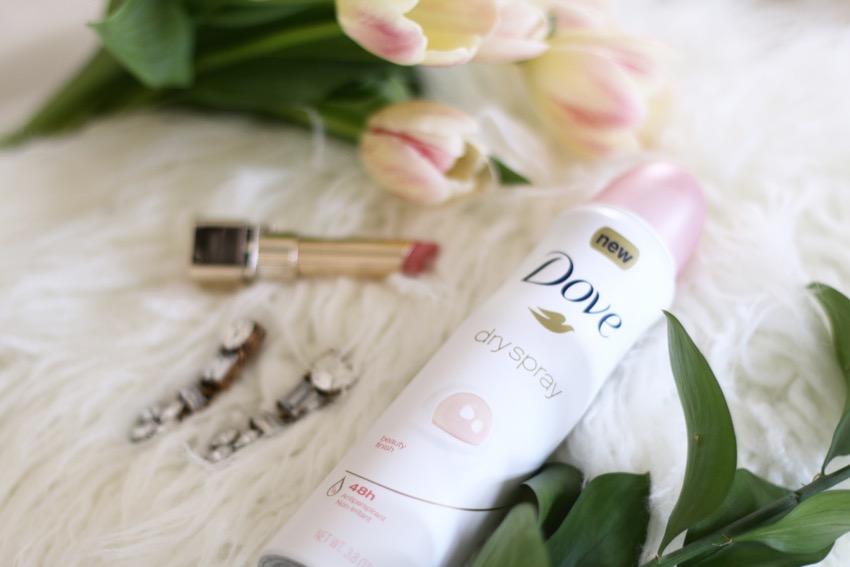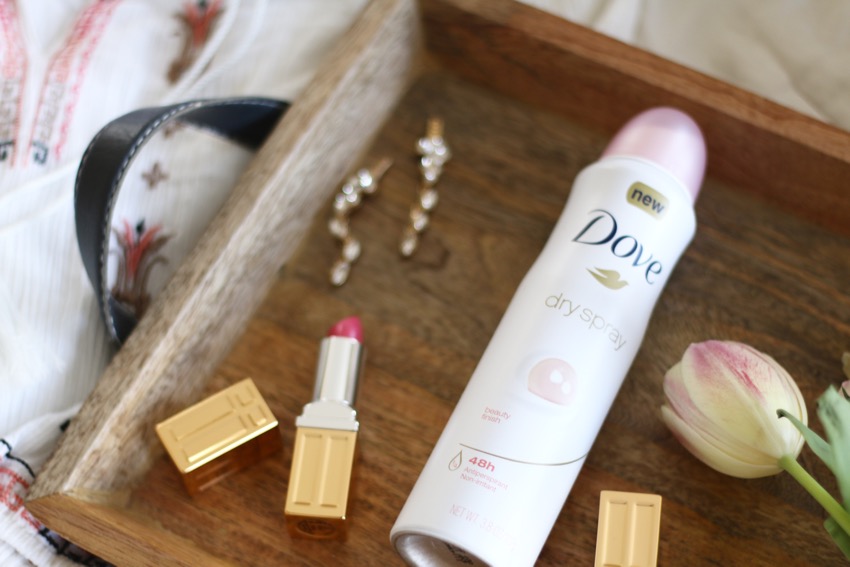 Thank you Dove for sponsoring this post! Note: All opinions and wording are my own. #trydove