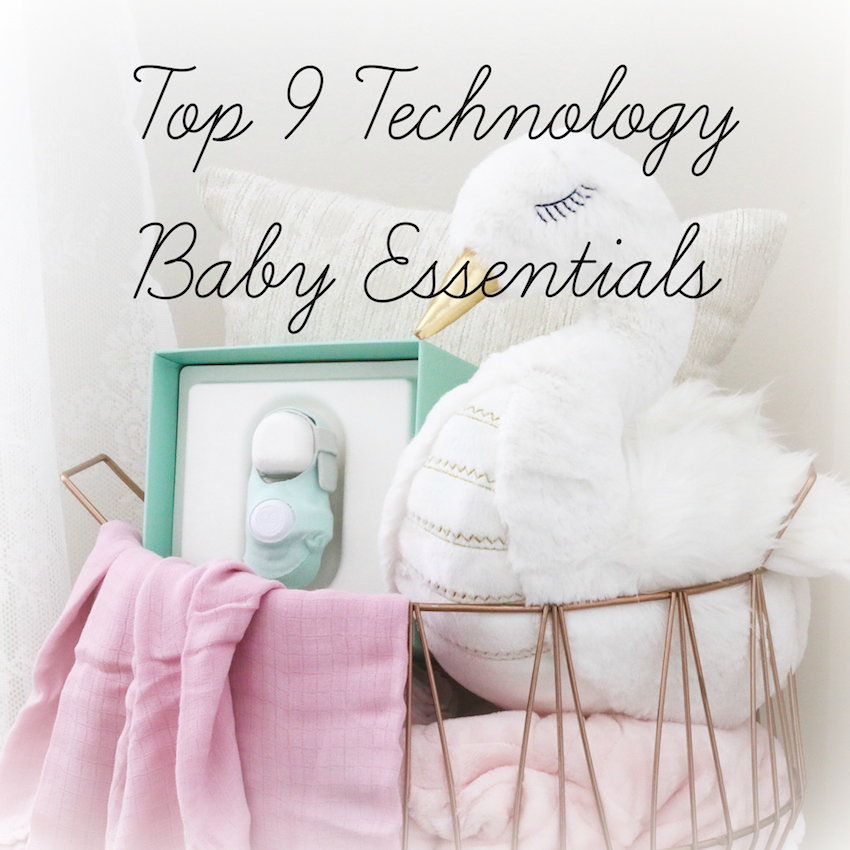 I'm so excited to bring you guys this post! It has been in the making for awhile and with Baby Girl coming soon the timing seemed perfect! I have made a list of 9 Tech Baby Essentials that I'm in love with and swear by! I have SO many baby favorites so I wanted to break them up into categories! This is the "Technology" segment but I will do a couple other segments of baby essentials! I have linked every single product I've mentioned but if you guys have any additional questions email me (in the contact form at the top right) or comment and I will get right back to you!
the swan can be found right here
9 Tech Baby Essentials
I am so excited to have the Owlet this time around with baby number 2! Mason did not start sleep consistently through the night until he was 13 months! So on the odd occasion he would sleep a longer stretch one night or through the entire night I was still up checking on him to make sure everything was ok. You know that evil little mom voice in the back of your head that tells you to check? Yeah, that one. Not the sweet 'mother's instinct' – the voice that doesn't want you to sleep and causes your body to loose sleep just because. Same exact thing with napping. He would nap decently but if it ever went over the usually time I would try to sneak into his room and check on him, HE WAS FINE! I just woke him every time #momfail – to think about all the extra hours I could have accumulated of sleep & rest if I just had the Owlet.
Okay, with all joking aside. This is a MUST HAVE PRODUCT! The Owlet simply said, is a Smart Sock that is designed to alert you if your baby stops breathing. It has the same technology hospitals use, pulse oximetry which is proven to be safe & very accurate. It is as easy as placing the fitted sock on your baby's foot while they are asleep and it monitors their heart rate & oxygen levels. The Owlet has an independent base that you can move around the house and also connects to smart phones. All in all, I'm so excited & relieved to have a product like this to use with the new baby! For more stories & testimonials check out their website Owlet & for FAQ. It is also the most amazing gift! So if you guys are looking for gift ideas or have grandparents probing for ideas what better gift than an Owlet? Put it on your list friends, peace of mind is priceless.
Also to all my readers they are giving at $25 off! So there is no excuse to keep your little on safe! Click HERE to receive $25 off!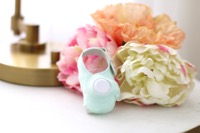 I am all for doing what's best for your baby & yourself but with that said I'm also huge for breastfeeding & breast milk! I nursed Mase until he was 1. While it wasn't always the most convenient at times it was one of my favorite things & the benefits are unbeatable. I am also big on pumping. I like my freedom just like the next person and I felt that pumping gave me just that. Most times before I fed Mase I would set my pump up so after he was finished nursing I would get on the pump and pump out whatever was left over. This allowed me to build up my milk supply & also allowed my husband to feed him bottles which they both loved. I got the Medela Pump in Style from my insurance and I LOVED it! I never once had a problem with it and I loved being about to do each side at the same time. It might be a little more pricey than some but I'm telling you it's worth it! I'm excited to have it and use it again. NOTE: I also used Fenugreek to help my milk supply at times. If you have trouble with not having enough milk make sure you are consistently nursing & pumping then add Fenugreek, it will help.
Babies can be a little stuffy especially when they are so little so I made sure to have a Humidifier & we still use it to this day! Utah is so dry but they are just nice to have either way. I have been using the Drop since Mase was born and swear by it! It's easy, small, and powerful – perfect for any nursery. It also comes in a variety of colors!
Want to stalk your baby? I do! I love this monitor! Sometimes I simply want to check on Mase (see if he's climbed out of his crib) or when he was younger I wanted to see if he got out of his swaddle, rolled over, and simply entertaining himself. Funny how we put them to bed and then stare at them isn't it? Oh the irony. But I do love this monitor! My favorite thing about it is the Wi-Fi! I could put Mase down for a nap and if my husband would be working from home that day I could run to the store check on him the whole time. So in the chance that he would wake up I could hurry home. It's perfect! Highly recommended!
Anyone up for "shhhhing" all night or sing lullabies? Yeah me either. This little Soother has been a lifesaver! Especially when Mase was super young he loved the soft lullabies & shhhh noise. We also use a small fan from time to time for a soft soothing sound. Either way babies do great with some sort of comfort noise & the lamb is just too perfect!
 This would be at the very top of my list for any of you breastfeeding/pumping mothers! It's less than $50 but seriously I would pay $500 for it! It's a portable breast pump powered by batteries! I cannot tell you the countless times I pumped in the car (as a passenger), at friends homes, or out and about if I was starting to get engorged. It fits so easily in any purse! My favorite story is pumping in the streets of Paris. My husband and I took week long trip to Paris when Mason was 6 months old & we left him with Nana. I had pumped enough milk bags for him while we were gone (almost 100 – crazy) so he was set but I wanted to keep breastfeeding once we got home. So I took the handy dandy Evenflo with me everywhere we went and would literally walk and pump in the streets of Paris! I vividly remember walking the Champs de Elysees and pumping under my sweater. Yes, I had to pump and dump which was heartbreaking but I was able to come home with the same milk supply. This is a must have! You guys will not regret it!
This goes hand in hand with the breast milk. When we were on the go I always kept a little cooler on a pumped bottle in it. Mase wasn't too picky about it being cold but I always wanted it a warm for him so I would time it right and if we were going somewhere plug the bottle warmer into the car. By the time we got there his bottle we be lukewarm and perfect for the taking! It's these small and simple things that make our lives so much easier and helpful for the babies!
I love this gadget. Nothing is worst than having a sick little one and them moving all over so you can't get an accurate temperature. This is so easy. I just slide it over Mase's forehead and it instantly reads the temperature. He doesn't even notice, it's heavenly.
This might seem silly but we love it in our house. I remember the diaper changes in the middle of the night and was so grateful for warm wipes! Mason never even noticed them – in a good way! The only time he would notice was if the wipes weren't warm and would be cold on his little bum then it would wake him up. Maybe we spoiled our kid but hey I will take anything to make them more comfortable and my life easier. It's a small price to pay for the comfort of the baby and I love this container! I keep the wipes so moist no worrying about them drying out!
9 Tech Baby Essentials