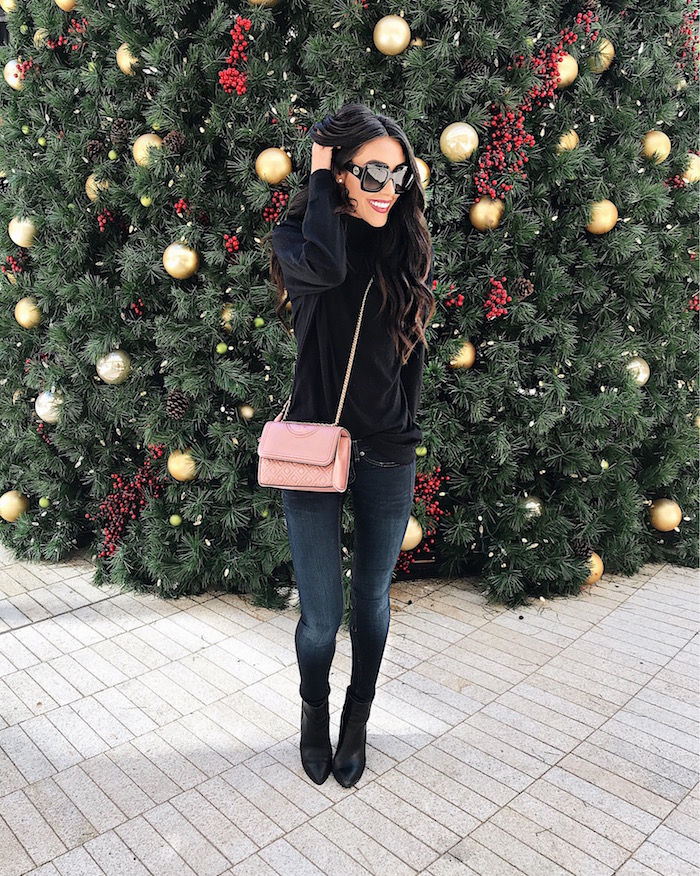 I hope everyone had the best Thanksgiving filled with the yummiest food and even better quality time with family! I loved having my family over for the holiday! We were crammed into the kitchen to make Thanksgiving dinner, played games and then heading to Park City for the Black Friday sales. I am so grateful for my family, friends and the opportunity I have to do what I love and share my passion of blogging with all of you! I was able to find some amazing deals this year that I can't wait to share with you all!
I seriously found the most amazing goods at Abercrombie! They had the most adorable sweaters and jackets for fall/ winter. They are a total blast from the past and have totally redone their style! I worked at Abercrombie all throughout high school and it was my favorite job, ever!
I have been looking for some super comfy workout gear that is also really cute to wear out and about! The light pink sneakers have been some of my favorite shoes for the gym and to throw on when I am running out of the house! Catch these shoes at a slammin' deal!
To say Anthropologie was packed today is an understatement! The line was OUT THE DOOR with their 30% off everything deal! I love stocking up and their decorative dishes! They are so fun to put out for a party of family dinner. Also the candles Anthro has are sooooo yummy and perfect for a holiday gift!
J.Crew is just so classic and timeless. They have some great pieces that can be worn for years and years. Their quality is amazing which is super important when you're planning on dropping a pretty penny on a jacket or sweater.
I found some gems today at Nordstrom! They had tons of cozy sweaters for sale and such a good beauty sale! Their Black Friday sale is going on for a few more days, so make sure to take full advantage of it. It is a great time to grab holiday gifts for friends and family! Alsooo, if you haven't, you need to try the Raspberry Italian soda from Nordstrom cafe! It is so yummy and refreshing!
I have been a huge fan of Old Navy since I can remember! I love that they have clothes for men, women and for my babies! I picked up some ridiculously comfy pjs, a long cardigan that will be cute with distressed jeans and a t-shirt, and a few other staple items that I can't live without.
Sephora was hopping today!! Seriously, it was so busy but of course it was because they always have the best beauty items under $15 right when you walk in! I grabbed some gorgeous berry lip shades, and blushes for some holiday looks I want to put together for you guys!
Don't forget to go checkout more updated deals at this post:
HAPPY SHOPPING! XO