I want to start by saying thank you guys so so much! I have gotten a flood of emails and dm's about how helpful yesterdays post has been! As time goes on I will continue to update it so it can be a source for you guys to continue to shop easily & the latest finds! This is why I love to blog! Sometimes it can get so busy, exhausting, and I ask myself "Why am I doing this?" but this is why! Sharing my favorites, my tips, my insights that help me through this momma life!
Back to why we are here- with all the response from the Apparel Post I was even more excited to bring you guys 13 Dollar Store Finds & Hacks For Disney!
You guys know I love a good dollar store almost as much as I love a good drug store! I'm a trinket lover what can I say! So when I go to a dollar store and find Disney treasure I basically walk out feeling as if I made out like a bandit! We all love Disney but know that stuff ain't always cheap (but worth it). Note: THIS IS NOT A SPONSORED POST! Simply wanted to share my love!
So, in today's post I'm making a list of things that are available at the dollar store and that are worth grabbing before you even leave for your trip so you can take advantage of these 13 Dollar Store Finds & Hacks For Disney.
. I'm also going to add a couple things at the end that aren't necessarily dollar store items but that can save you a little money! Also I usually pack a special bag for the plane with that is Disney themed that they can play with. I also do a little gift package that I put on their beds before they get into the hotel room (I run up there 10 minutes before) of little things I find that they love all trip!
I want to preface this list by saying this is a mix of practical items & ones to make it extra special for the kids, over the top, mom of the year kind of thing!  In no particular order:

 LIST FOR THE 13 Dollar Store Finds & Hacks For Disney
1. Glow Sticks + Wands
So I feel like I hit the Jackpot here! It was the first time I've seen Disney themed Glow Sticks so I grabbed some! Normally I get a pack (pack of 20 for $1 crazy) of the necklace glow sticks and Mason is so happy with those when the parade starts! It's also fun because we hand them out to whoever is sitting around us! Saves us from buying those $20 spinning light up toys that always slap me silly in the face or my hair gets tangled in (but they are cool). They also have fun flashlights!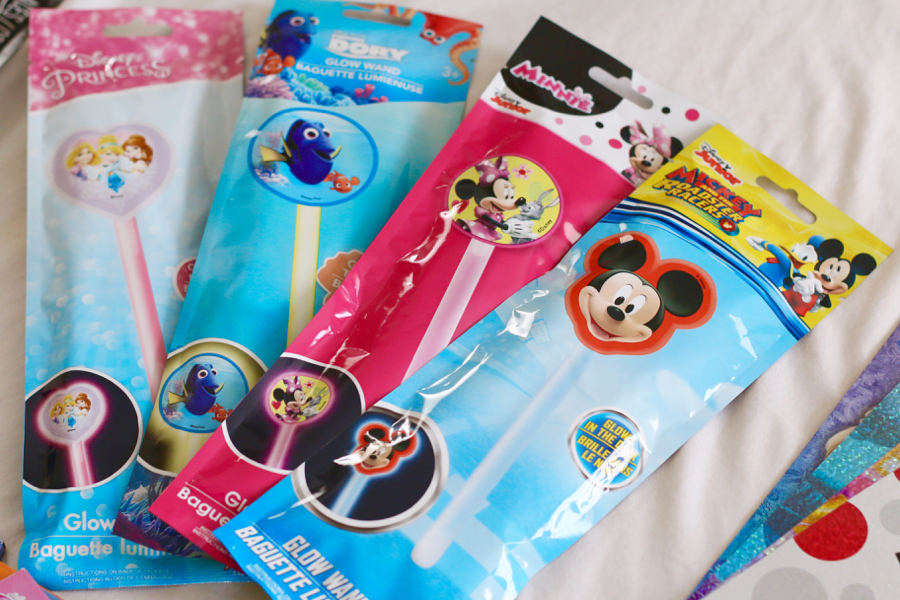 2. Stickers
This is more for the bag I pack for the kids but Mason loves stickers and loves to put them on everything! A pack of Lightning McQueen stickers puts a lightning volt smile on my baby's face!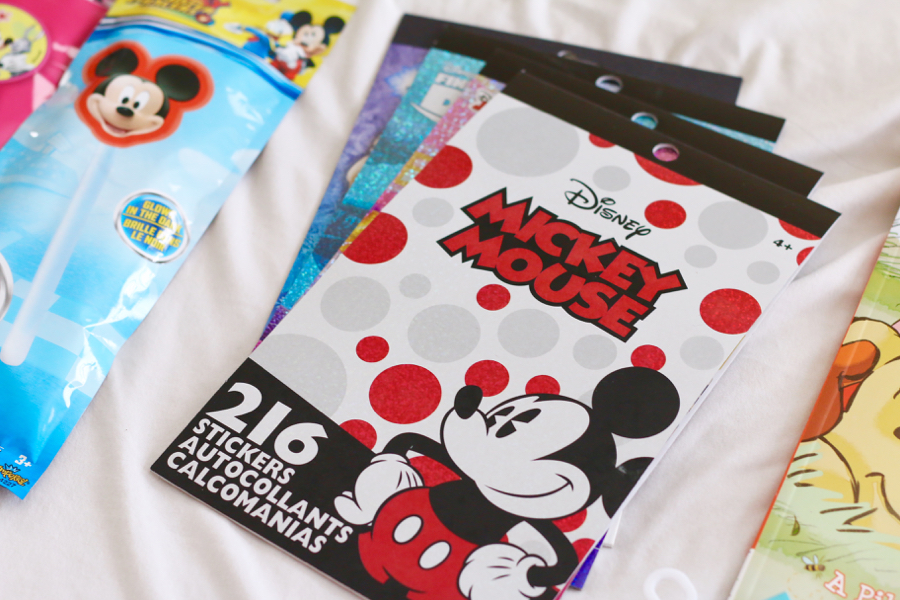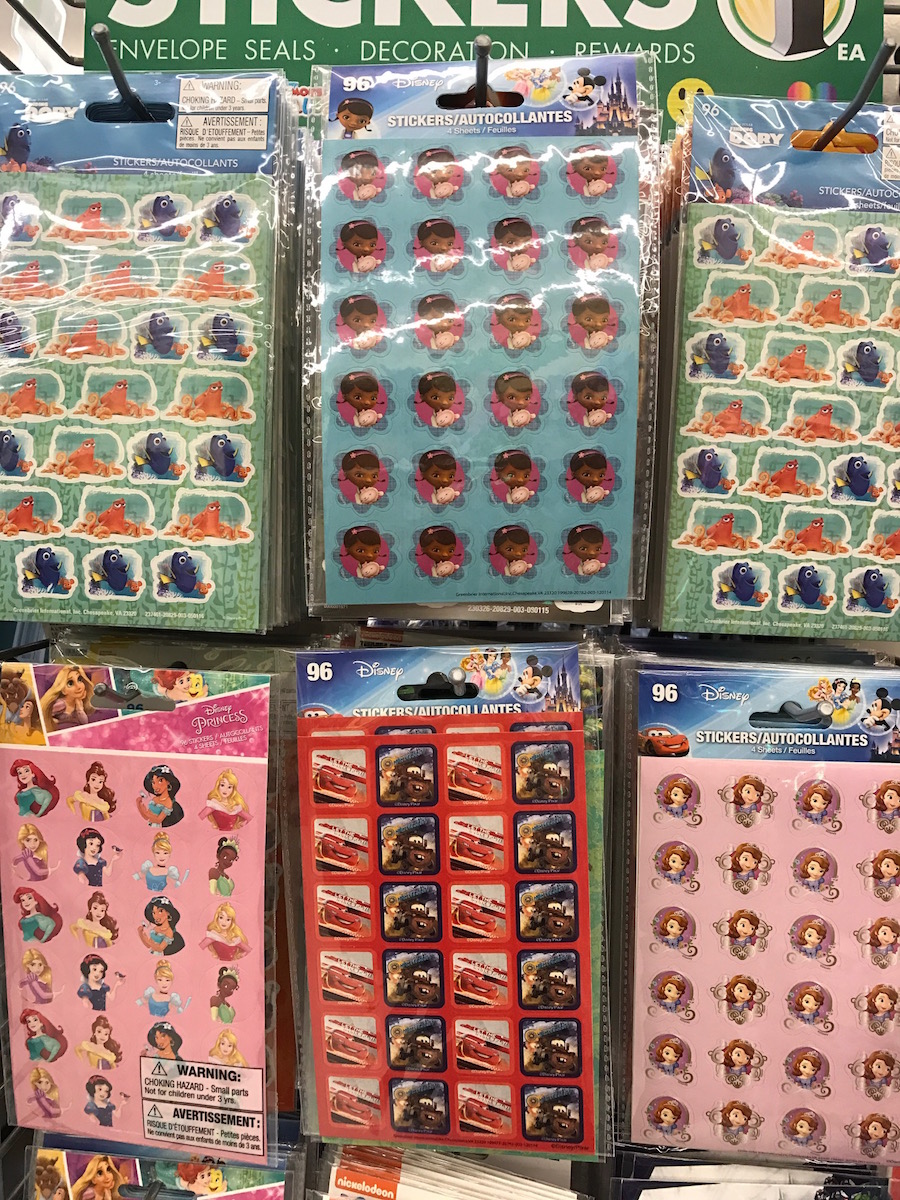 3. Birthday Supplies! 
We took Mason to Disney for his 2 birthday (I know, young but he loved it) and I decorated the room for him! I had Trev & him wait in the lobby for 10 minutes while I hurried up there and put some stuff up! All for the dollar store! Disney does offer a service that does this for you (which is amazing) but it's a little pricey! So if you have time & plan ahead do it! He still talks about it to this day!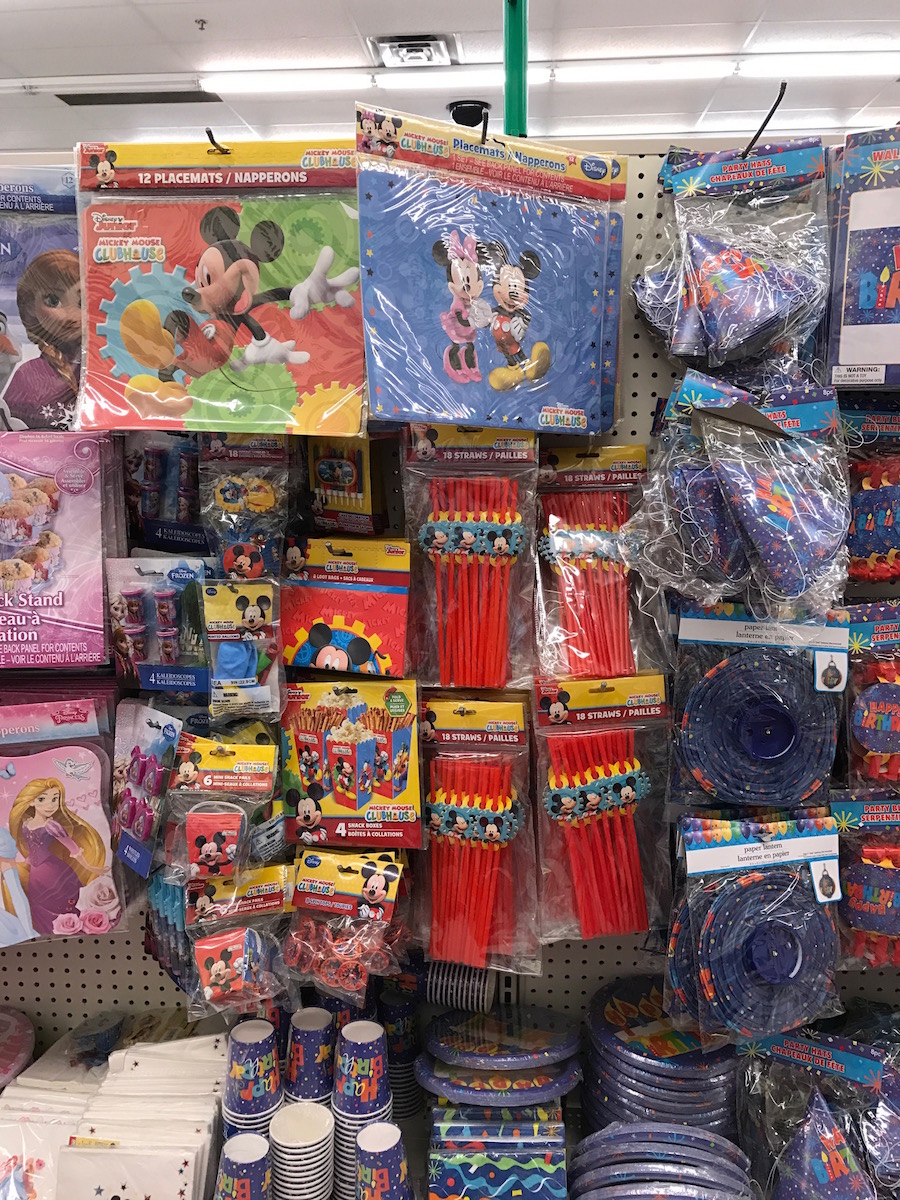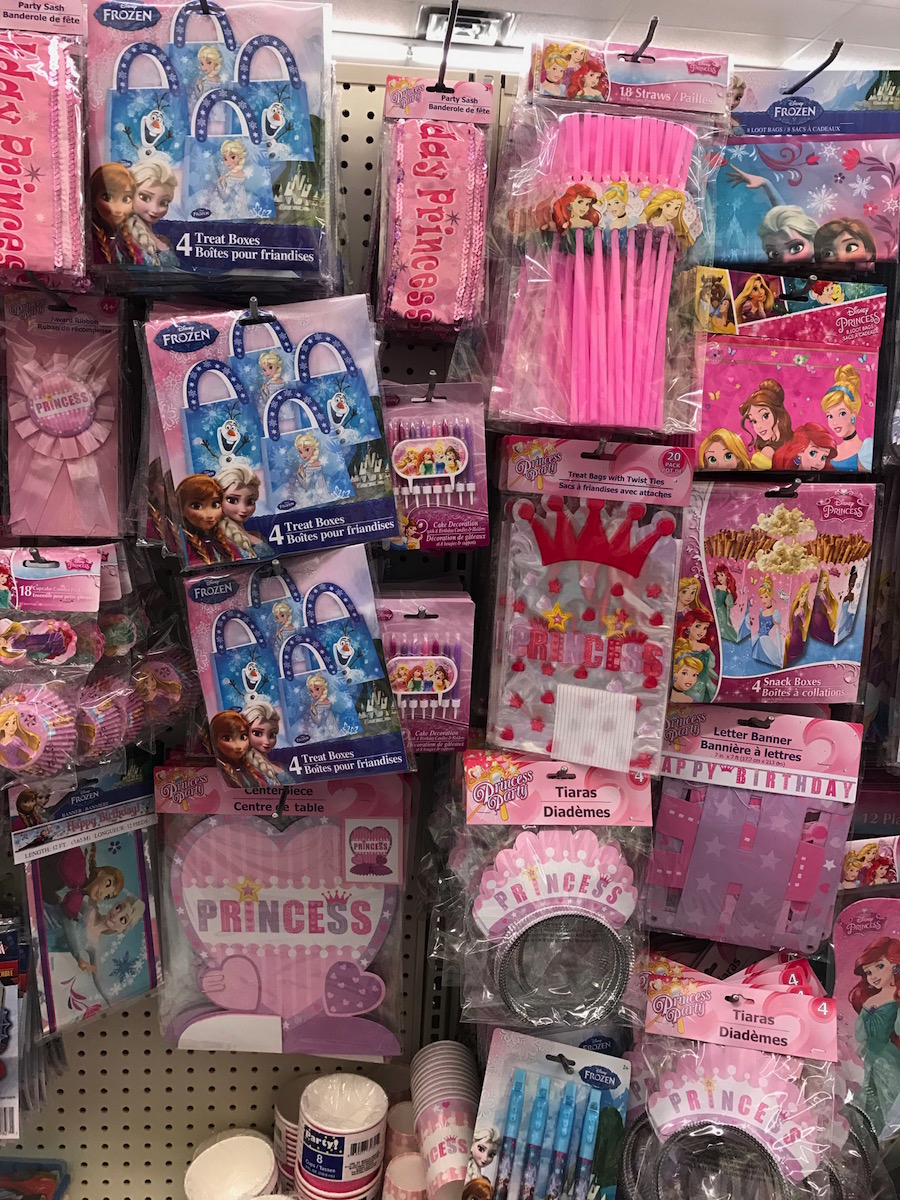 4. Cups
Seems random right? Well we are popcorn lovers and probably get popcorn 10+ times a day at Disney! I get each of the kids a special cup that I keep in the bottom of the stroller and split the popcorn up for them. Because heaven knows they can't share. I just rinse them out in the hotel and pack them up again. It's nice because they're reusable and like little souvenir cups (but they are $1 lol)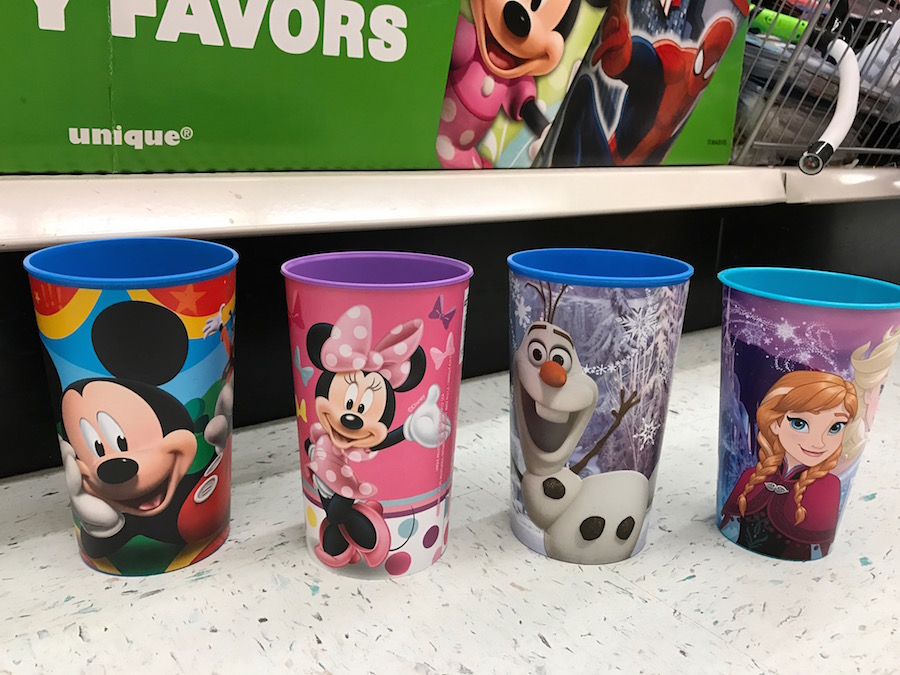 5. Toys 
I'm a sucker for The Disney Store! Oh, such a sucker! But when it comes to basic things & figurines look no further than $1. They have books, figurines (Mase loves holding onto these throughout the day), puzzles, coloring books (I do these for the plane), and so many other random things.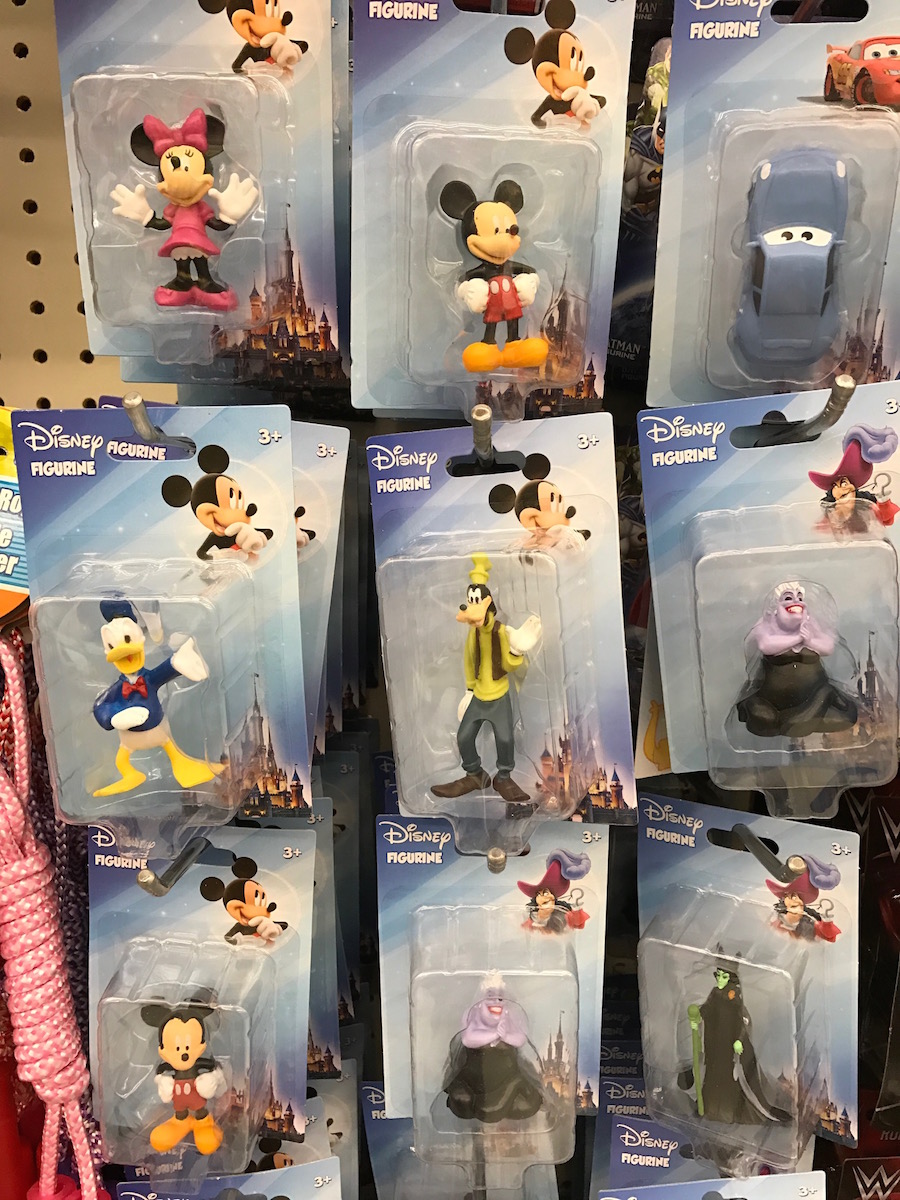 6. Soap + Magic Towels
We are talking about making it extra special people! But did you know they have Disney soap + Magic towels! Last year we got Toy Story and getting Mase into the bath was not the problem. It was getting him out. Do it! Your kids will love it! It's over the top but why not!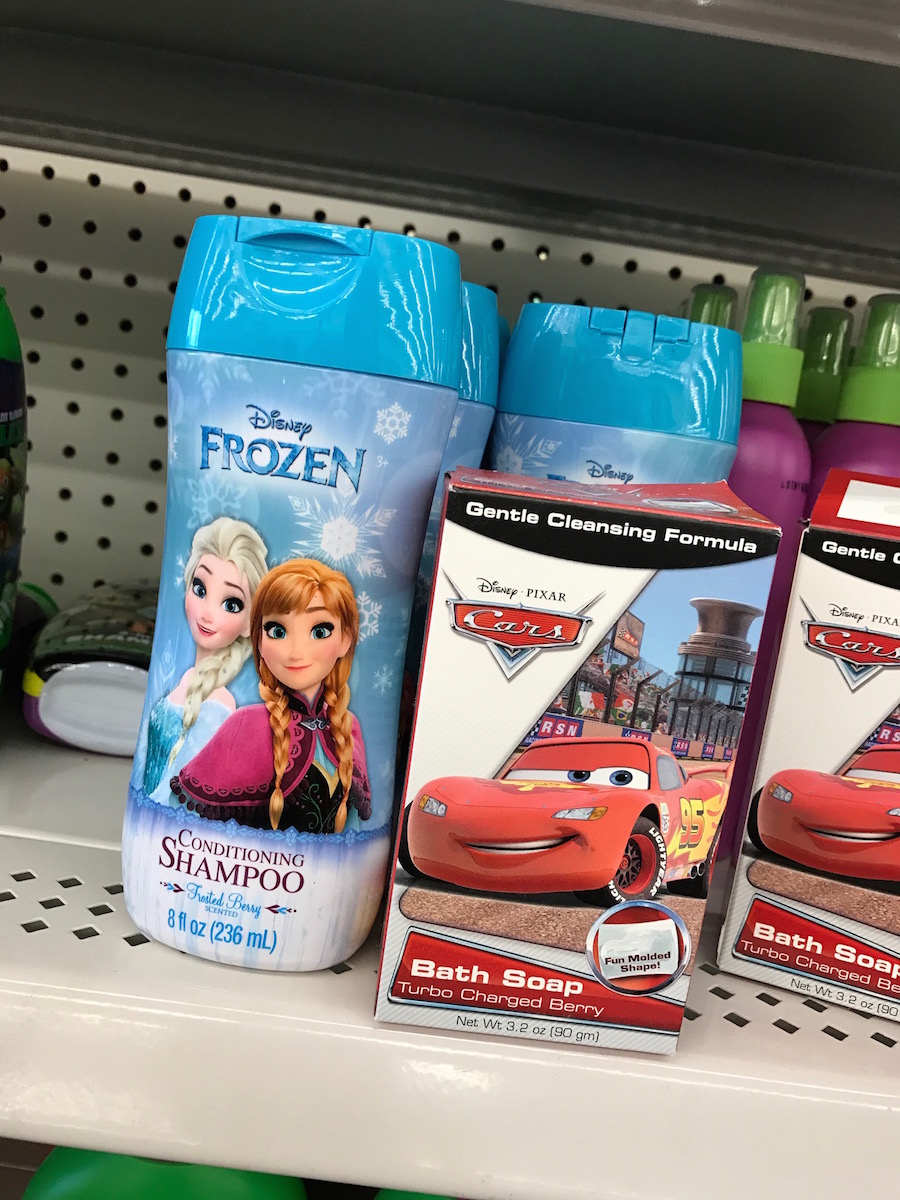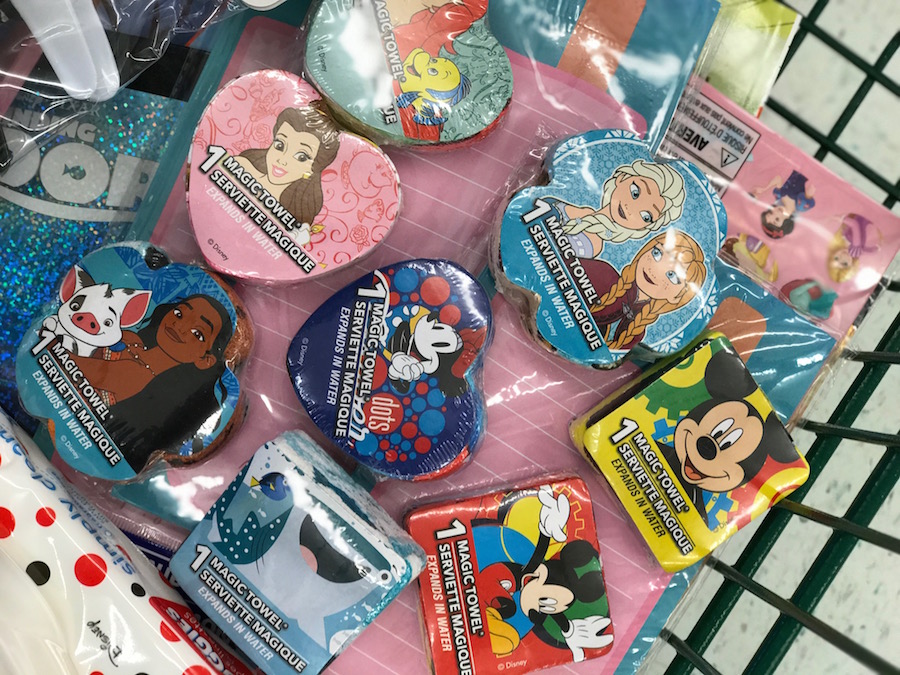 7. Hand Sanatizer + Wipes 
I like getting these at the dollar store because a couple small ones come in a pack and I can keep one in my little purse, one in the stroller, and give Trevor one. Same for the wipes! It's also nice to have in line when you might be waiting & wanting to munch on something but need to wipe your hands first.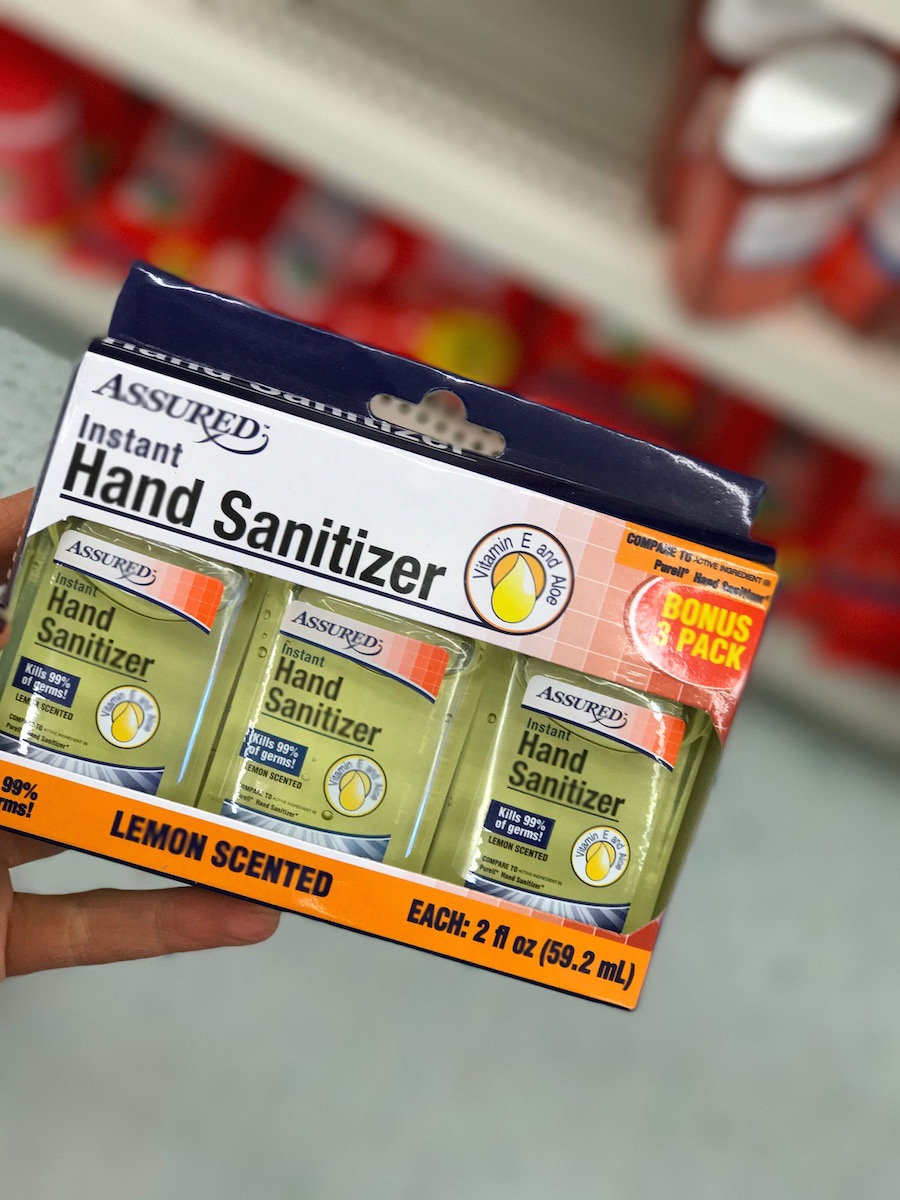 8. Tissues 
They are Disney themed and so necessary so grab them!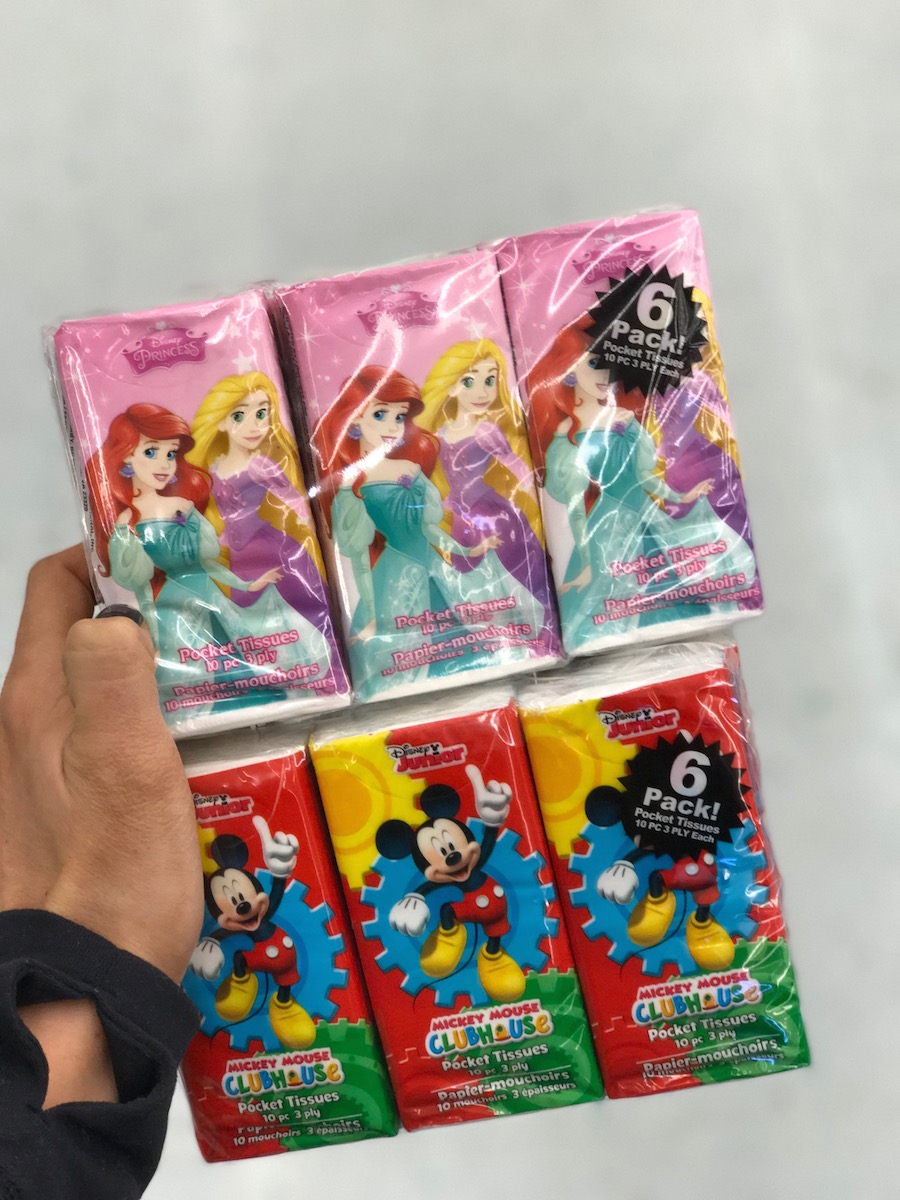 9. Toothbrushes! 
I normally put these out on the hotel sink as a surprise to Mase (he loves toothbrushes)  but they have the cutest little toothbrushes with toothpaste! Winning! And for adults! I love this because its cheap and at the end of the week you can throw them away!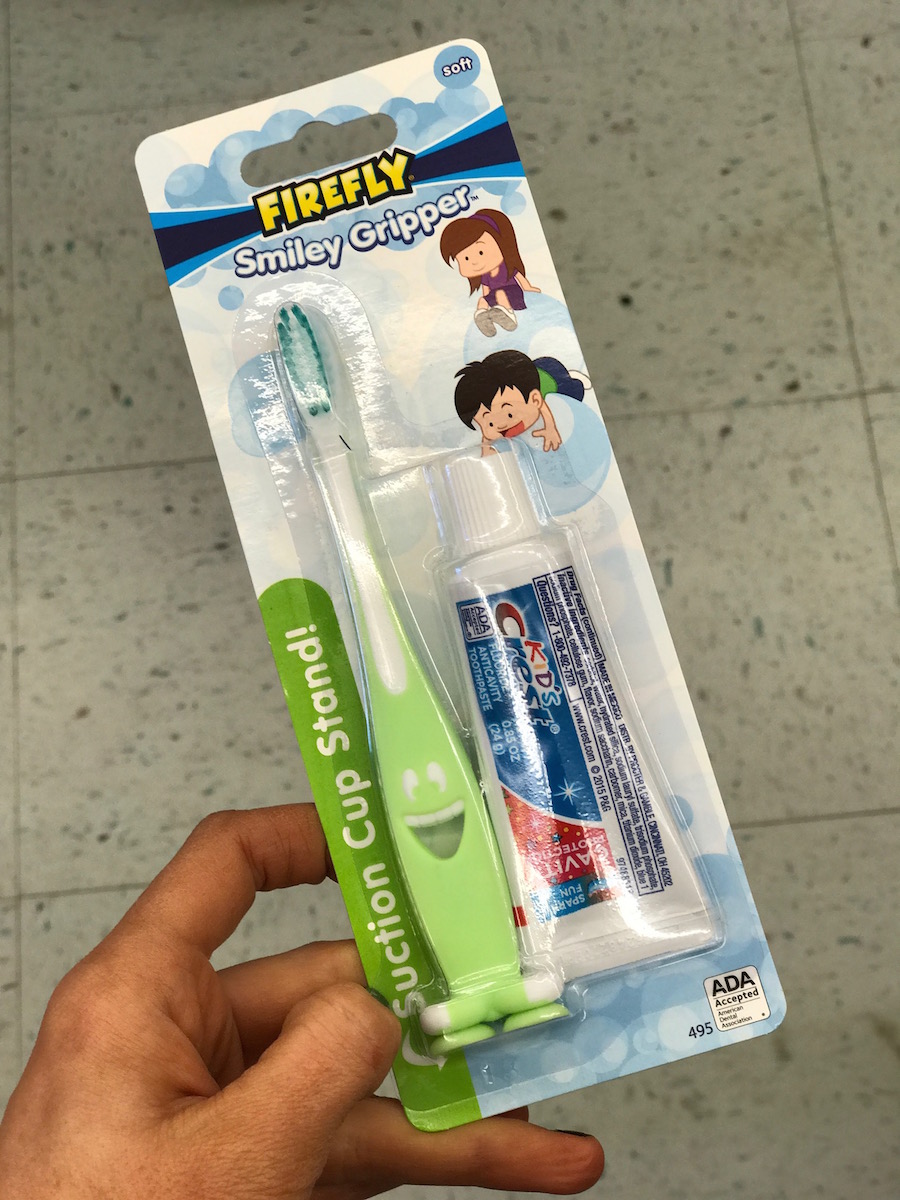 10. Sandwich Bags
They have Disney themed sandwich bags & we love them! Even if they weren't Disney themed I would say to grab a pack. I am the first one to get every snack Disney has to offer but I do pack a couple things for the kids just in case. Goldfish, crackers, animal cookies, veggie sticks and it is so nice to have these bags! I don't have to worry about losing a rubbermaid or container I just simply fill new ones the next morning and the kids think they are extra cool!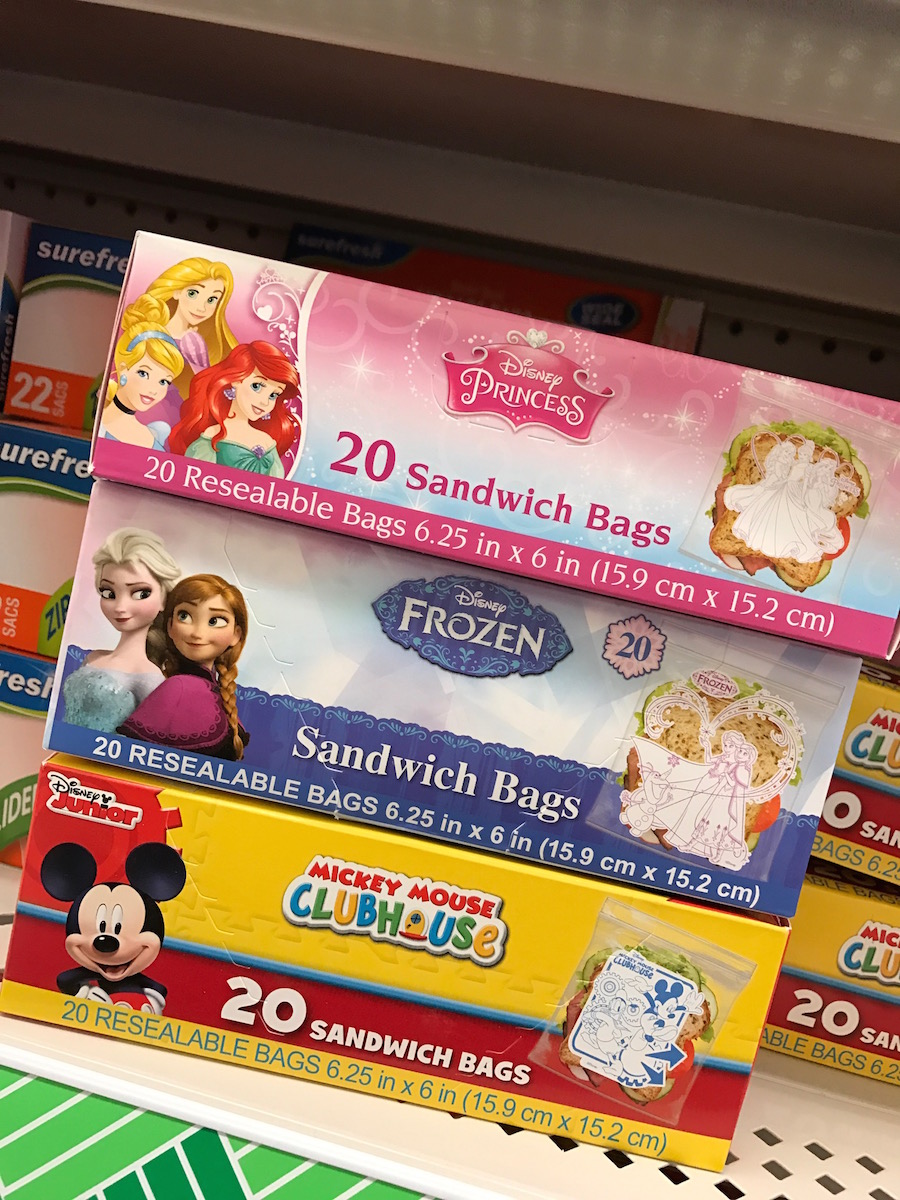 11. Nightlight
Ok, so I use to think it was so weird when people would talk about bringing a nightlight to their hotel rooms. I like sleeping in the dark but when you have kids the dark it not friendly. They are scared, it's too dark, and the chances of them falling over everything sky rockets! So nightlight it is! They have the cutest Disney ones for a $1!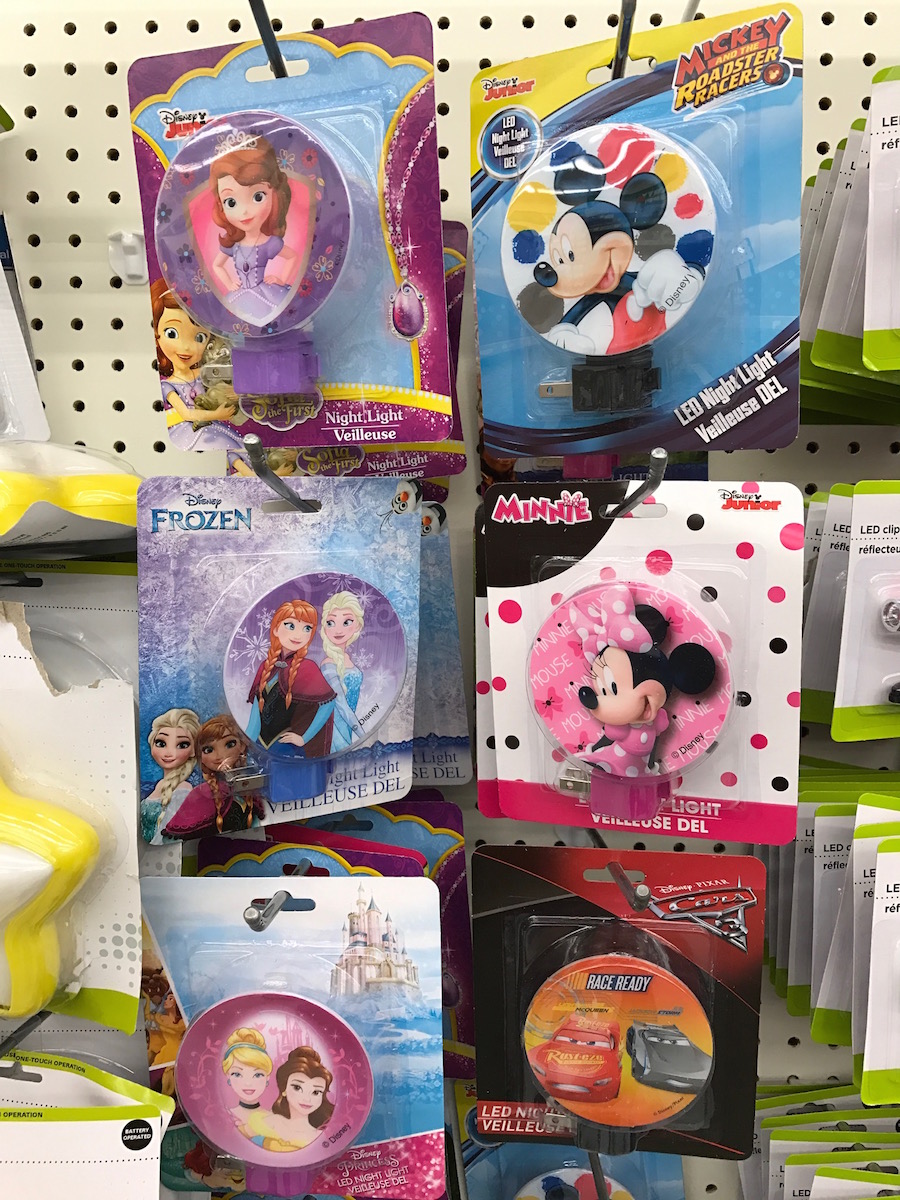 12. Laundry Hamper 
It's safe to say that my kids probably go through 2+ outfits a day. They are little, they spill, they play, and they get dirty! I hate when the dirty clothes get confused with the clean. So I always snag a new laundry hamper at the dollar store and pack it! They are so small, easy to pack, and make such a difference when it comes to keeping you hotel nice & tidy! Once the trip it over I simply bag up the dirty clothes and hold the hamper back up, easy! PS I never travel without dryer sheets! They keep your clothes so fresh & clean! But also keep nasty bugs away!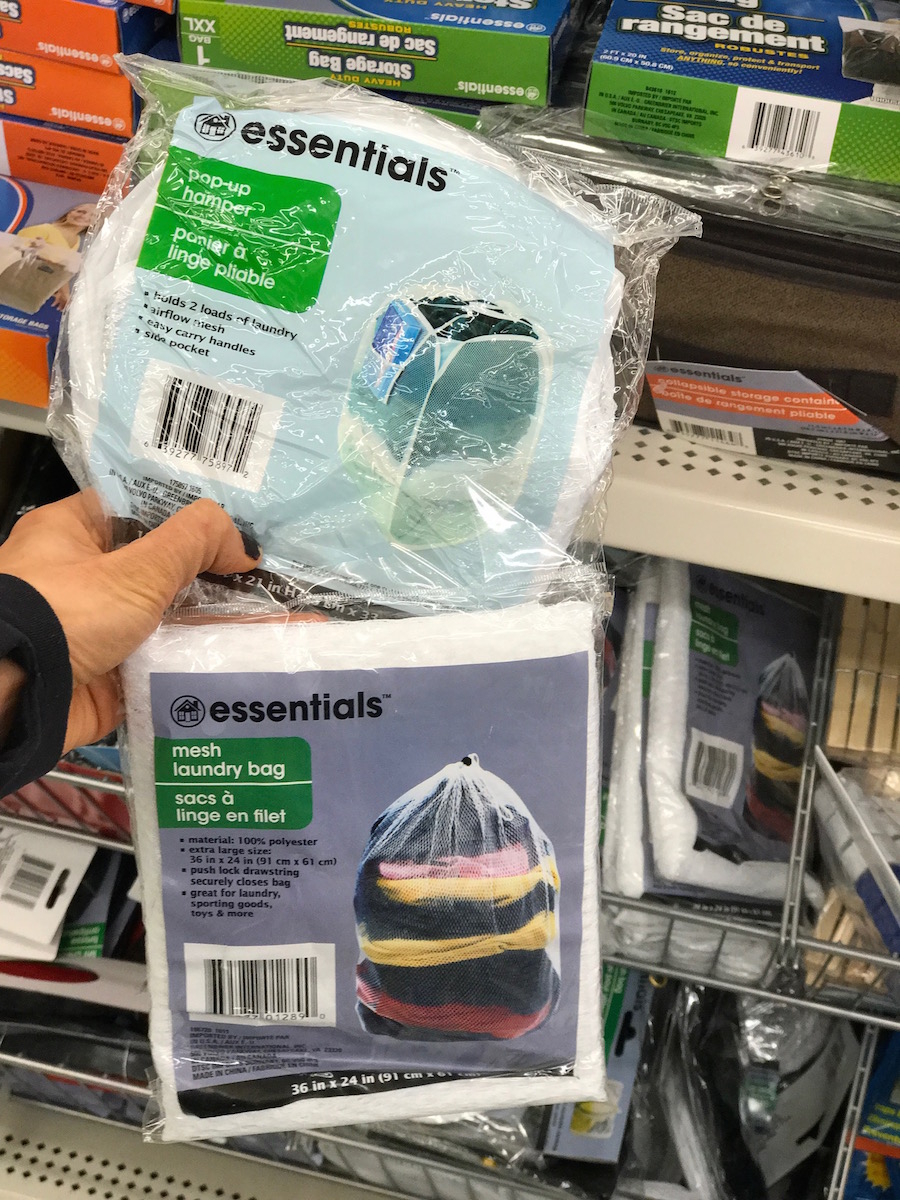 13. Poncho
I didn't get a picture of this but I love the security it gives me. I never want to go on the water rides because walking around with soaking wet pants sounds miserable to me. I also never want to spend $8 on a poncho their. So instead spend $1 on a couple and call it security just in case your lovely husband talks you into going on one.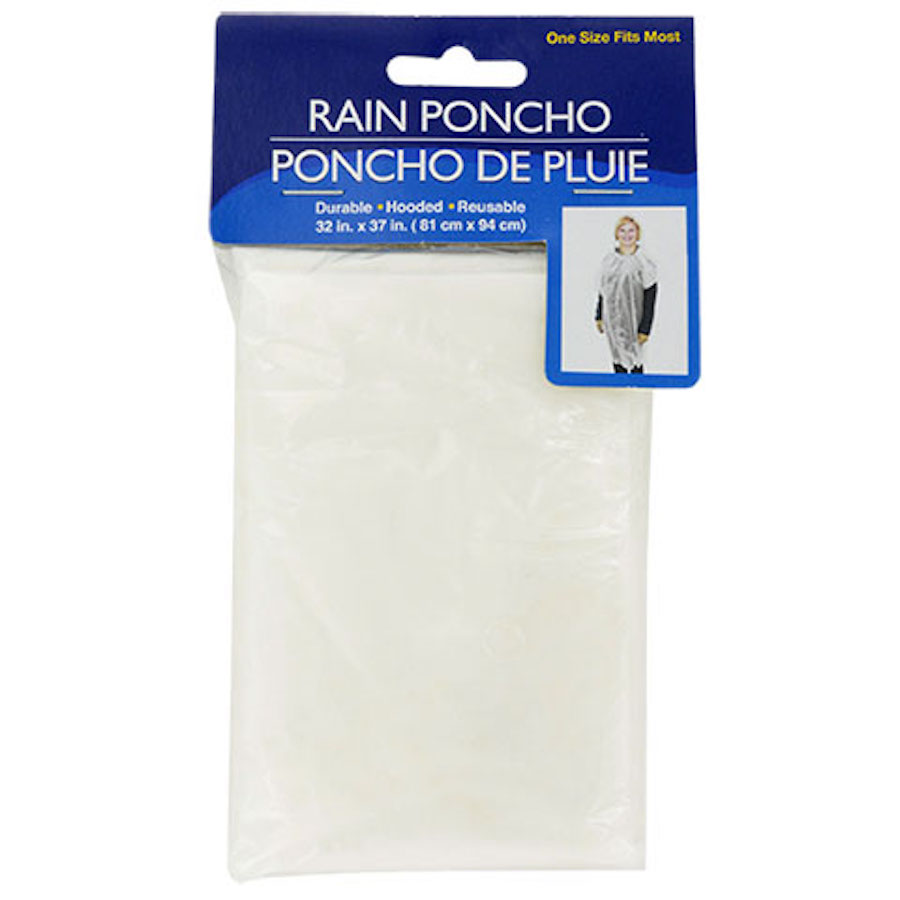 So that's 13 items! Basically we just spent $13 bucks for you & the family to have the time of your life at Disney and do it over the top! Let's add on a couple more things in case you need double of something! Ok, $20! It will be the best $20 you've spent so far and you won't regret it! I have also added a couple pictures of some other random Disney themed things I scored!
---
BUYING AHEAD OF TIME
I also wanted to add a little blurb about buying some toys ahead of time! Like I said we took Mase for his 2nd Birthday so I wanted to get him some toys before we got there! I found great deals at JCPennys and Target so I stocked up there!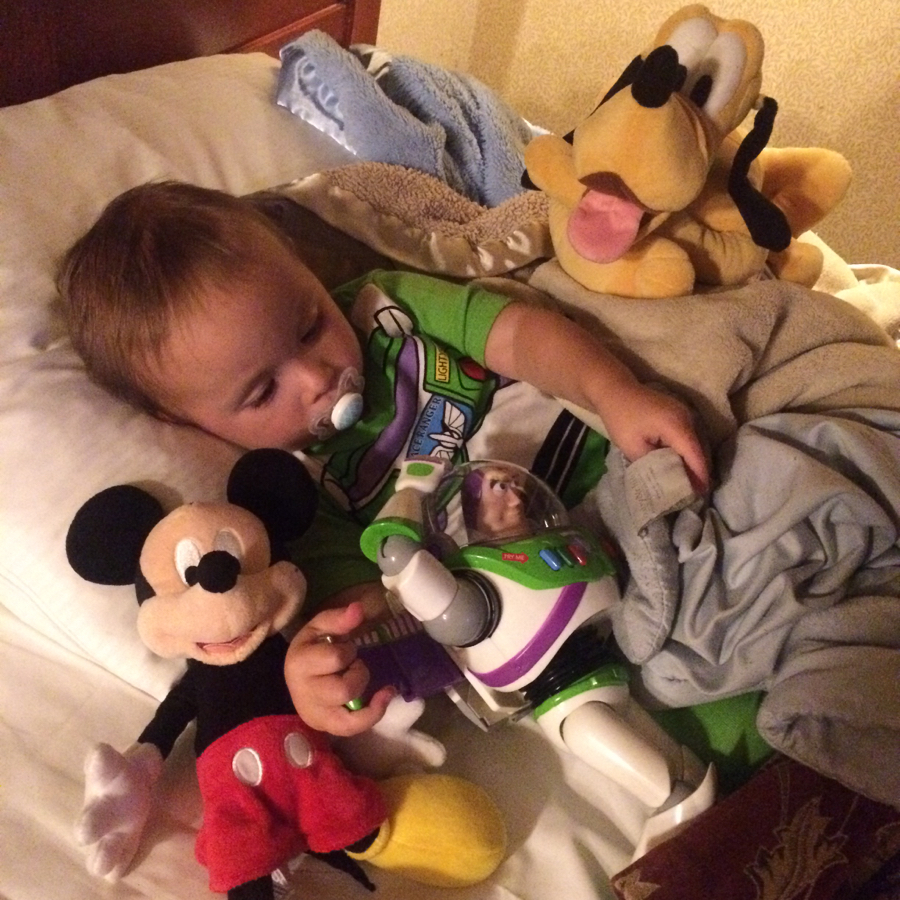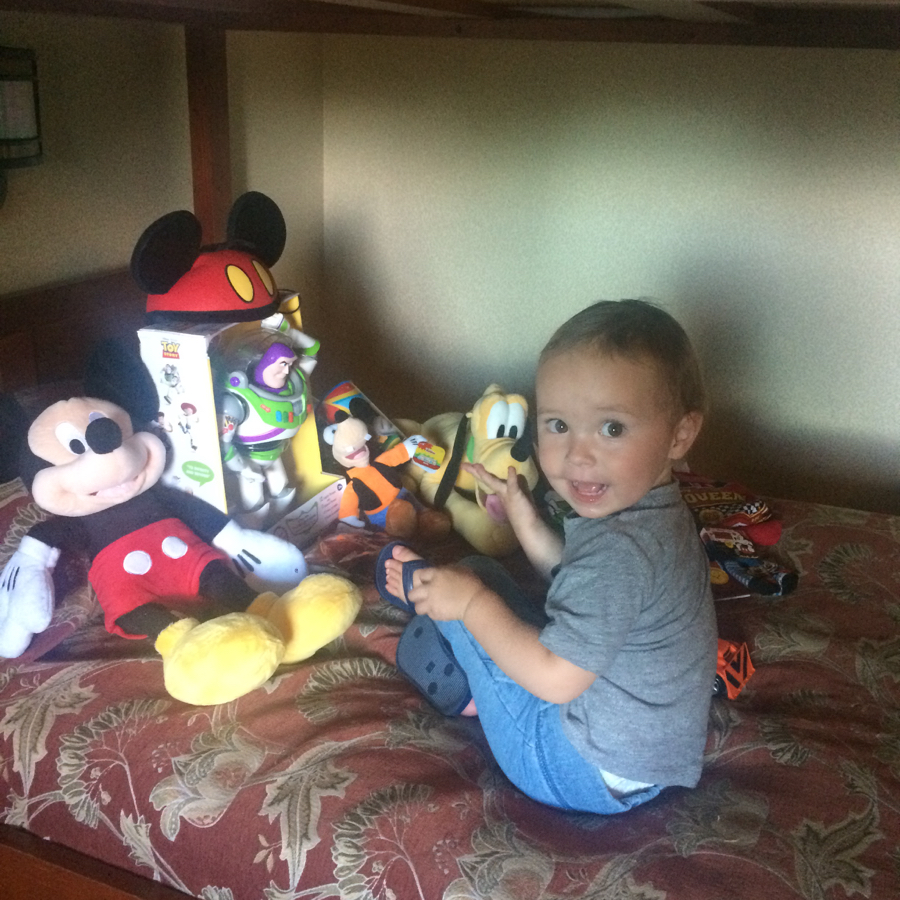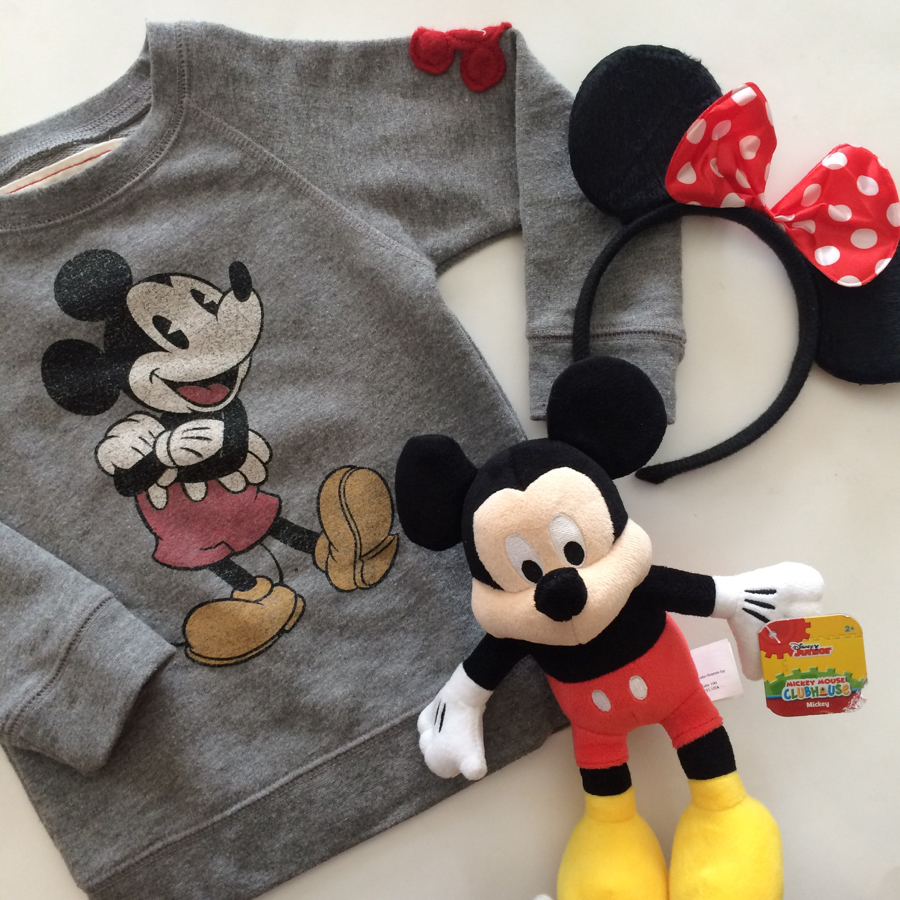 Last but not least but most important in our book! If you are planning a trip and your kids know you are going you HAVE to buy this DVD! I had it when I was little and watched it over, and over, and over! So does Mason! It is a Sing – A – Long that takes you throughout the park and gets the kids so excited! Yes, it's dated but it is still so good and a classic! The kids will love it and then once you go they are familiar with the areas! I PROMISE you won't regret it! I grabbed ours off Amazon!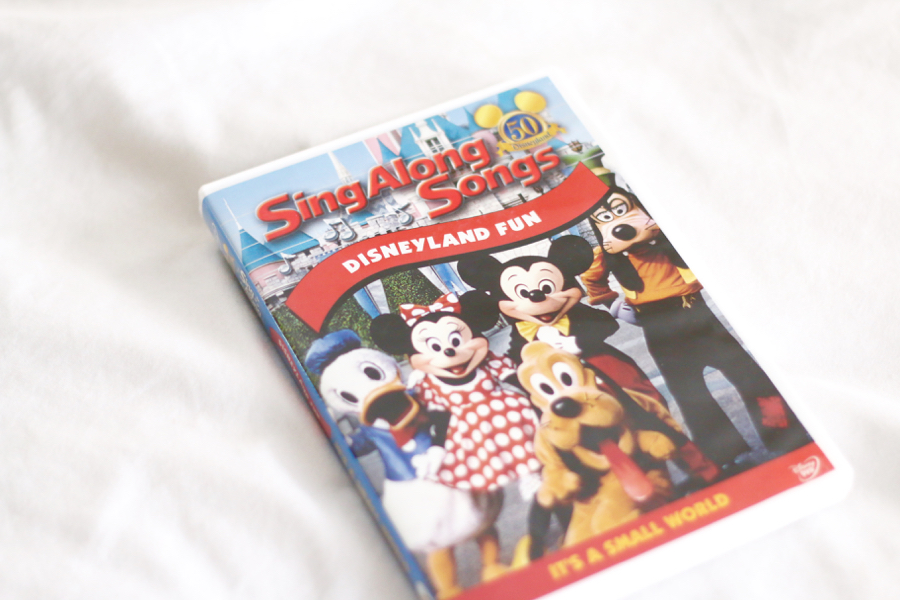 I hope you guys found this helpful! Don't forget to check out the previous post here about Top 8 Places to Buy Disney Apparel! There will be more tomorrow! XO