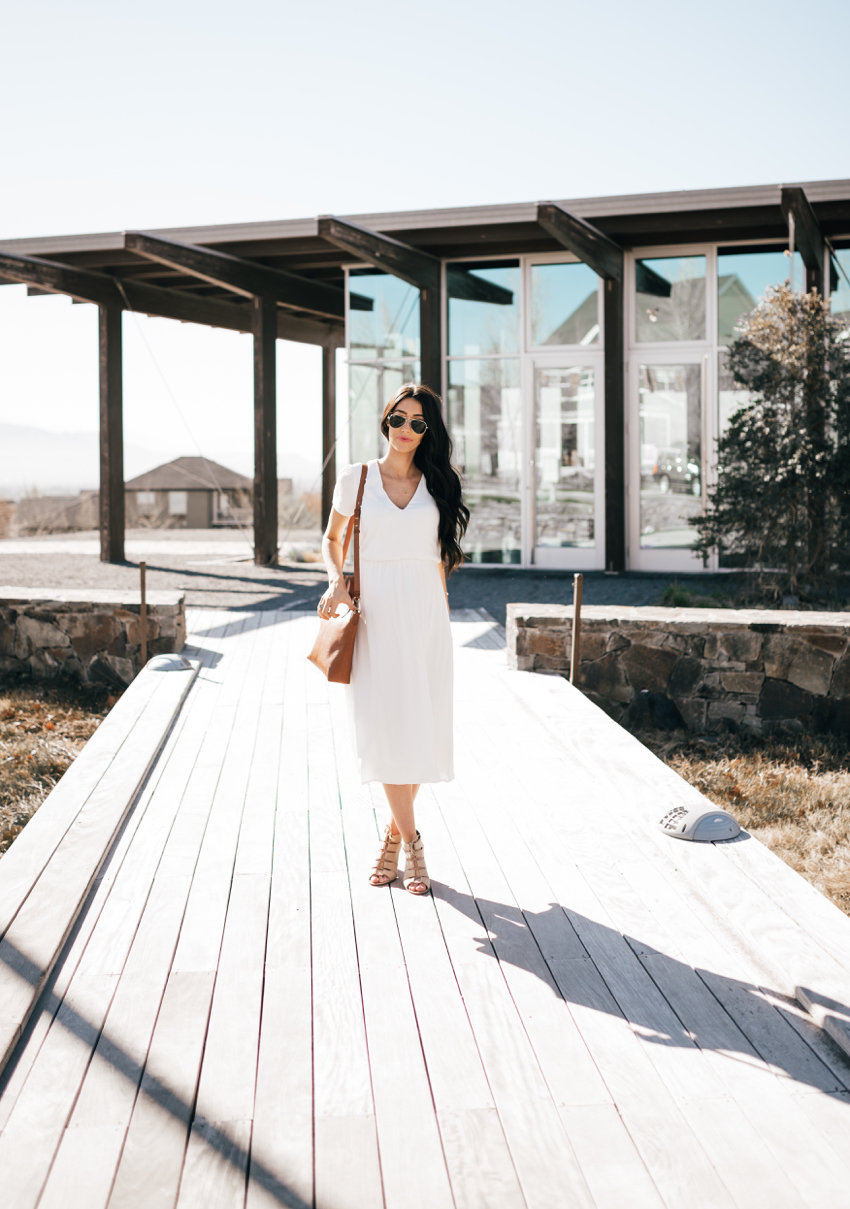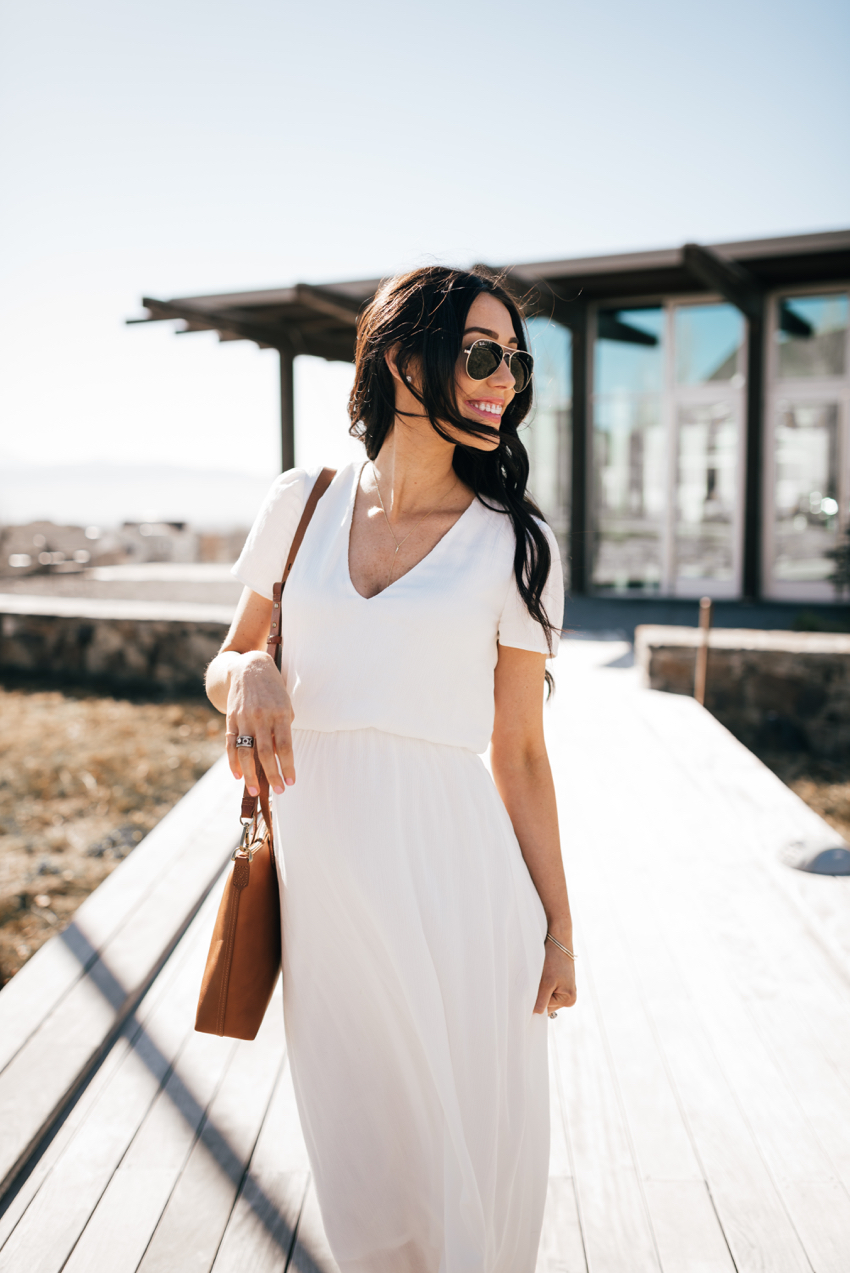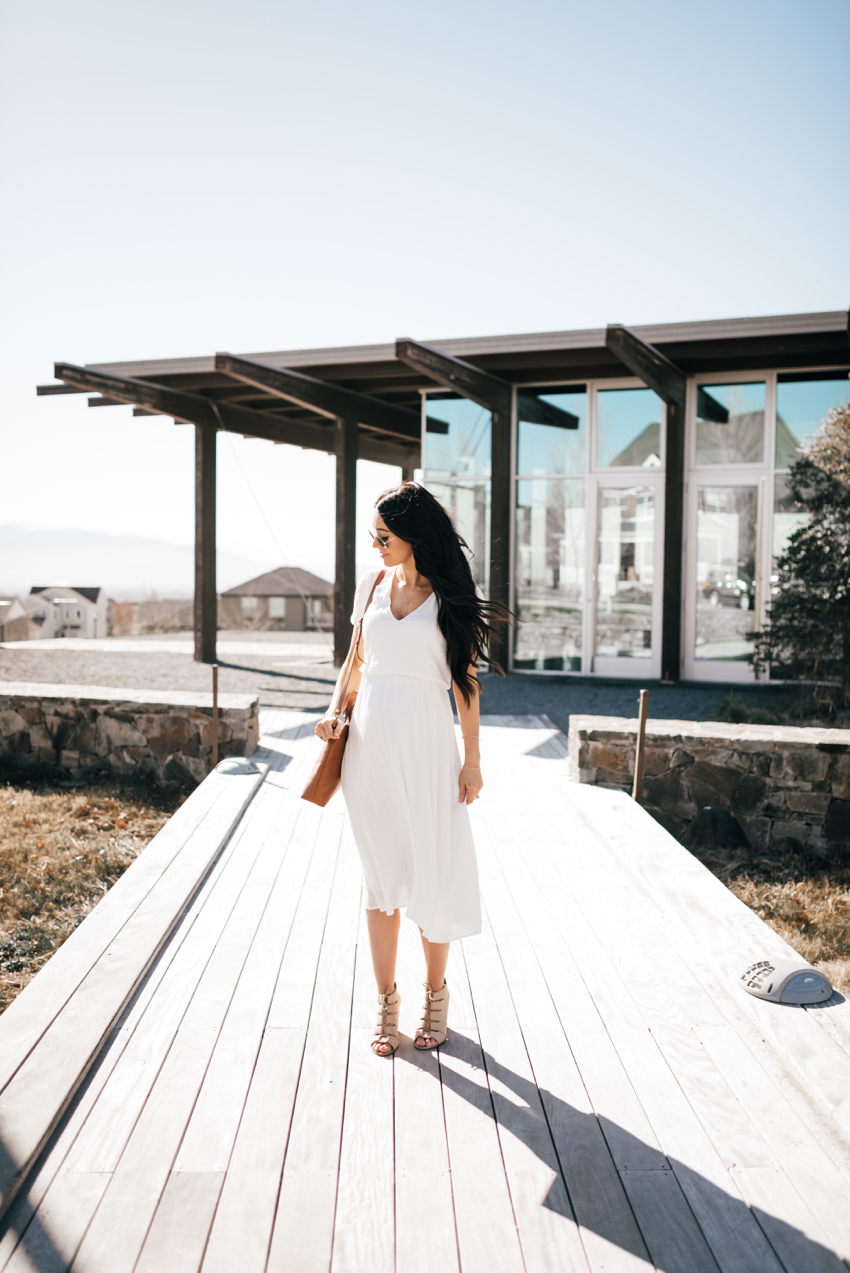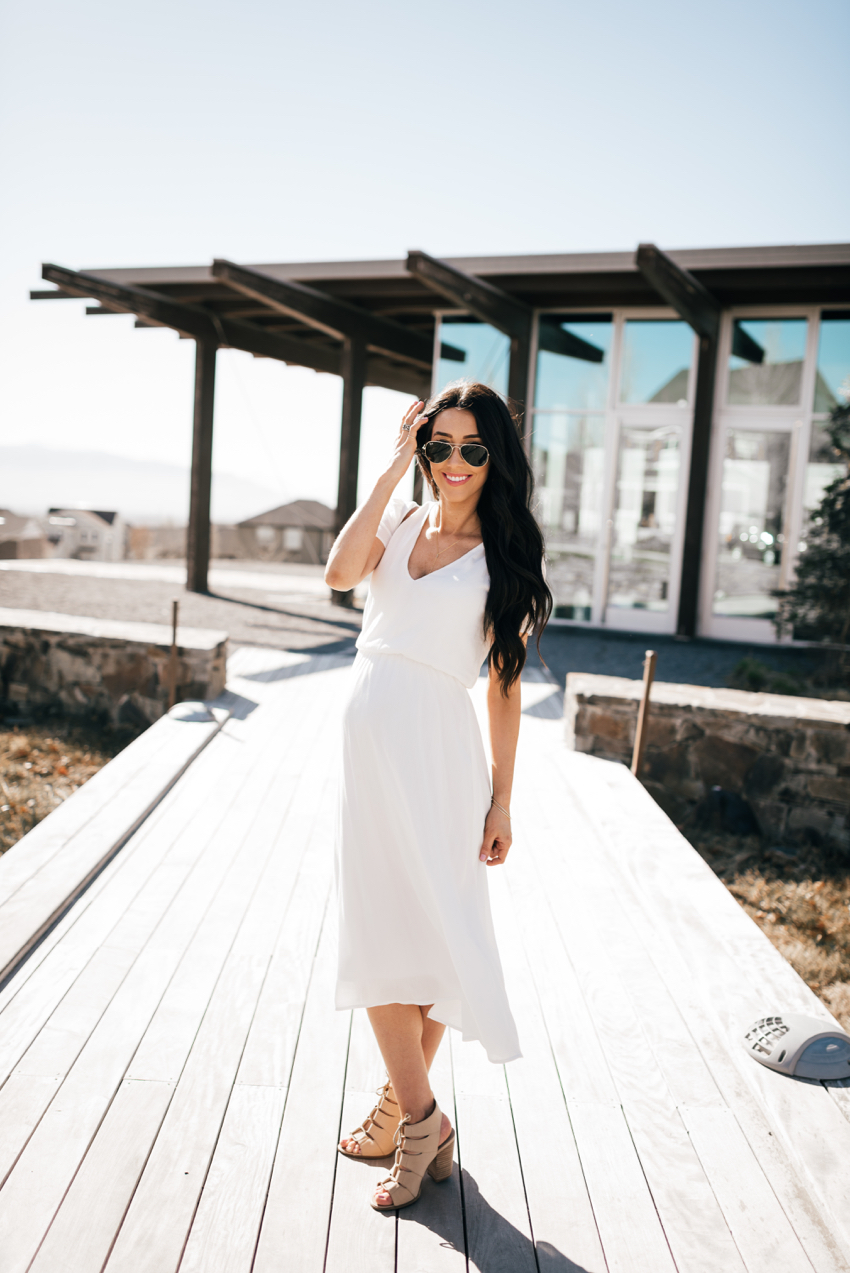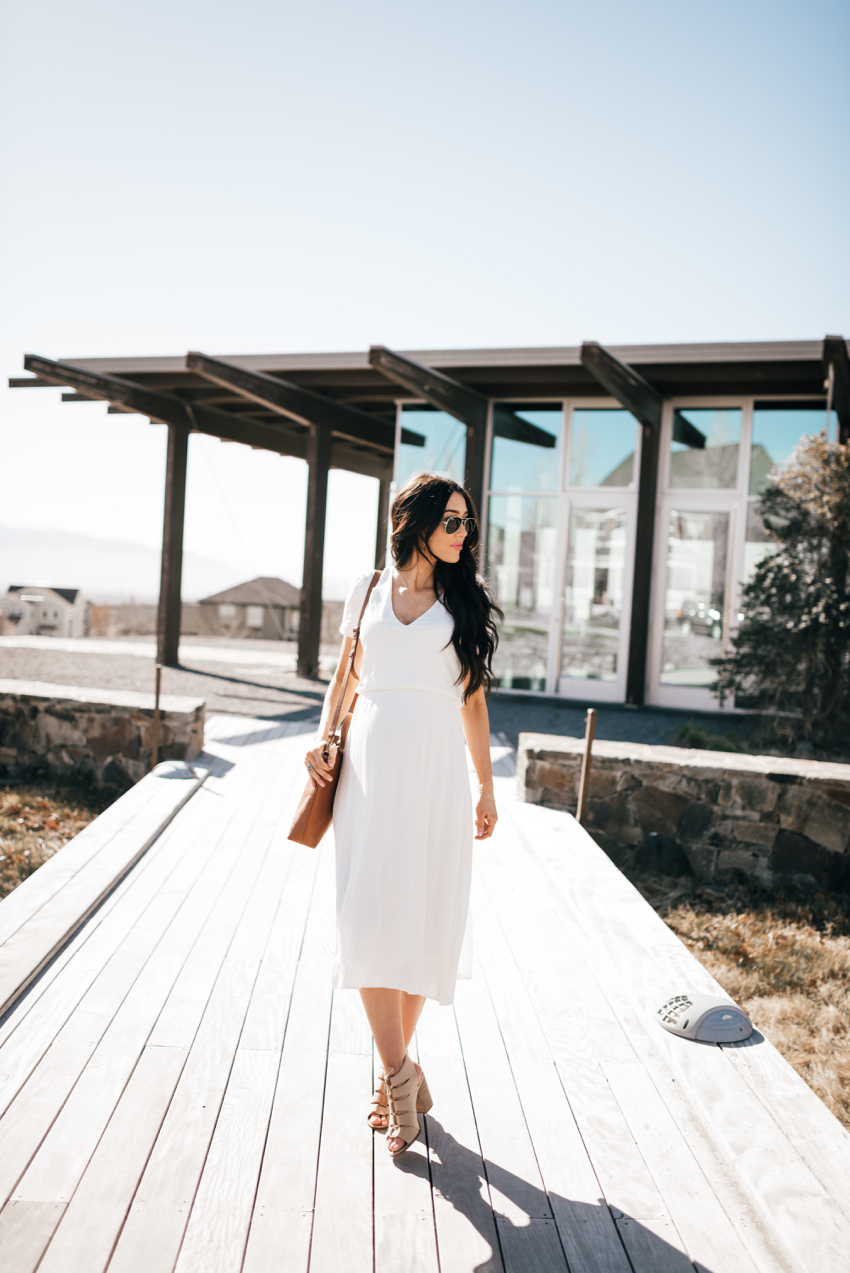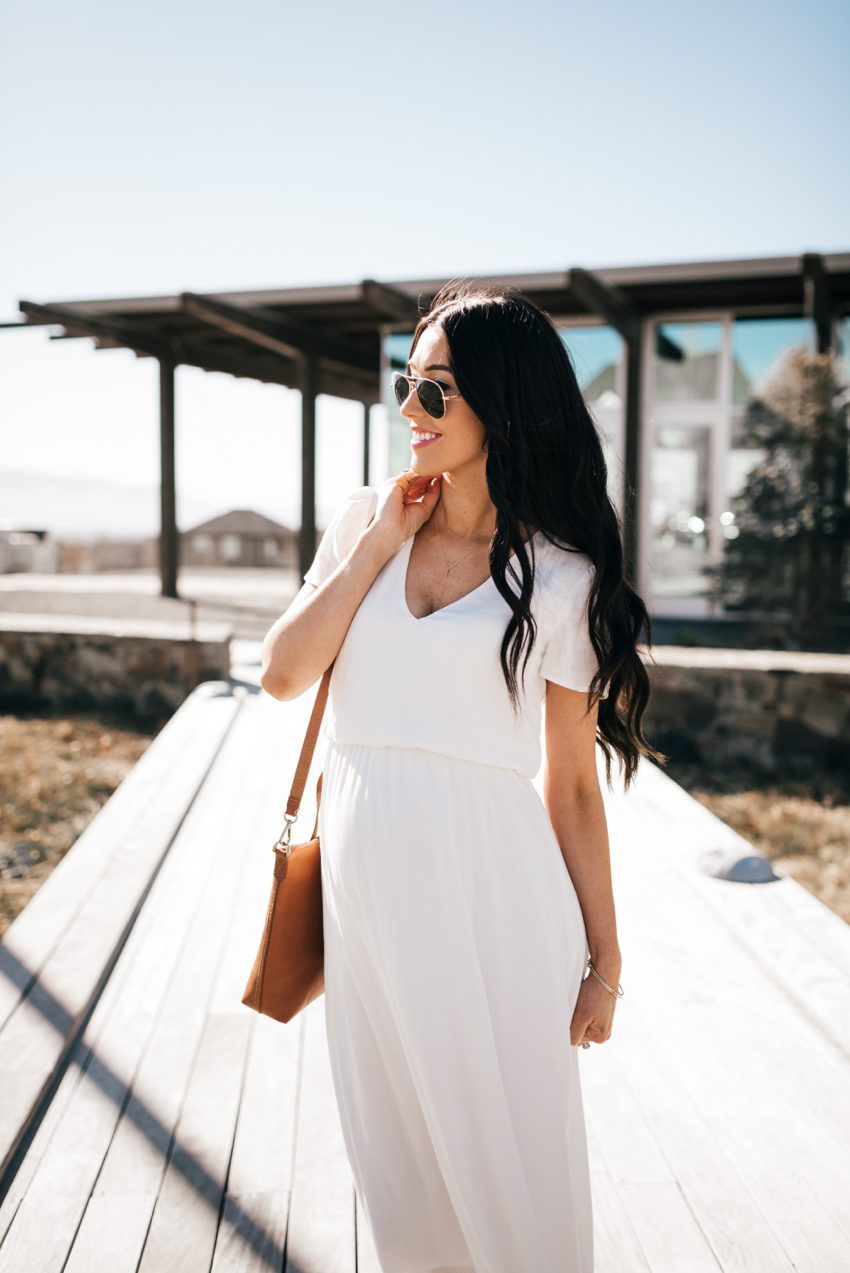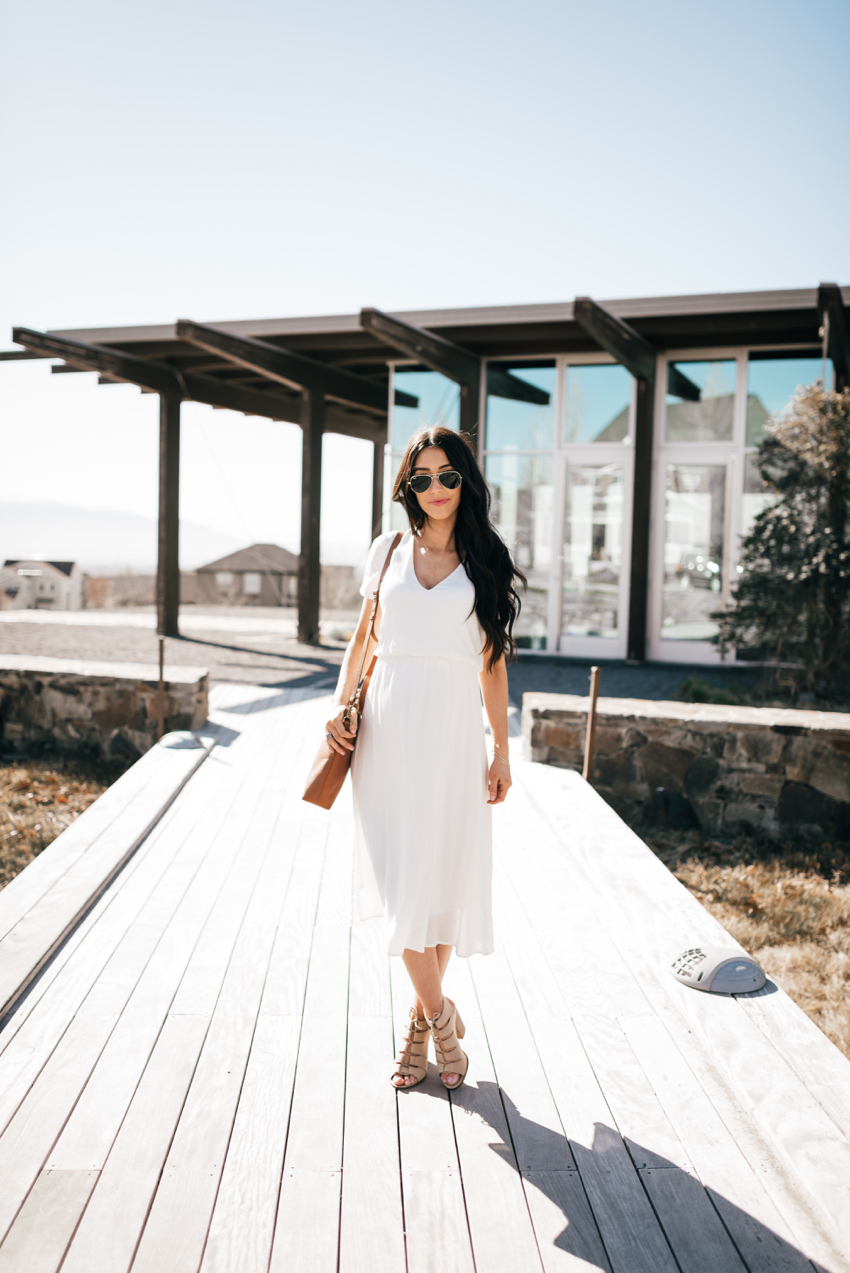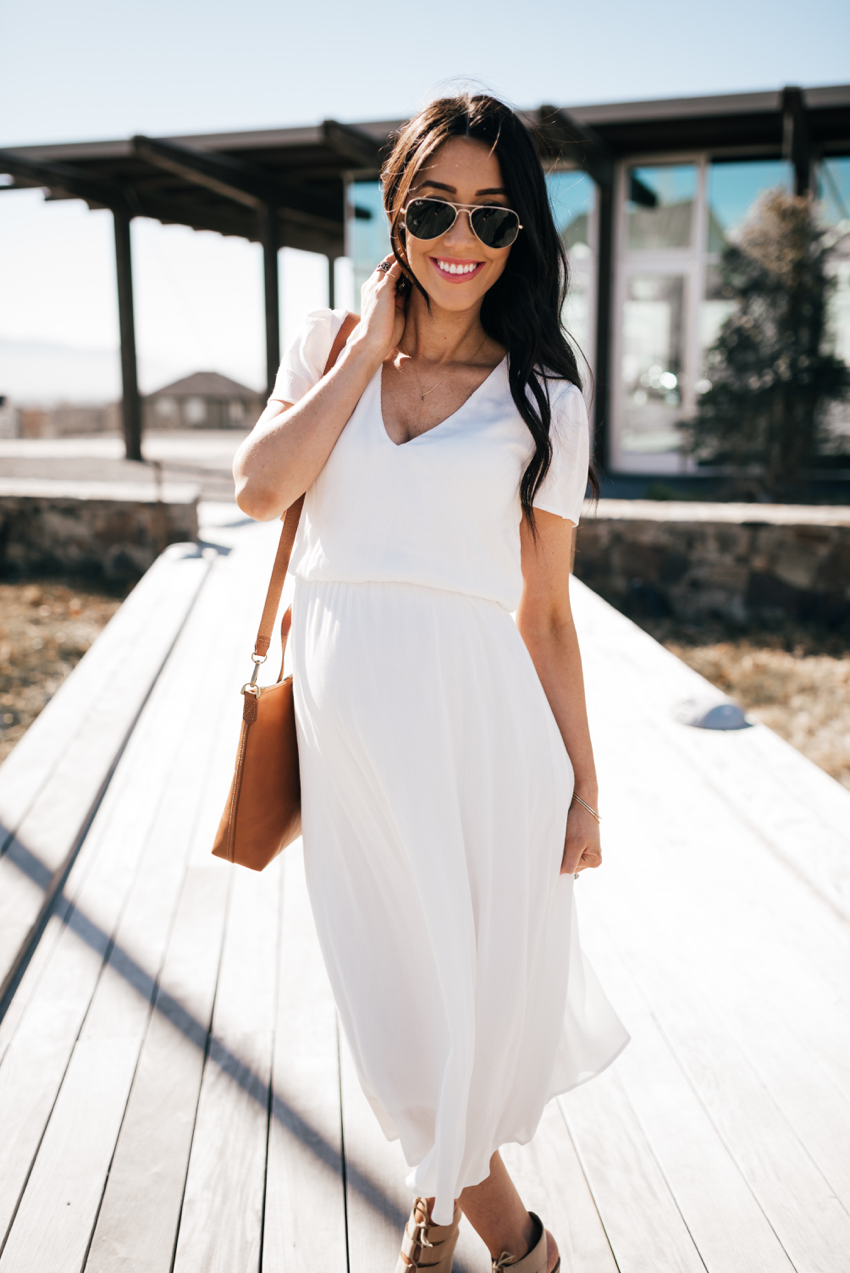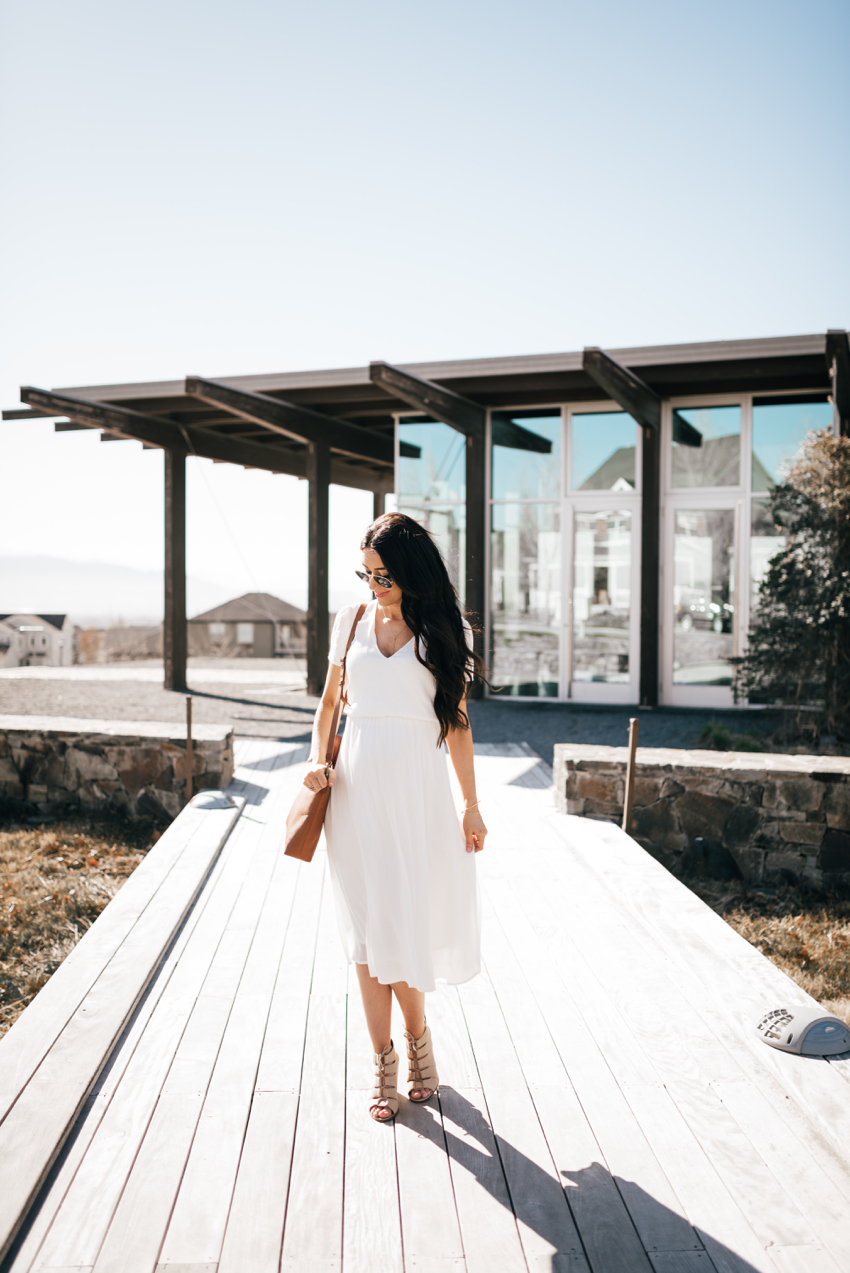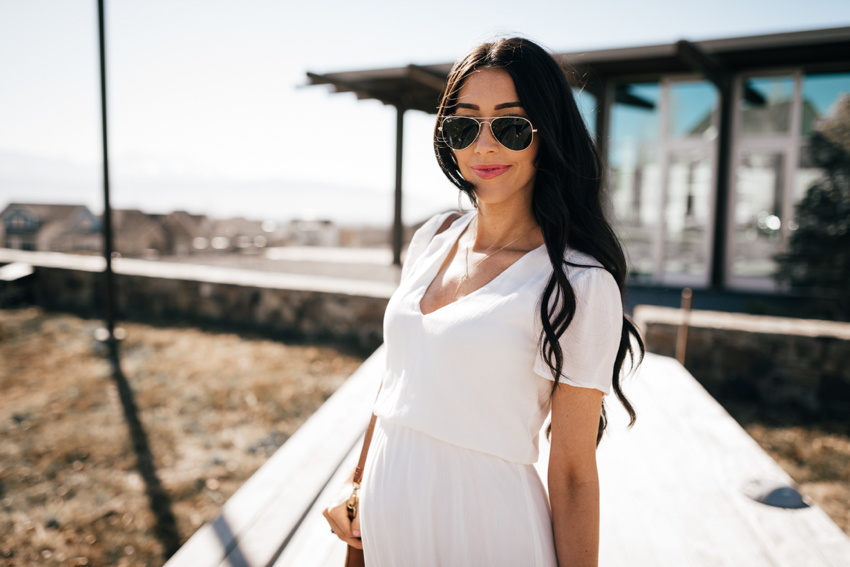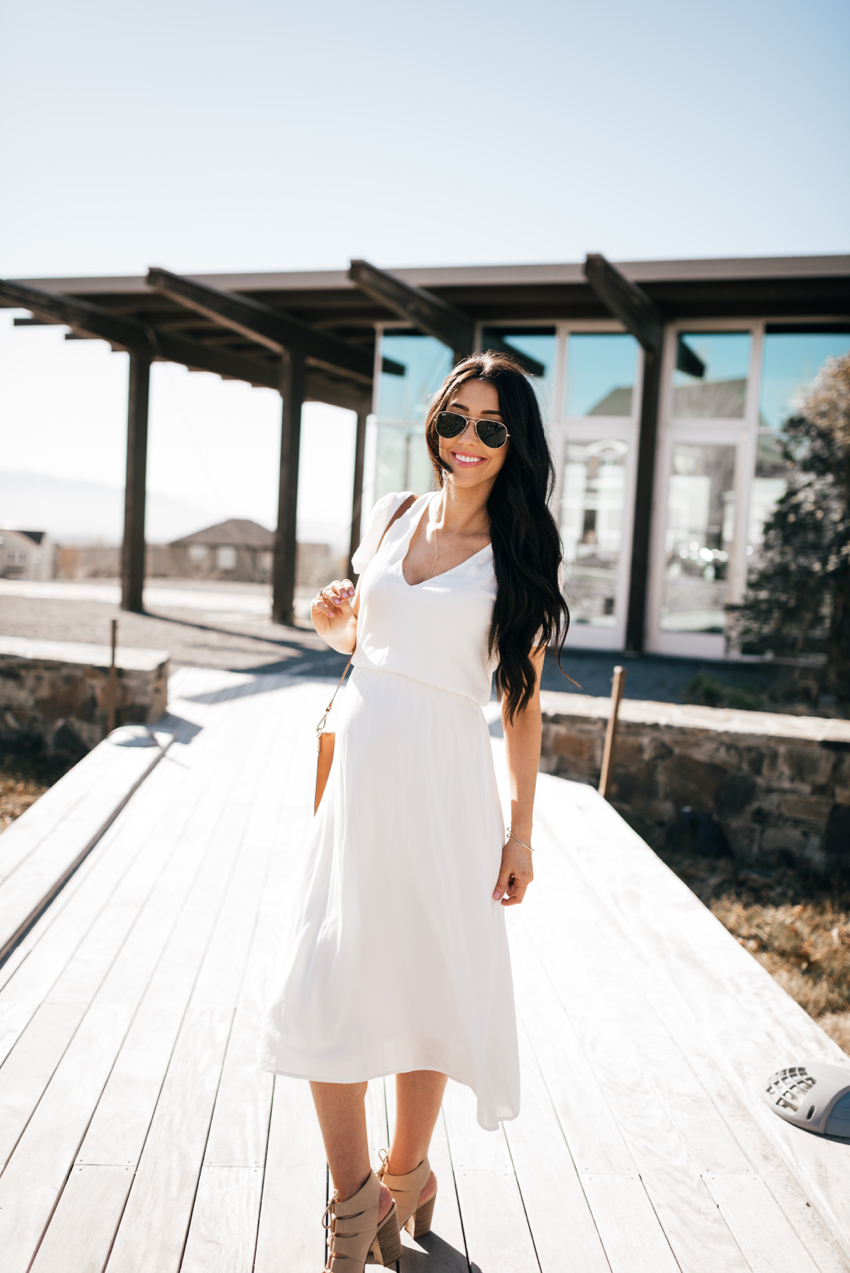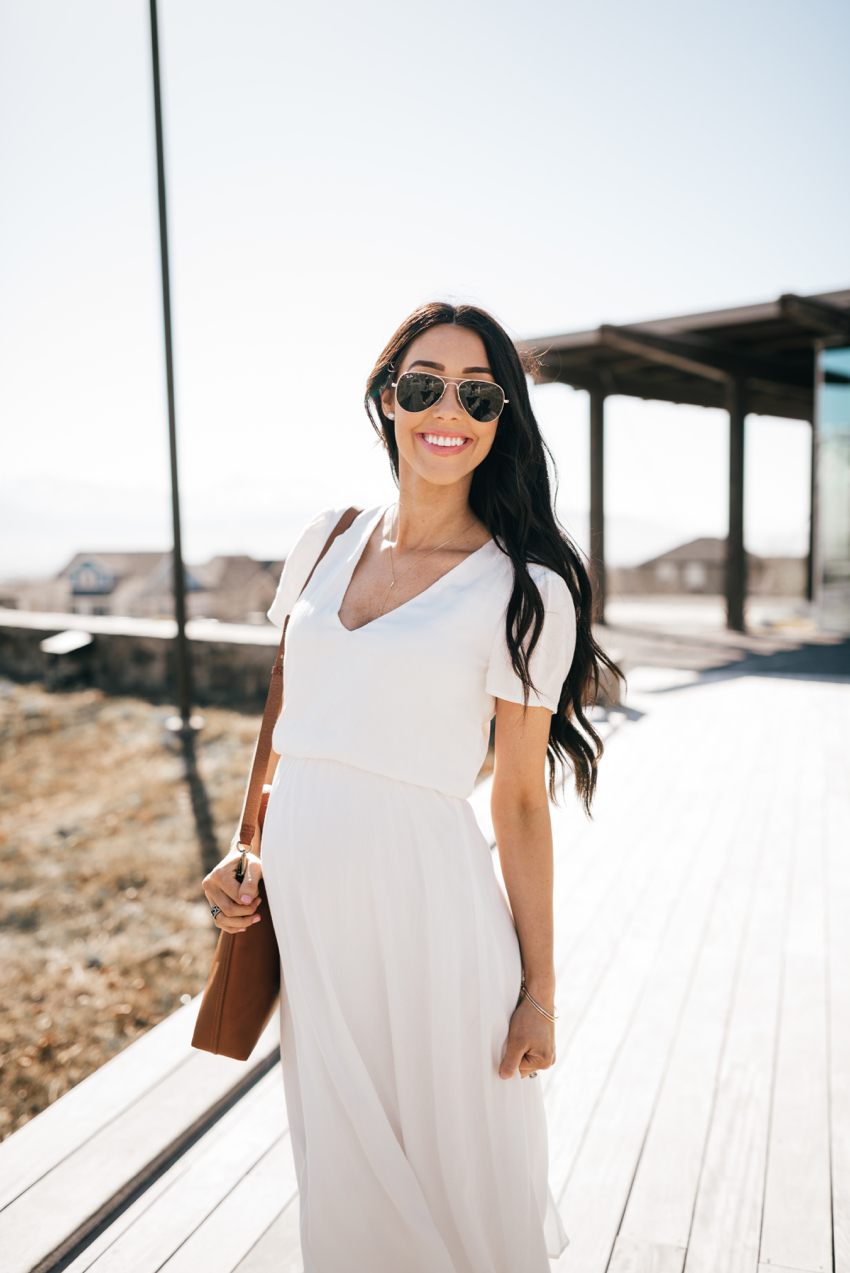 DRESS  |  WEDGES  |  PURSE  |  SUNGLASSES  |  LIPS
SHOP THE LOOK
I know I say this often but friends – I'm really excited to share this white summer dress with you! I try to always share outfits & items that are realistic, affordable, and natural. I like dressing up as much as the next girl but not every day. If you guys have been following me for awhile you know I could wear a pair of destroyed denim and a white v-neck the rest of my life and be more than happy. A little ironic though considering I'm a fashion blogger. But hey, it is what I feel most comfortable in and many times I look at is as a blank canvas. Sometimes I will add fun jewelry, a statement purse or pair of shoes.
I feel that same way about this dress! Not only does it fit get (I love the length and sleeves) but it's THE perfect dress for summer! You know those times when you need something nice to wear to a wedding but want to be comfortable? Well here you go! It's easy to add a beautiful pair of shoes to or a statement necklace. Also, you know those times when you want to wear a good easy dress around to run errands, something more causal and call it a day? Well here you go again! I have worn this dress SO many different ways. I've worn it will heels, with converse, with my hair is a messy bun, with my hair down and curled.
The dress is so versatile it makes it perfect for any occasion! Speaking of occasion, my sister is actually getting them for her bridesmaid dresses! I know the "white trend" is in for bridesmaids and I love it! So we decided on these dresses for her & love it! Want to hear the cherry on top? This dress is affordable! It is under $70 and I PROMISE you it is an investment piece you will wear over and over again!
The dress also comes in a beautiful coral color which I love but decided to go with the white instead. I find it hard to find a good white dress. That 1.) isn't see-through and 2.) is a good length & quality.
I paired this look today with everything simple! I picked these wedges which I love and talk about more here, a solid red lip, and a basic small cross body. Easy peasy & classic.
I hope you guys enjoy this look as much as I do and don't be shocked if you see me wearing this over and over! It has been my go-to lately! Last but not least don't pass up this dress if you are thinking about it! It has already sold out once and they just brought it back in stock but I'm sure it will sell out again soon! Hope you guys are having great week! XOXO
DRESS  |  WEDGES  |  PURSE  |  SUNGLASSES  |  LIPS
SHOP THE LOOK