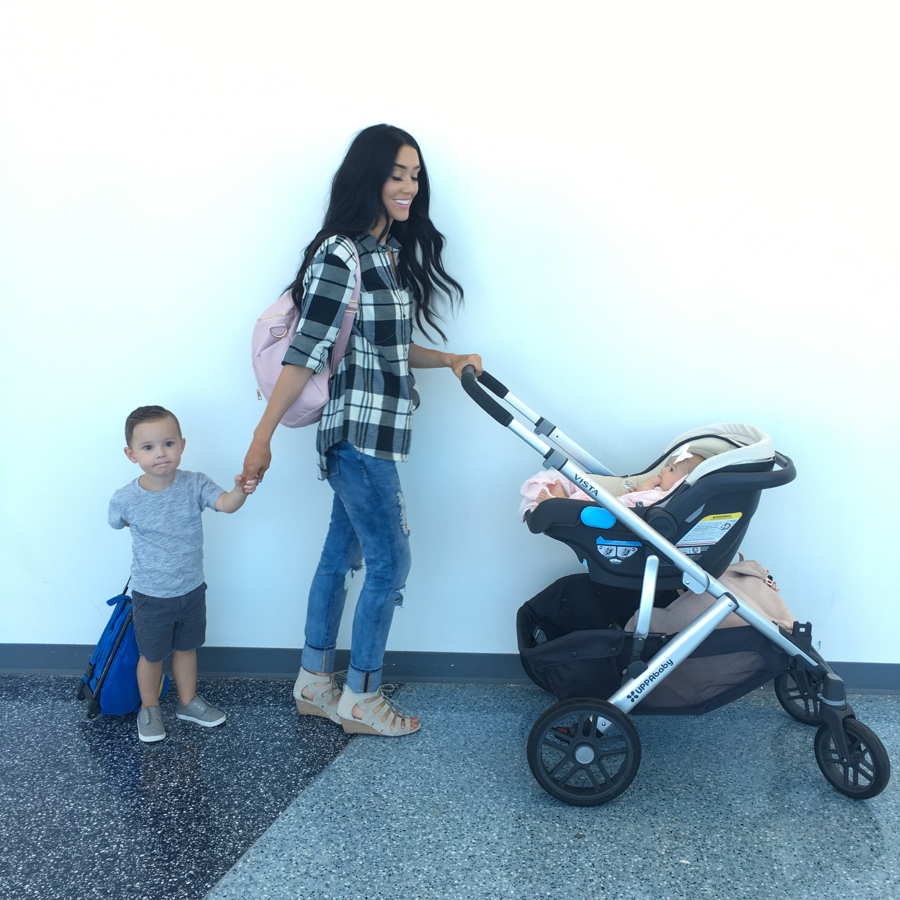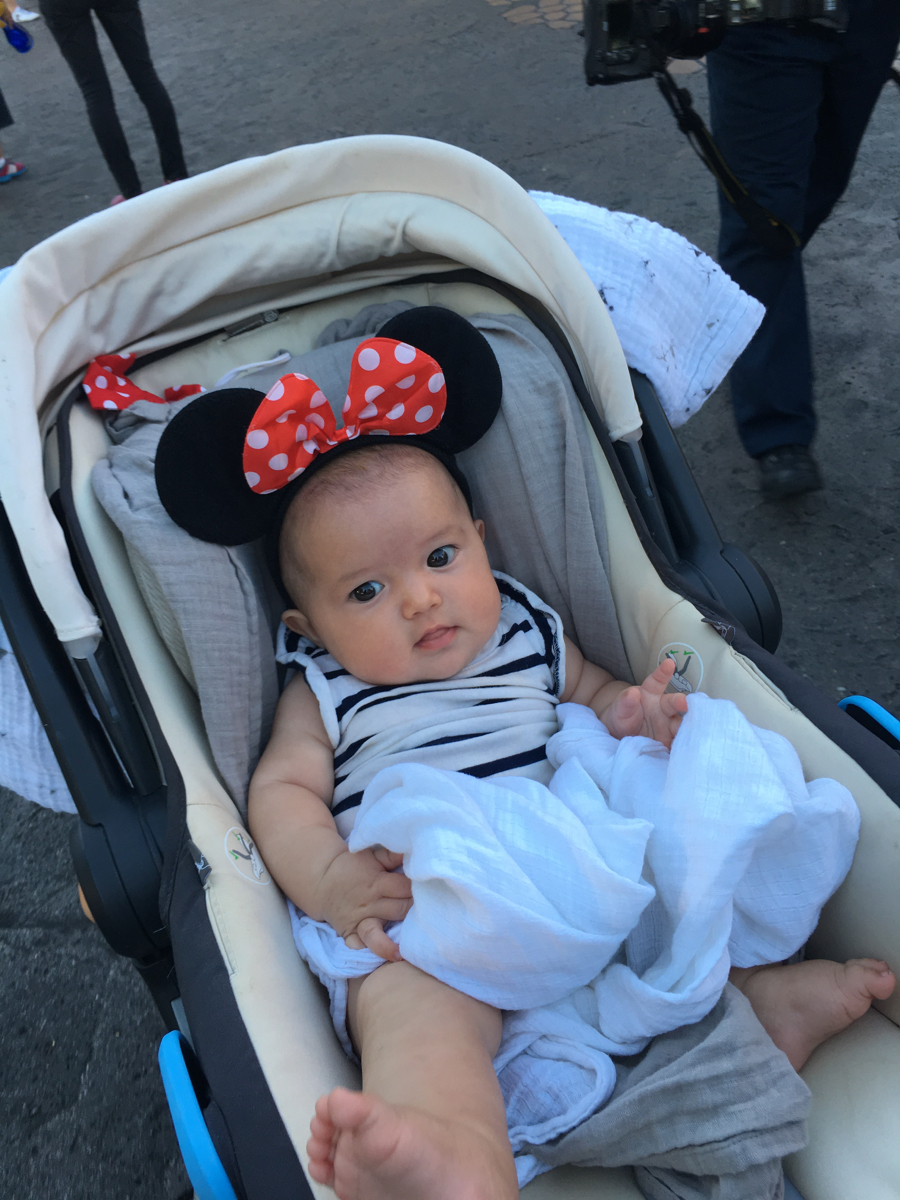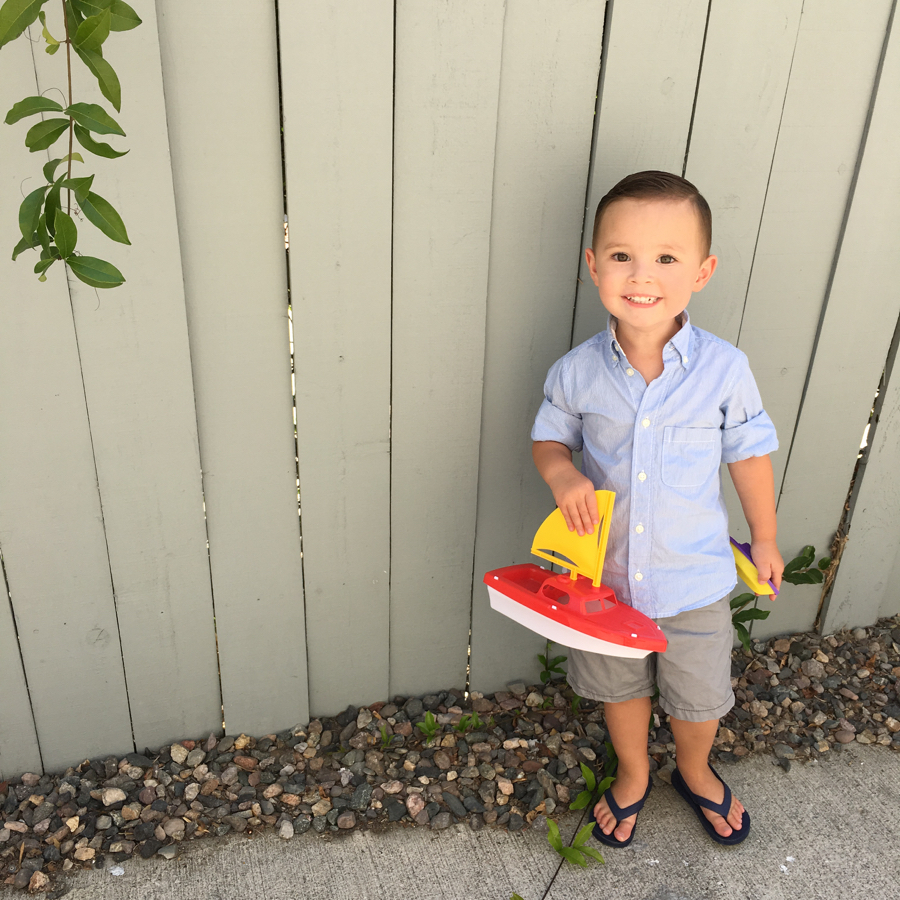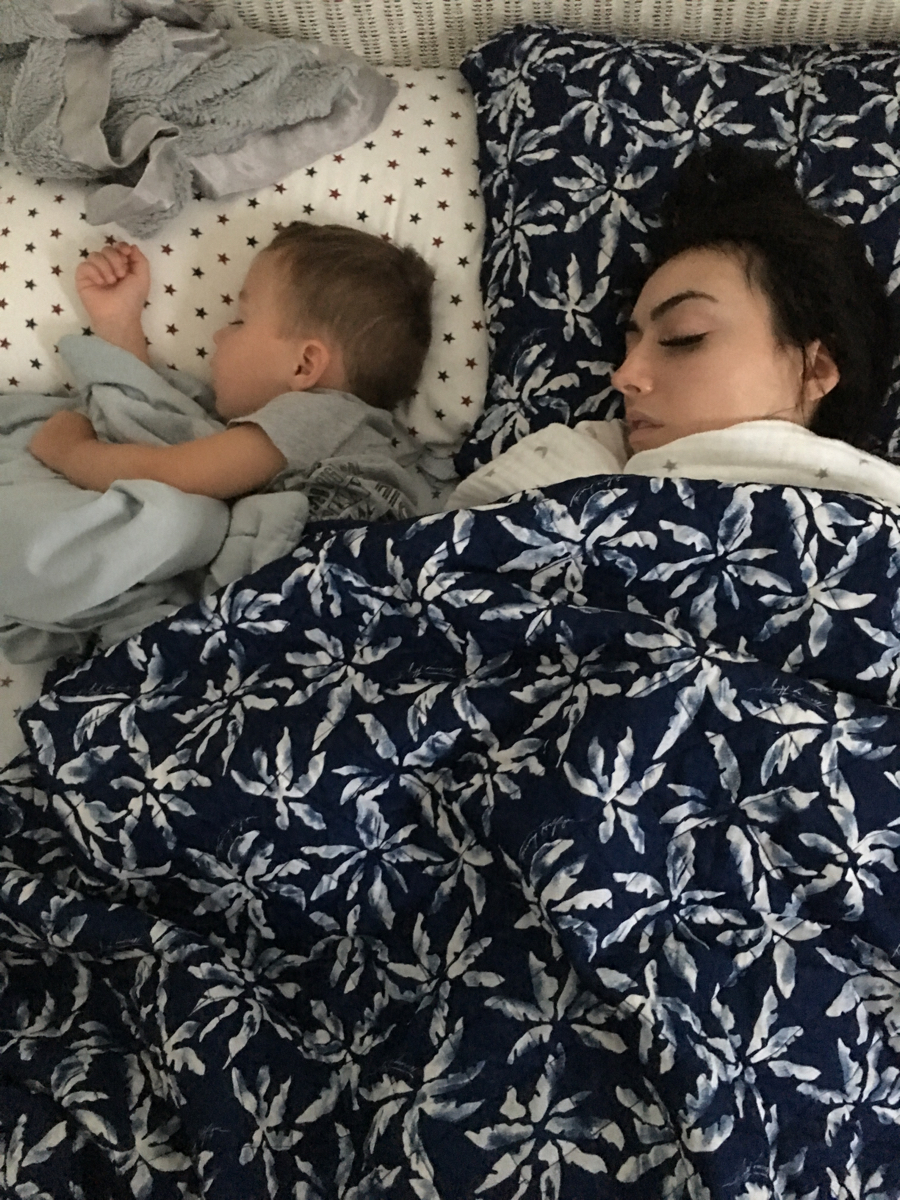 I'm not an expert at being a mom but we do travel quite a bit & have a very active little one so I've had to learn a thing or two. I made a simple list of the top 9 things that make traveling with the kids! We have Mason who is 3 & Monroe who is 6 months. So I try to appease both of them and make them as comfortable as possible so I can breath a sigh of relief and cross my fingers that everything runs smoothly.
9 TIPS
1. Dress them in comfy clothes: 
There is nothing more uncomfortable than being on a 3 hour plane ride in the itchiest, tightest, and stiff clothes! Your baby feels the same way! I usually dress Mason in comfy sweats and a tee shirt. If it is colder I will put a sweatshirt over but not a huge jacket. Note: I also bring a change of clothes on the plane with us. All too often Mase wants to help himself to our drinks which means a sopping wet shirt so I've learned to always bring an extra. If you are going to have a layover or a very early morning flight keep that angel in their PJ's and change them during your layover on your next flight. Just plan ahead the night before & make sure they are in something appropriate for PJ's then change their diaper and off the airport it is.
2. Pack Their Comfort Items on the Plane:
 I've found that most kids have something of "comfort" for Mase it happens to be a specific blanket he has. Now I'm a little bit of a germ-a-phob so I won't let him take it on the plane with us (bad mom I know) but he's going to sleep with it. I just can't even image. But I did get one VERY similar just for travel. So we bring it in the car with us and traveling. Its WORTH it! He loves to stick his fingers through tags so when he's getting sleepy we simply whip out that blanket & ahhhh peaceful flying (who am I kidding, it's never that easy but it helps). So consider buying a second of whatever their "comfort" is or if your just tote the one you have with you, it will help. For Monroe she is teething for she loves things to chew on. She hasn't gotten super attached to anything just yet.
3. Pack toys that they haven't seen before or in awhile: 
I learned this from one of my best friends about 8 months ago & I love it! I usually go through the house before we leave and grab a couple small toys that Mase hasn't seen in forever and doesn't really remember. When I take those suckers out on the plane you would think it's Christmas! I've also heard of running to the Dollar Store and grabbing a couple random things! Genius! These little toys could go a long way on a flight.
4. Snacks, snacks, snacks: 
So no matter what time our flight it I try to hold Mason off on eating as much as I can until we board. That way he is hungry but the time we get on the plane and for a chunk of time eating snacks on my lap. So if we have an early morning flight I will wake him up get him a sippy of milk and make him toast. But I pack the toast up and tons of other snacks to give to him on the plane. The milk is usually plenty when his first wakes anyways (they are never that hungry right away). Also when it comes to snacks I try to pack his very favorite things and special things. For those times when his screaming at the top of his lounges and I say "fruit roll-up" or "tic-tacs" magically that screaming stops and a huge smile appears. Judge away, I don't care. When your child is freaking out on a plane there are no rules or boundaries on what to do. For Monroe I bring little Puffs! She loves them! Also you can as the flight attendants for a cup of ice and let them chomp on that. I will chomp a couple of pieces to make them smaller (momma bird over here) but she loves them!
5. Bust out the Technology: 
Okay, so I have to say that we try REALLY hard not to rely on iPads or our phones but like I said earlier on the plane anything goes. So you can bet your bottom dollar I have 5 episodes of Curious George downloaded on that iPad & phone of mine. Mason also loves music so it helps! Do remember to download them ahead of time. A lot of times you won't have wifi or don't want to pay the extra $20 each flight.
6. Have a "travel kit" set aside: 
Since we do travel so much I have 2 of everything. Mortin, teething tablets, EpiPens (Mase is allergic to peanuts), diaper rash cream, shampoo, body wash, lotion, and etc. Now most of these things are "travel size" so I keep them in a little bag that's just ready to grab and throw in his suitcase. I'm never running around last minute getting all these little things together it helps so much! And we all know nothing is worst than being on vacation having a sick baby and having to run out in the middle of the night to grab medicine, just get double. Monroe I always have teething tablets on hand, infants tylenol, and natural Oralgel. I haven't yet had to use them but it makes me feel at peace and we all know that is priceless!
7. Sanitize: 
I know you can't be germ free when traveling but trying your best will never hurt. I always make sure to have a thing of "wet one's" and hand sanitizer. Wet One's are so convenient and you can buy them in all sizes! You can use them for anything hands, nose, bums, whatever might need service. They are a must!
8. Essential Oils: 
This goes hand in hand with sanitizing. If you do not use Essentials oils now is the time to give them a whirl. I started using them on Mason when he was about 6 months and swear by them! For traveling I bring "On Guard" & "Lavender". The On Guard helps ward off germs & sickness (I LOVE IT) and the Lavender helps for calming him. I use them on the bottom of his feet before we leave the house. Not to mention they smell amazing! I also put a tad bit on Monroe's feet but make sure to put a lotion on before of dilute it.
9. Check your bags at Skycap then park the car:
 Guys if you read ANY of this post read this part! If you are leaving your car at the airport not getting a ride. Pull up to the skycap, check you bags, and get back in the car breath a sigh of relief, and park. You will have nothing to tow! It's my favorite thing to do!
I hope this post help! Here is a little glimpse at what I'm packing Mason's little bag he gets to carry on the plane. Enjoy!