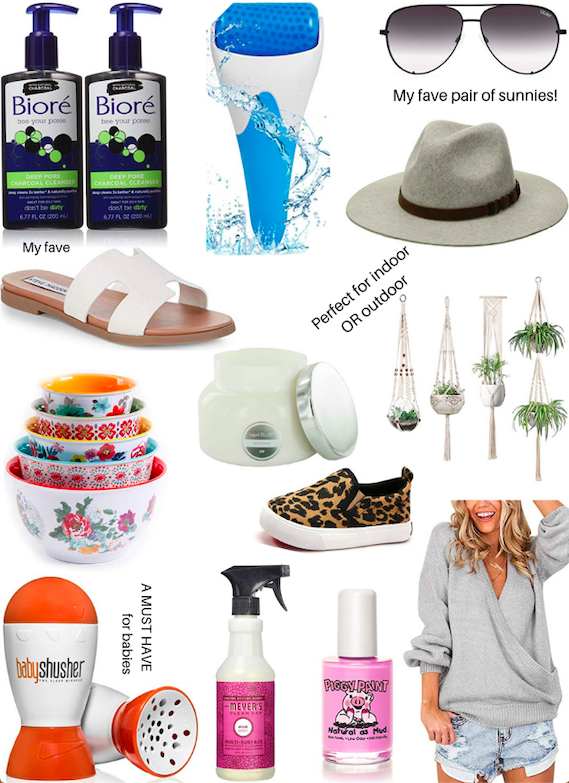 How To Shop My Amazon Store
We all know and love Amazon. It always seems to have everything we need with a click of a button. I love being able to scroll through Amazon at night and buy with one click?! Sign me up! I'm excited to announce I've created an Amazon store where you can find all of my favorites in one place. You can create lists, check things off and see all the new items I'm adding every single day. There's always flash sales so keep close to my store. I will keep adding categories, but for now, I have kids, beauty, home decor, clothing, and shoes. There's more to be added in the future. Head over to https://www.amazon.com/shop/brittanymaddux and follow my store to be updated.
Kids Picks
Amazon has some of the best items for kids. I've talked about the baby shusher a few times on my blog — it is an absolute lifesaver when you have a baby. You NEED to put it on your registry! I also love the Piggy Paint for Monroe. It is a toxic-free nail polish that is safe to use on babies. It says it's as "safe a mud". It's really is! There are some super cute and soft cotton dresses that I love for Monroe and cotton tops I love for Mason that I have added to the kid's section of my shop. You can find awesome basic tops and clothing for kids that pair well with anything.
Beauty Finds
I am a sucker for skincare. My favorite everyday face wash comes in a pack of two and is a great price for both. It really cleanses your skin and gets all your makeup off. It makes your skin feel super cold and tingly. It's really refreshing. One of my beauty secrets is my iceroller. This works amazing if you're using it over a sheet mask or when you have a serum on your face. This is going to be essential when the summer months hit. If you have a sunburn, you can add a little bit of aloe vera to your face and use the iceroller to cool down the redness. It also works great for headaches.
There's so much more to explore on my Amazon store! I hope you love this as much as I do. XO