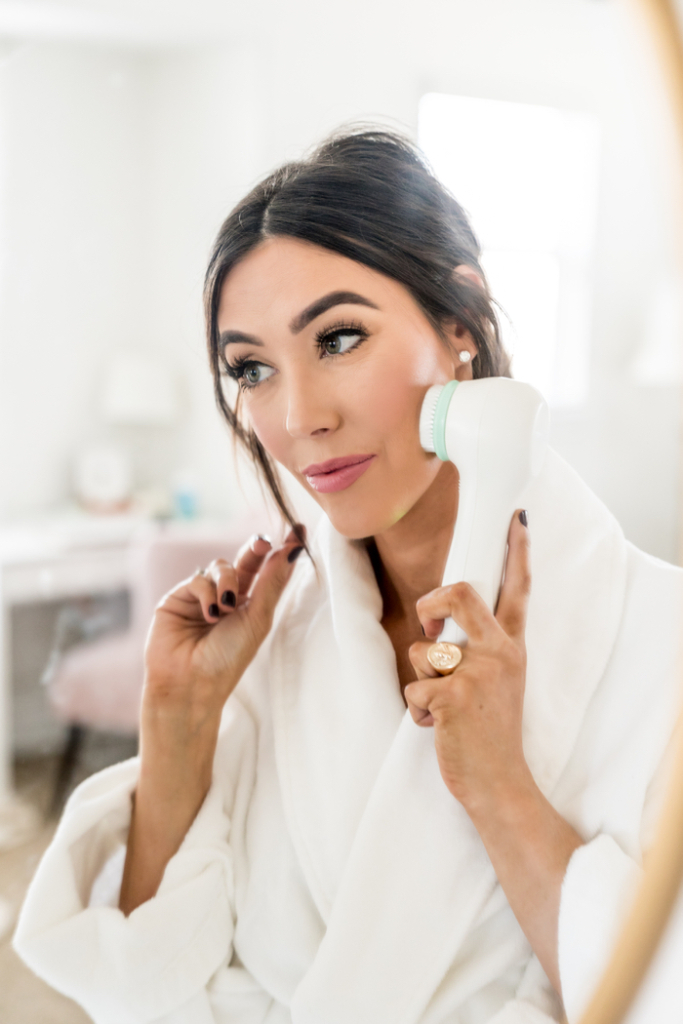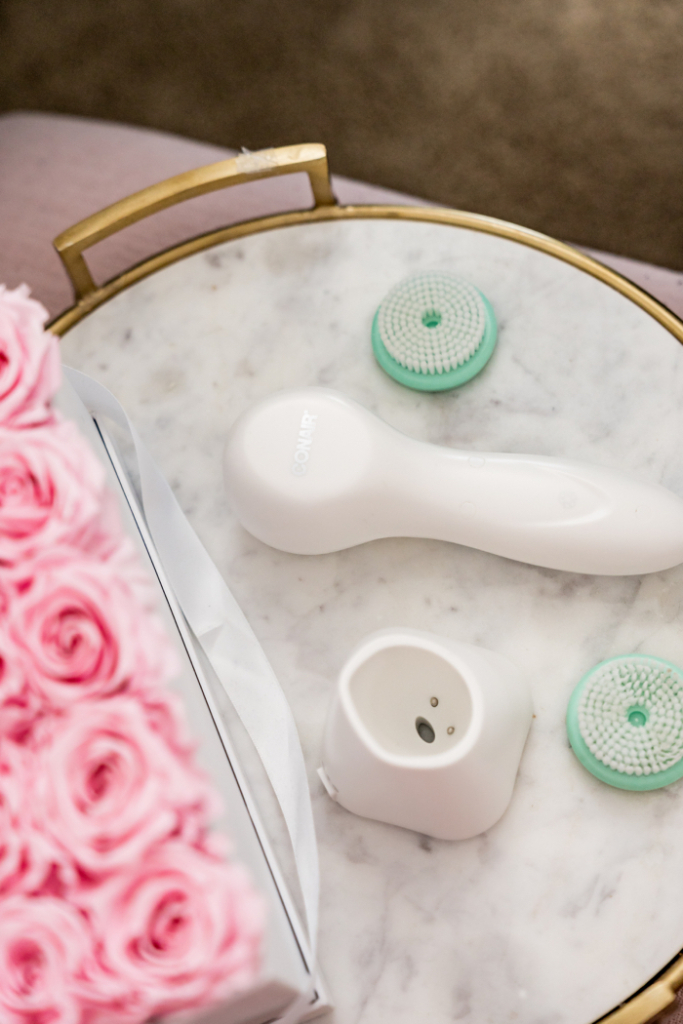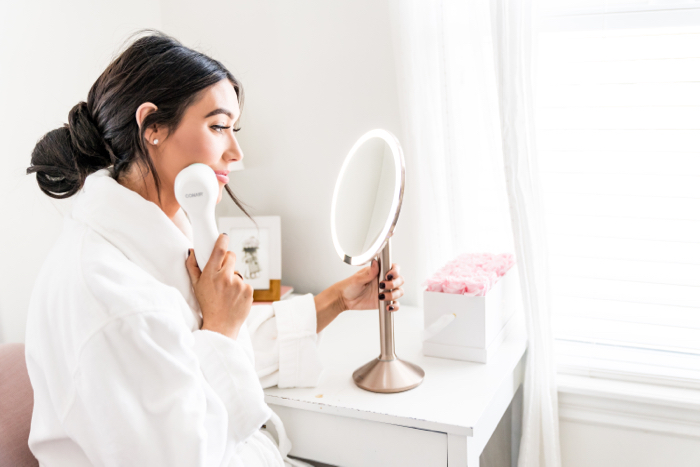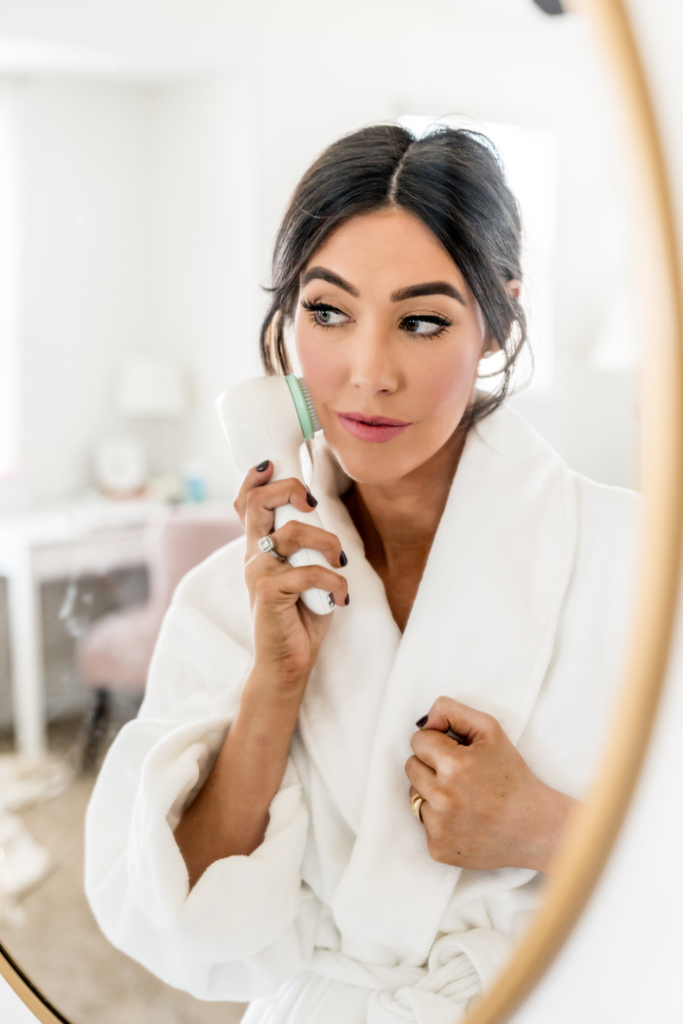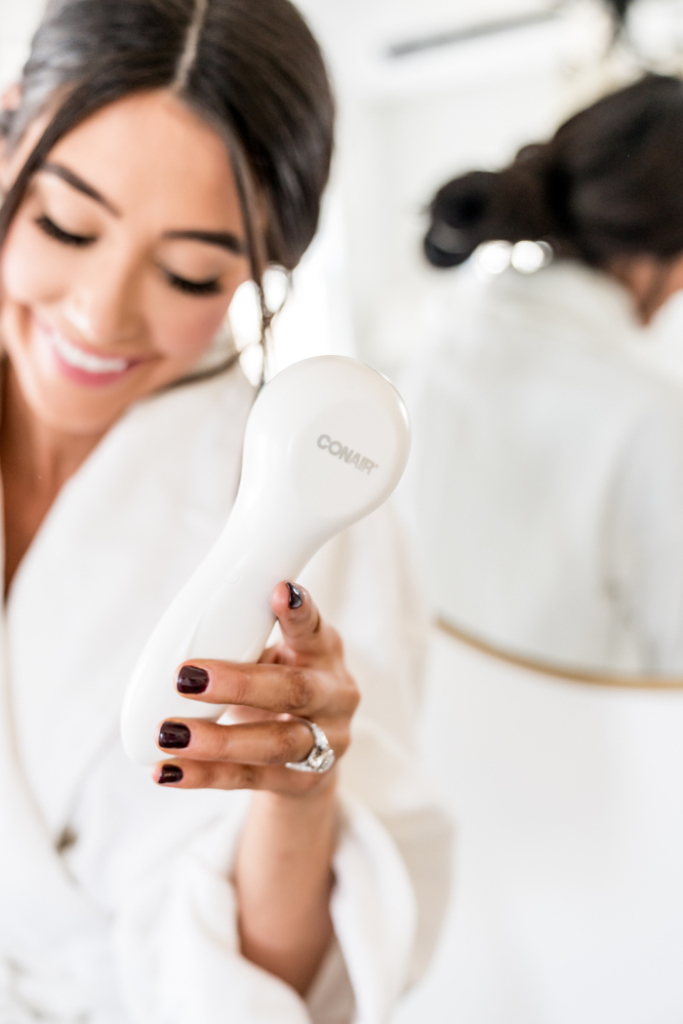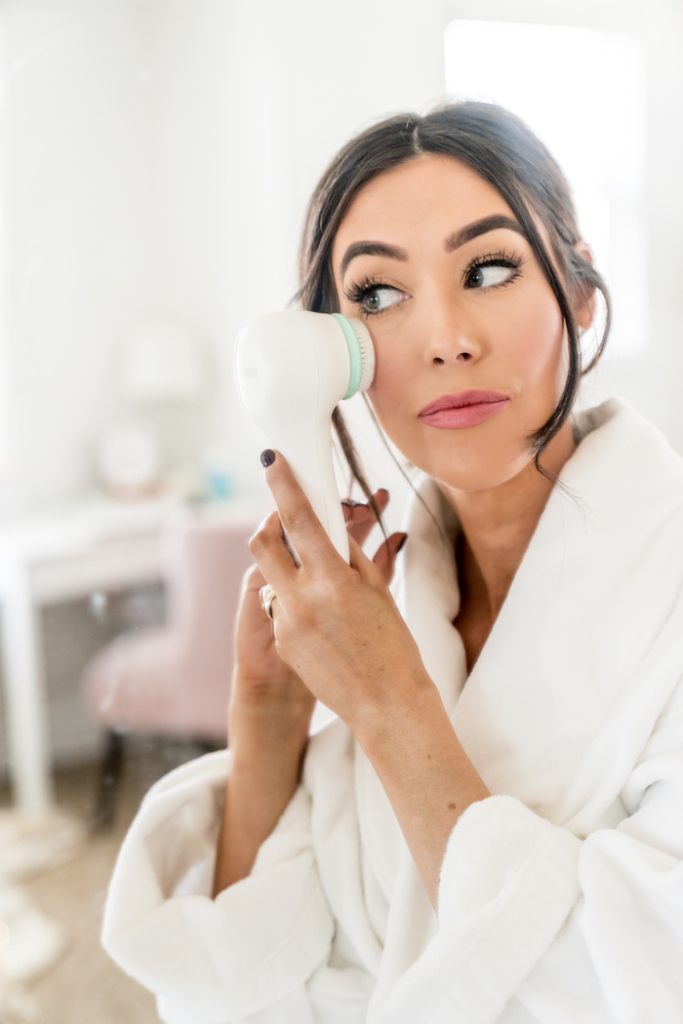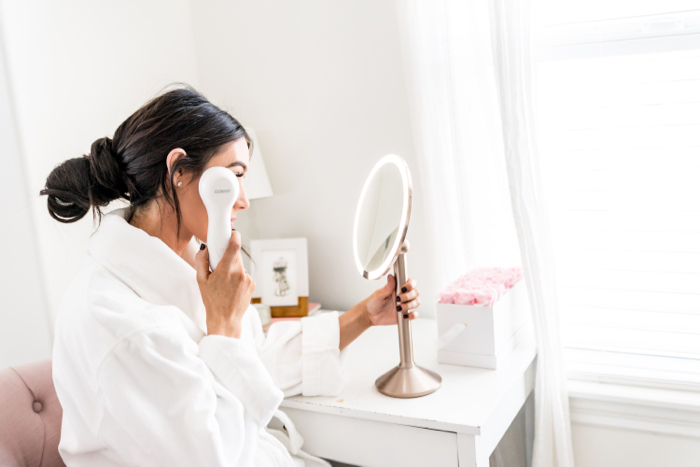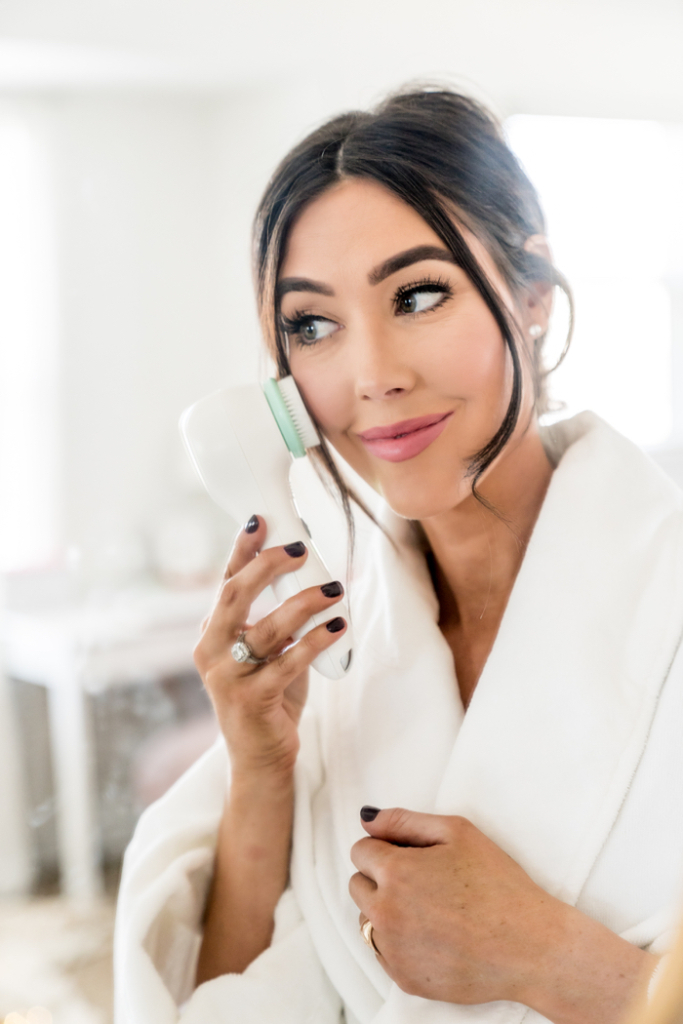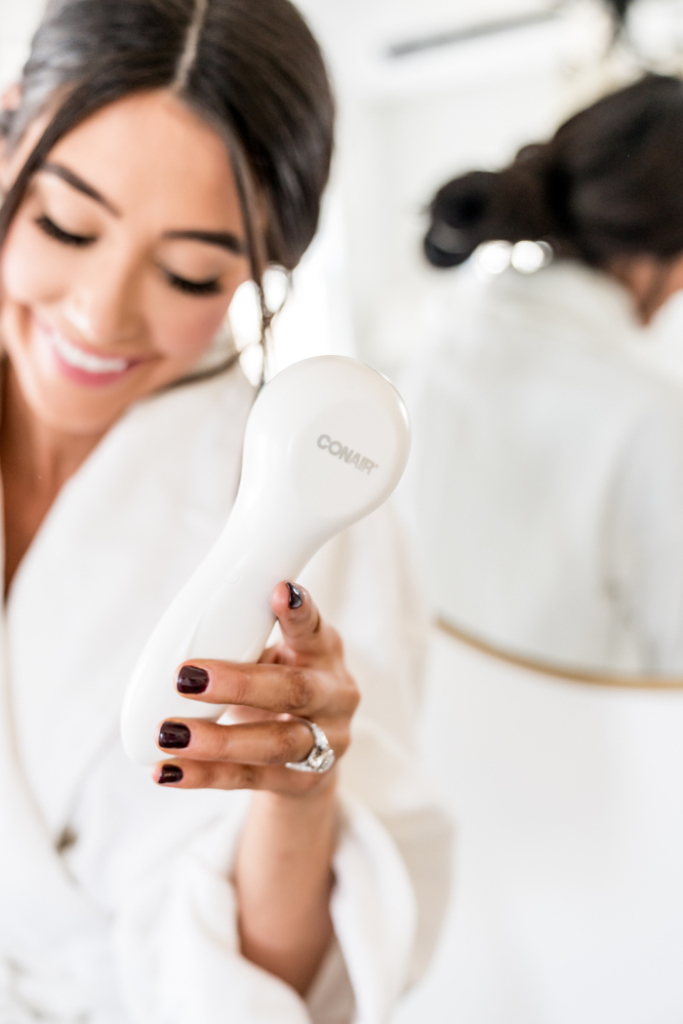 I get so many questions about my skincare routine so I was so excited when this post came around. Throughout the winter my skin can get so dull and patchy but with the True Glow Sonic Facial Brush I am able to give my skin a deep clean and get rid of all the residue and dead skin to make sure I    simply  glow. I   love skincare and facial care that really gives my that gorgeous glow + gentleness. Sometimes just with using my hands, I don't feel like I'm entirely getting off all the junk that is on my face! I was looking for something that was more effective and was able to help me get every last inch of makeup off my face. I found my holy grail! True Glow Sonic Facial Brush from Conair has been such a game changer for me. It is 2x more effective than using everyday facial wash alone. Especially with being pregnant, I feel like my skin needs an extra boost! This does just that. It helps me know that all the makeup on my face is off and my skin can breath through out the night. Not to mention the skincare products I    use on my face after I've washed it absorb so much more! They can penetrate deeper into my pores because my face is to clean. 
With being a mom of two on the go and one on the way, I'm always looking for ways to simplify my lifestyle. Personal care is huge for me. I know how important it is to take care of yourself, especially when you're taking care of a little extra someone. I want to be able to do all the facials, skincare steps and all that in between. But there really is no time in my evenings for that. If you're a mama who still wants to look glam but doesn't have time to add on steps to your beauty or skincare routine, you are so not alone. It's so nice to be able to dedicate just a few minutes for yourself in the evenings. I don't use my facial brush every night, though I could because it's so gentle. It's just a 60-second face massage in a wand that I look forward to every other night. I    just keep it in the shower (it's waterproof) and I'm able to use it to get a good smooth face in a minute and my makeup goes on so smooth! Sonic technology powers this brush at 300 oscillations per second to literally shake dirt and makeup from the pores! Reduces areas of dry skin, oily patches and visible blemishes.
Us women work hard during the day and need to take some time for ourselves to feel good. Self care is so important. You are in charge of your happiness and you know yourself the best, take some time for yourself, cleanse those pores and wake up with smoother, gorgeous skin! You deserve it. Not to mention it makes the perfect holiday gift at a fraction of the price! I    have grabbed a couple extra myself for holiday gifts and cannot wait for my friends to try them! It's perfect for you  mom, mother-in-law, sisters, even Trevor loves to wash his face and I always catch him using mine so I might just grab him his own. Let me know if you guys have any questions. I'm a raving fan and know you guys will be too! 
Thank you so much Conair for sponsoring this post. As always, all thoughts and opinions are my own. #GoConair #sponsored 
<!-- start Markerly tracking code --> <script type="text/javascript" src="https://storage.googleapis.com/markerly-tracker/tracker.min.js#tracker_id=conairtrueglo00268&blogger_id=20057"></script> <!-- end Markerly tracking code -->