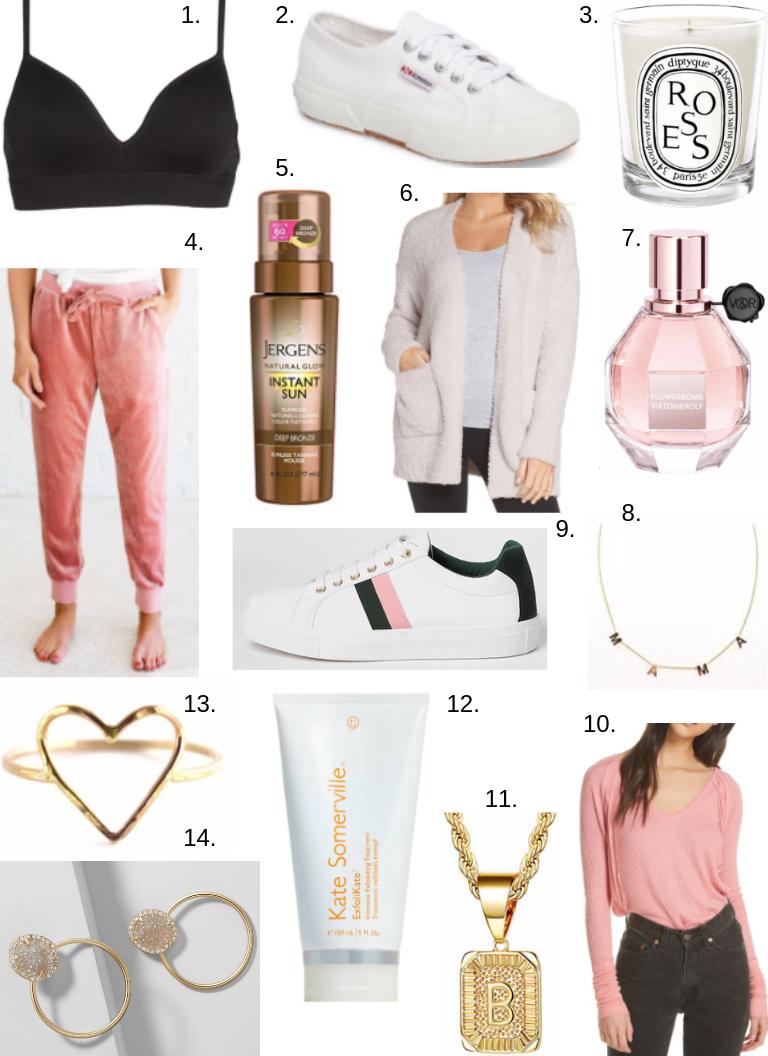 1. Seamless Contour Bralette– This is the most comfortable bra in the whole entire world. I cannot stand when a bra digs into my skin or squeezes me. This bra holds everything in and gives you a great oomph to the girls.
2. 'Cotu' Sneaker- I love a good white sneaker. These shoes go with any outfit and have been a lifesaver for my feet while I've been pregnant.
3. Roses Scented Candle-Lighting this candle in my home is one of my favorite things to do at night. It is the coziest scent and makes my home feel so warm and inviting! This is a great candle to light if you are having guests over.
4. Pink Velvet Joggers- Talk about being comfy 24/7. These joggers are not just any regular joggers, they're pink velvet/ cute/ amazingly soft joggers!
5. Jergens Instant Sun– This stuff is like liquid gold. It gives you an instant tan and is streak free. I cannot express how much I love this! It's great to touch up a spray tan or put on your whole body for a gorgeous sun-kissed glow!
6. Barefoot Dreams Cardigan- This cardigan is like wearing a big hug all over. Such a comfortable and cozy cardigan. I'm packing this in my hospital bag!
7. Flowerbomb Perfume– My signature scent. I've been wearing this perfume for years ever since Trevor bought if for me when we got married. It is such a warm and rich scent.
8. Initial necklace- I am a lover of small dainty jewelry which is why this necklace is perfect for me. It's adorable stacked with other small necklaces.
9. Side stripe sneakers-A fun twist on the classic white sneakers. Since being pregnant, I've been wearing flat shoes more. These are super cute paired with a jean jacket and some joggers (maybe those pink velvet ones I just talked about, haha.)
10. Free People Top- I have this top in almost every color. It is lightweight and so cute. I just love it! The neckline is great, the length for my arms is great, I love it all. This is definitely a more casual top.
11. Letter necklace- Again, a dainty piece of jewelry that I can't resist! I wear this necklace quite a bit and it adds just enough to any outfit. Great option as a gift too!
12. Kate Sommerville Exfolikate- This exfoliator works wonders on my skin during the dry months of winter. This stuff really works and is super strong so you don't want to rub too hard, use small circular motions to get rid of dead skin and reveal your cute/clean face!
13. Heart Ring- I'm a total ring girl, so when I saw this little piece, I couldn't pass it up. I mean, how adorable and simple. I just love it!
14. Hoop Earrings- Earrings to me can totally make or break an outfit! I love adding some extra detail and glam to my outfits with different styles of earrings. These hoops have so much sass and have the prettiest detail!