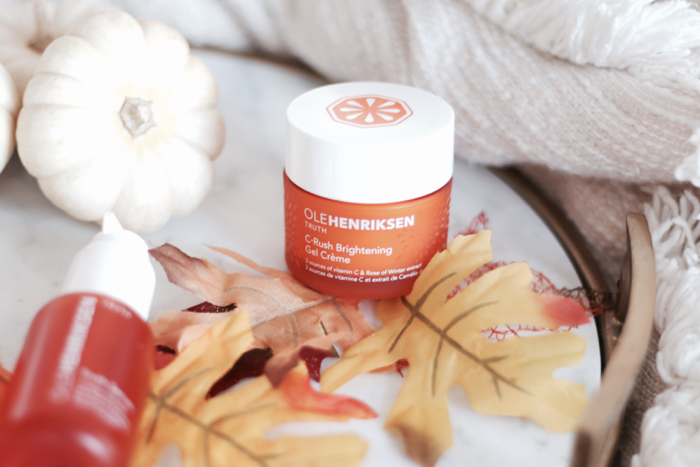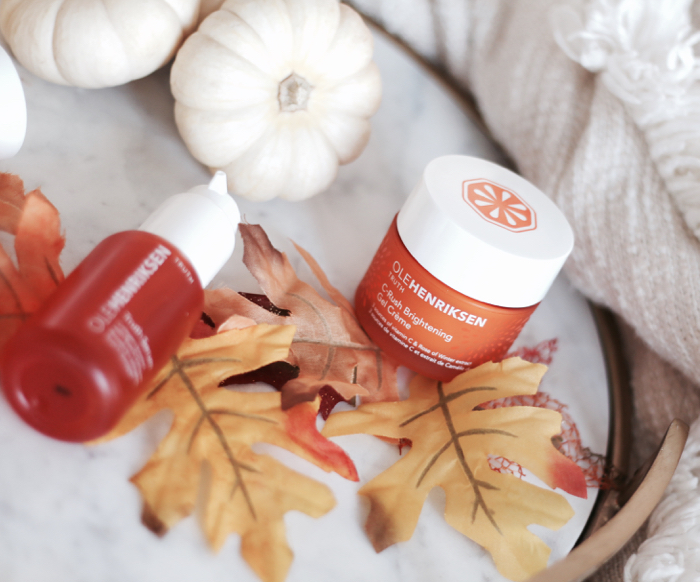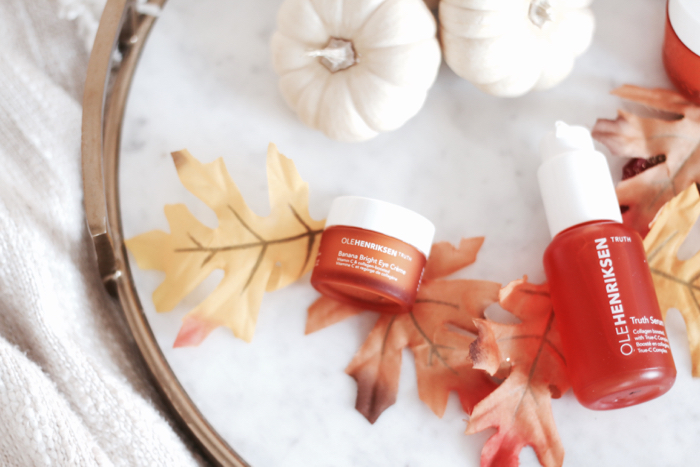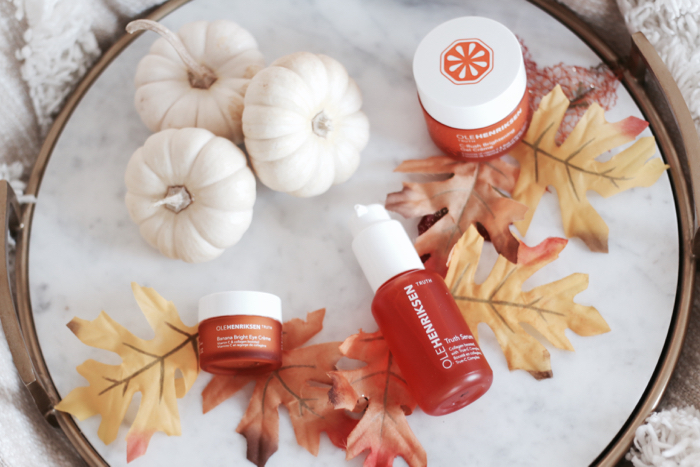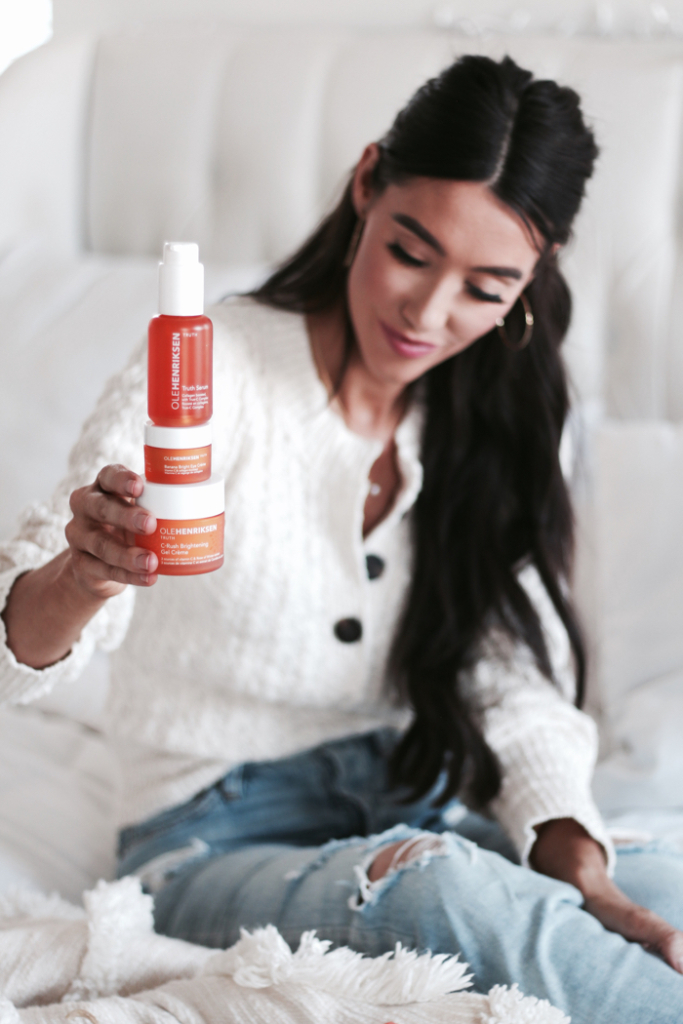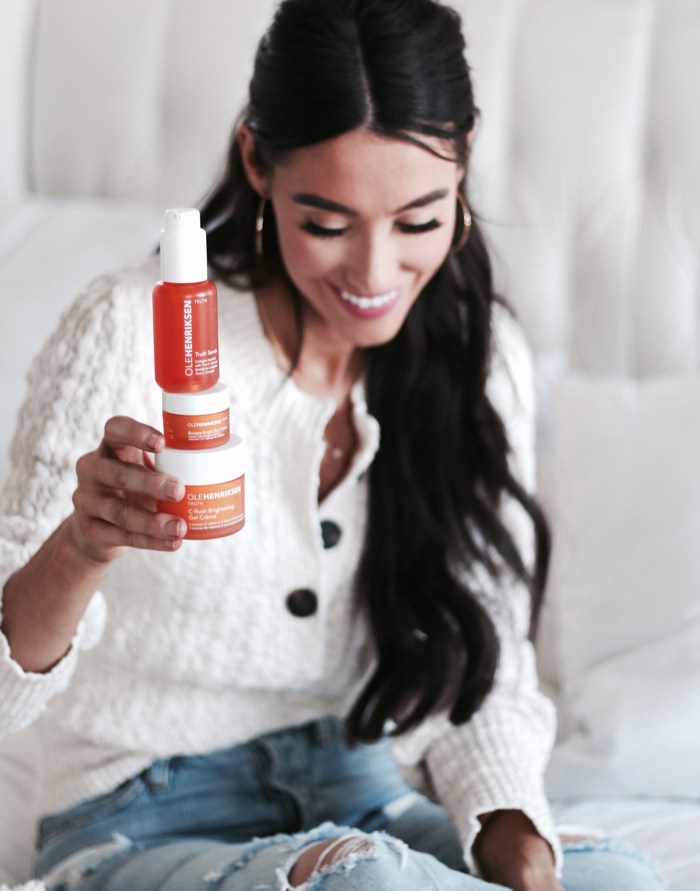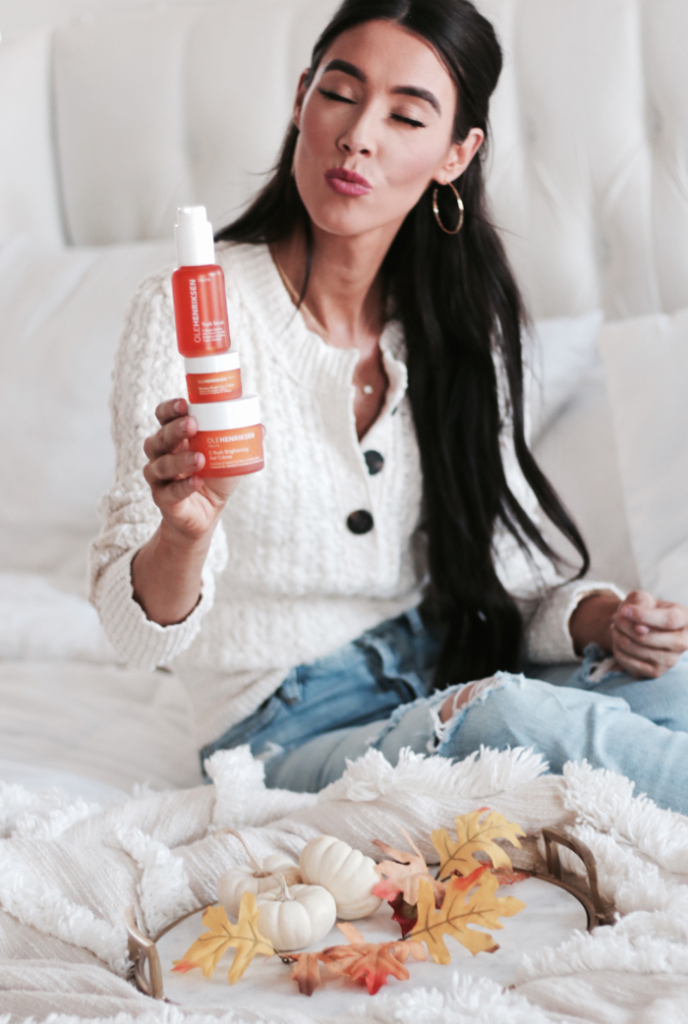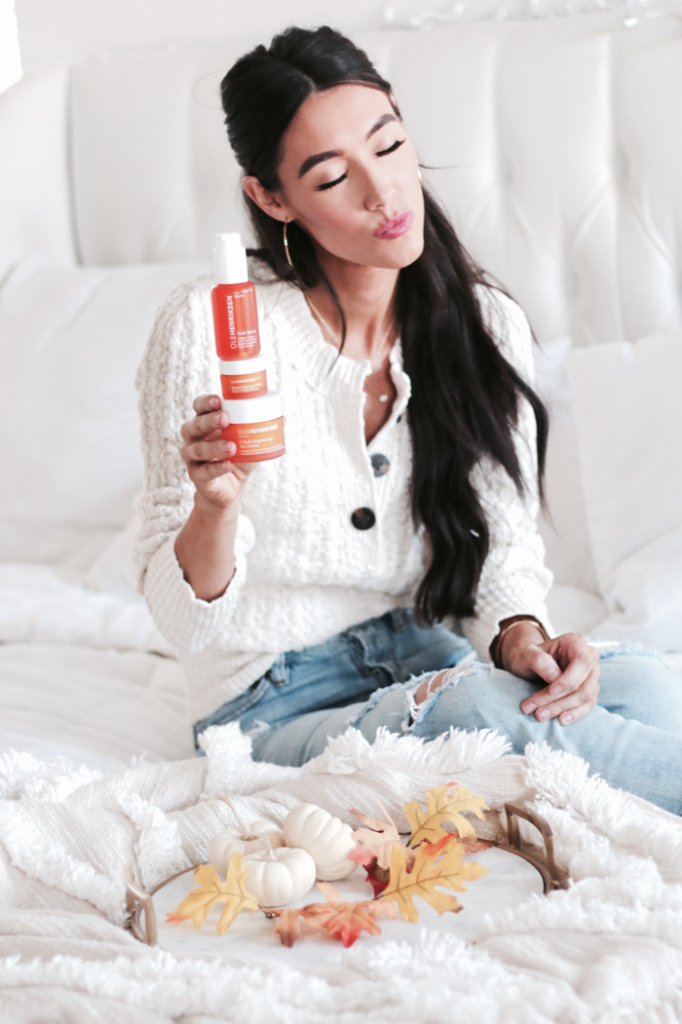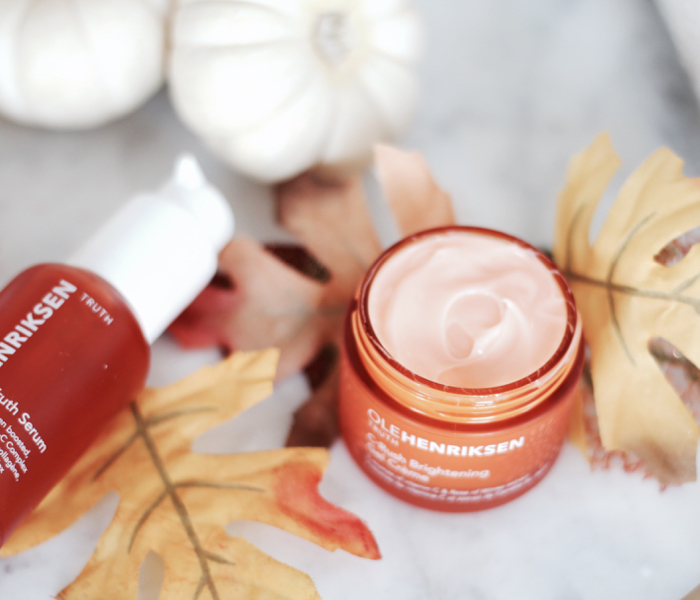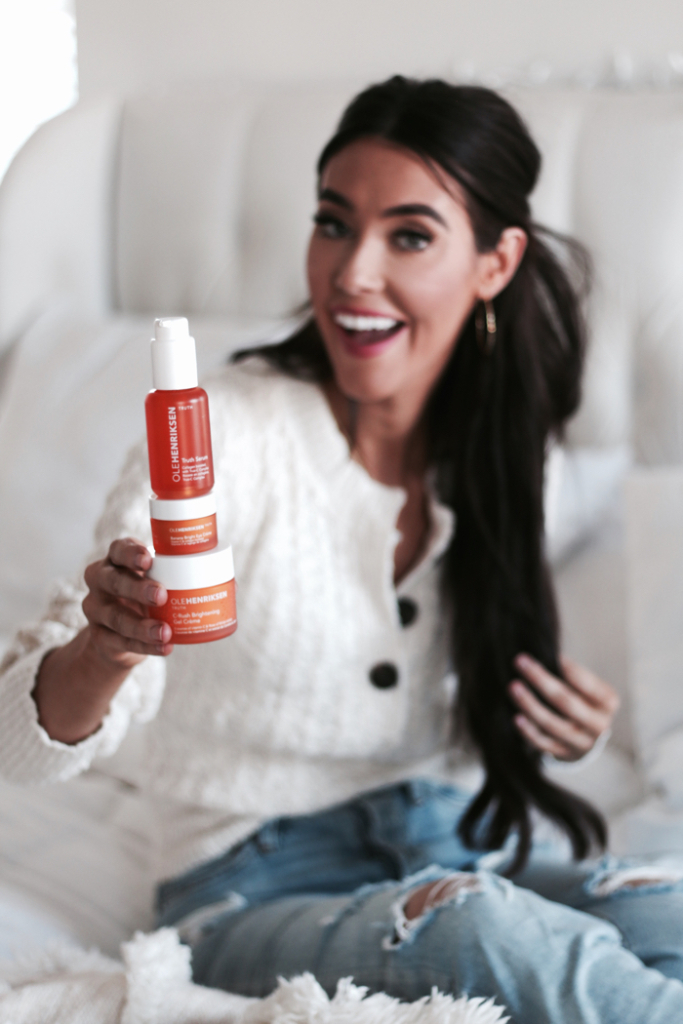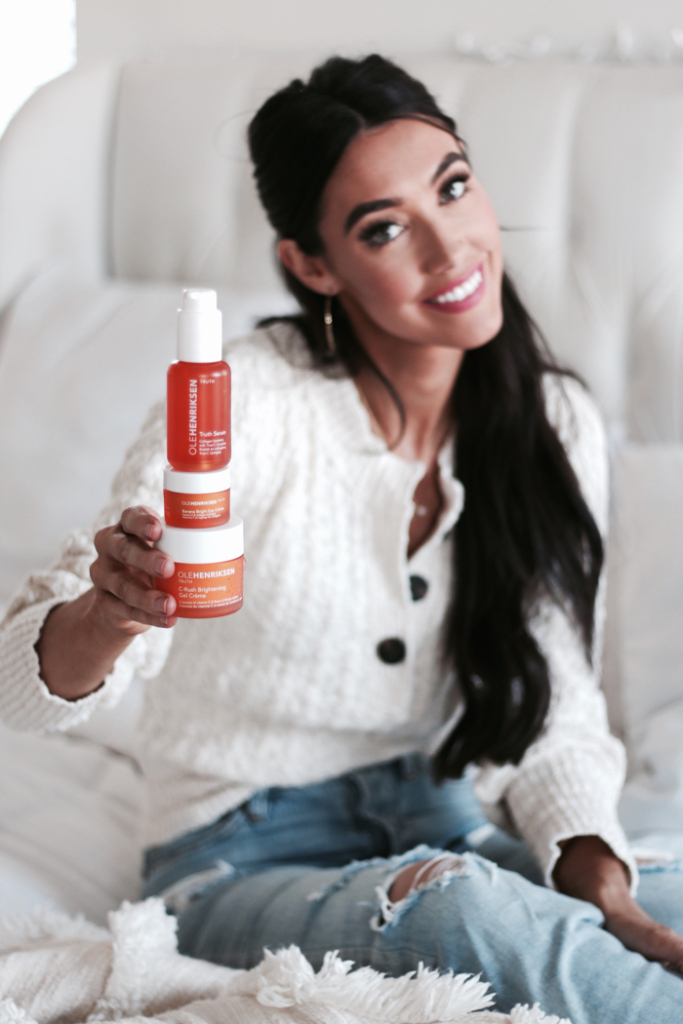 GIRL. GET YOUR GLOW ON!!! I am extremely passionate about skincare. Like almost to the extreme. My whole life I've had to change my skincare routine because for some reason my skin just likes to give me a hard time. But not a problem, I've figured out my secret concoction that works every time! With fall coming up, I notice that my skin starts to get a little dry and sometimes itchy if it is super cold outside. I've tried all kinds of lotions and potions and nothing has really helped me get the inner glow during this time of year that my skin was really needing. I've searched high and low and I am so happy to say that I have found an answer to fixing dull fall skin!
Ole Henriksen's Vitamin-C must-haves are life changing! Why? Because every product has Vitamin-C as one of the main ingredients! My skin is in love with Vitamin-C and all the benefits that come with it. It helps brighten my skin, reduces signs of aging (yes please!!), deeply hydrates and firms! Give me all of those benefits! The products I'm talking about are:
I want to start out with talking about the Banana Bright Eye Creme. First off, all of these products smell so yummy! This under eye creme has seriously been a game changer for me! If you've followed me for a while now, you know I have bags under my eyes. It is something I have always had, which is a total bummer! I am so impressed with how this creme has made my under eyes look. It is a collagen boosting creme that firms and hydrates the under eye skin. Also, that Vitamin-C that's jam-packed in all these products is a game changer! It targets my not-so-obvious aging (it's super obvious, lol!). I put this creme on morning and night since the formula is so lightweight, it doesn't bother me when it is under my makeup! Next is the C-Rush Brightening Gel Creme. This is like heaven in a bottle. Like I said earlier, during the fall my skin gets super dull and dry! I know I'm not alone because my sisters tell me they experience the same conditions with their skin! This creme is like a huge glass of water for my skin every day! It's the perfect pick-me-up and smells SO GOOD. Recently, I've been really into putting serums under my makeup. I was told by a skin guru that if I'm not putting a serum on before I apply my makeup, then I'm doing a disservice to my skin! I was so mad that no one had ever told me to do that. Now, I put the Truth Serum under my makeup and it's amazing! This serum brightens like crazy and hydrates my skin, which is something that I am in constant need of!
The whole line can be found at Sephora inside JCPenney! If you want amazing glowy skin during this fall season, you need to run, not walk, to your nearest Sephora inside JCPenney.
Thank you Ole Henriksen and Sephora inside JCPenney for sponsoring this post! All thoughts and ideas are my own. #ad #sponsored #OleGlow #SephoraInJCP