Packing For The Park At Disney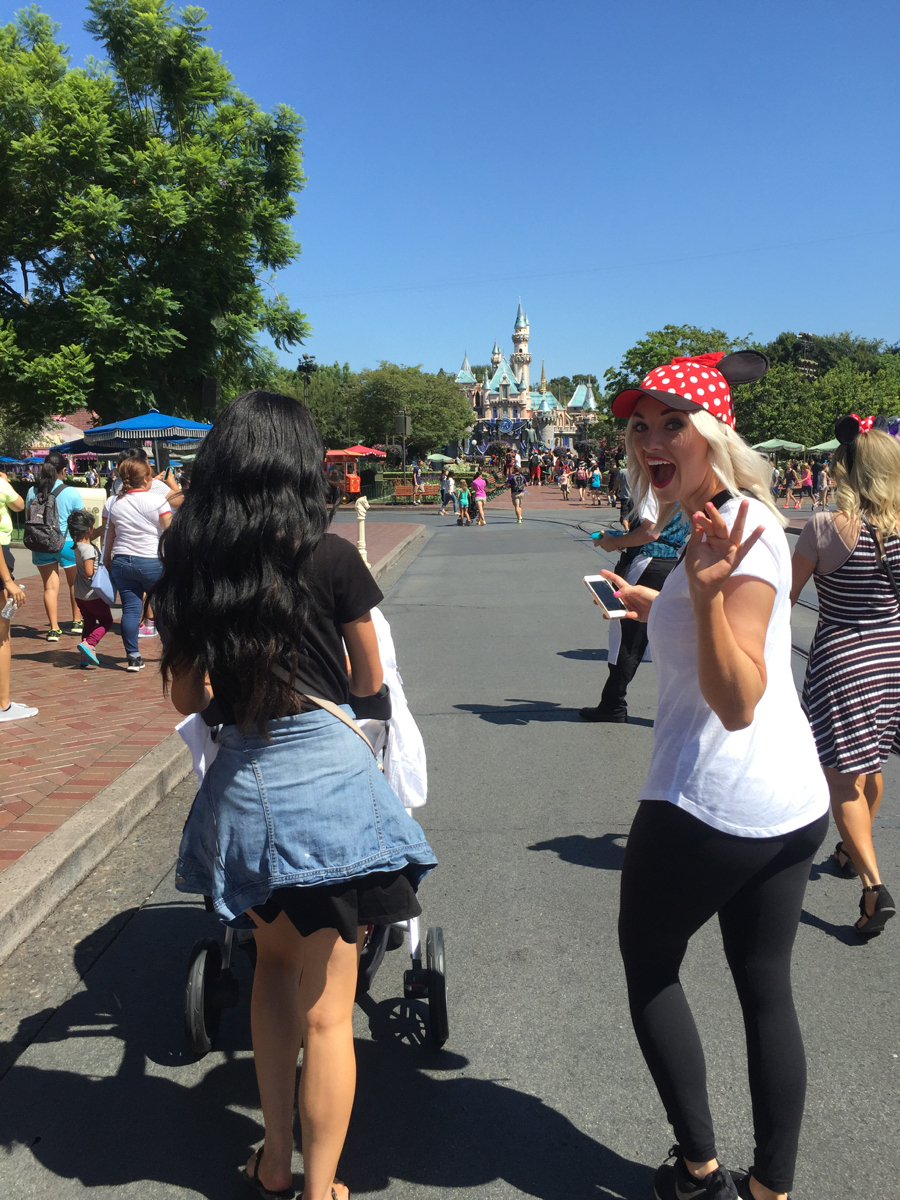 Packing For The Park At Disney
Day 3 Yay! I know I said this last time but guys thank you so much for your kind words, your additional tips, and your usefulness of these posts! I wasn't sure how they were going go over at first but I will make sure to do more of these to help all of us mommas out in the future!
I'm excited about today's post! It is simple but useful! I wanted to talk a little about exactly what I pack for the park! I know it seem silly but if you're anything like me I like to be prepared and making a list of what I'm going to take into the park makes me feel as prepared as possible! Now, I want to disclaimer this by saying, I have a stroller! We put most of these things at the bottom of the stroller but with a stroller also comes kids (obviously) so we need a run down of things just to keep up with them.
I have photographed almost everything we bring with us minus a couple things but I will have the complete list below. I do want to say I always Fawn Design bring my bag to Disney always! Not only is it my favorite diaper/bag in the world it is so convenient and easy to hold. I have the grey one in this post! * This is not a sponsored post. I simply wanted to share my love.
LIST FOR PACKING FOR THE PARK AT DISNEY
Camelbacks: Or some type of refillable water bottle! Why? Because you can fill it there with fresh ice cold filtered water! Don't spend $6 on a water bottle! There are a couple spots throughout the park that you can walk up and fill your water bottle and it is heavenly! You will never have a shortage of water, you stay hydrated, and if you're anything like us you pop those Crystal Light Energy Packets in there like they are candy! That's another one of my little tips! We love Crystal Light Energy Packets around here! I need the caffeine and don't always like to drink soda. These are perfect for Disney and I will grab a couple packs to have on hand. They are so little which is nice for packing. They also flavor your water so you can have a nice lemonade or whatever you please. They also have many flavors that are caffeine free which are great for the kids and help encourage them to stay hydrated! I pack a camelback for Trev & I and one each for Mason & Monroe.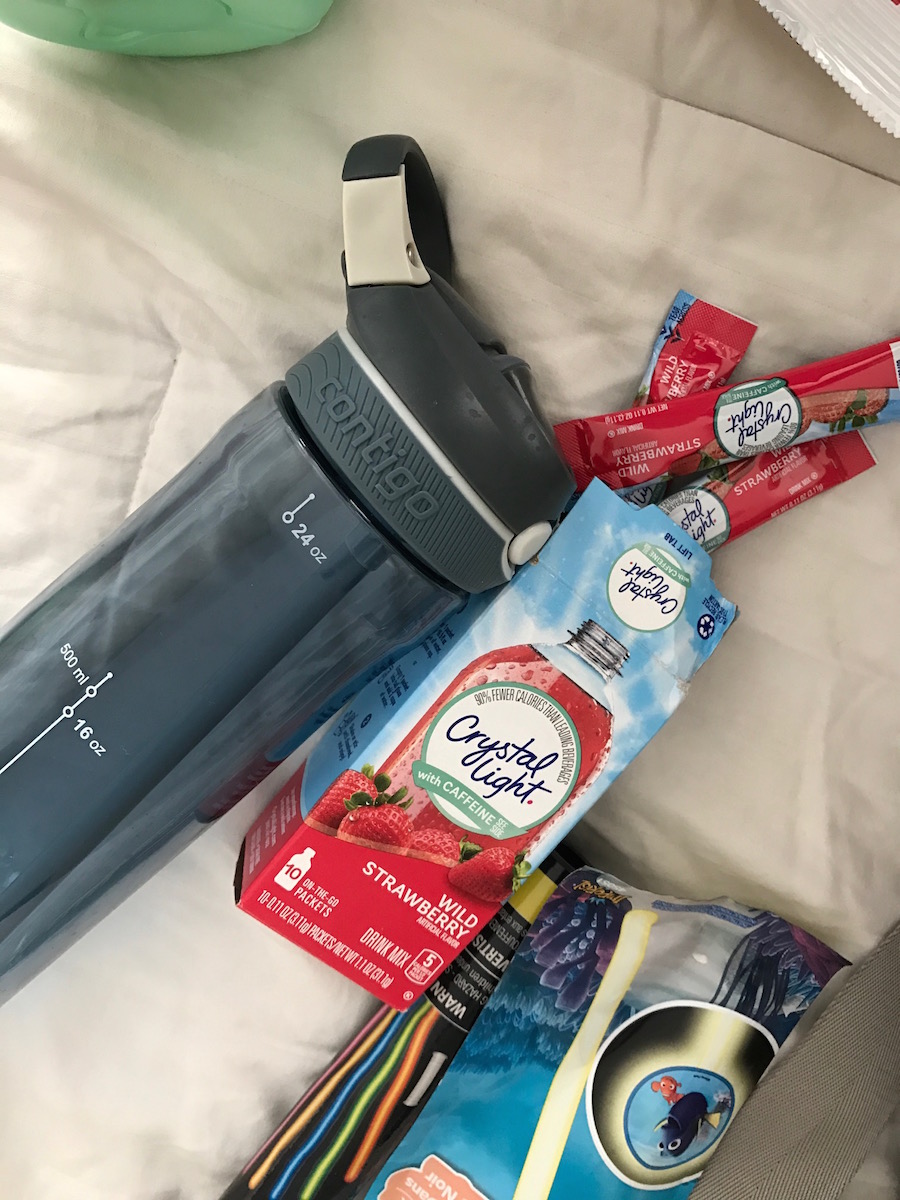 PJ's: I always pack PJ's because the times we don't stay at the Disney Hotels we usually have a little bit of a drive and the kids will fall asleep for the night. I change them before we get into the car and poof it's like magic! We don't have to worry about waking them up to change and all that grumpy business. I promise they don't take up much room and if you're worried about the space situation or not wanting to carry them leave them in the car so once you get there you can change before you leave. You can also get a locker.
Diapers & Wipes: Obviously & I have one pair of extra undies. Mason has "knock on wood" never had an accident but you never know and especially with Disney and how excited/distracted you get it's better safe than sorry.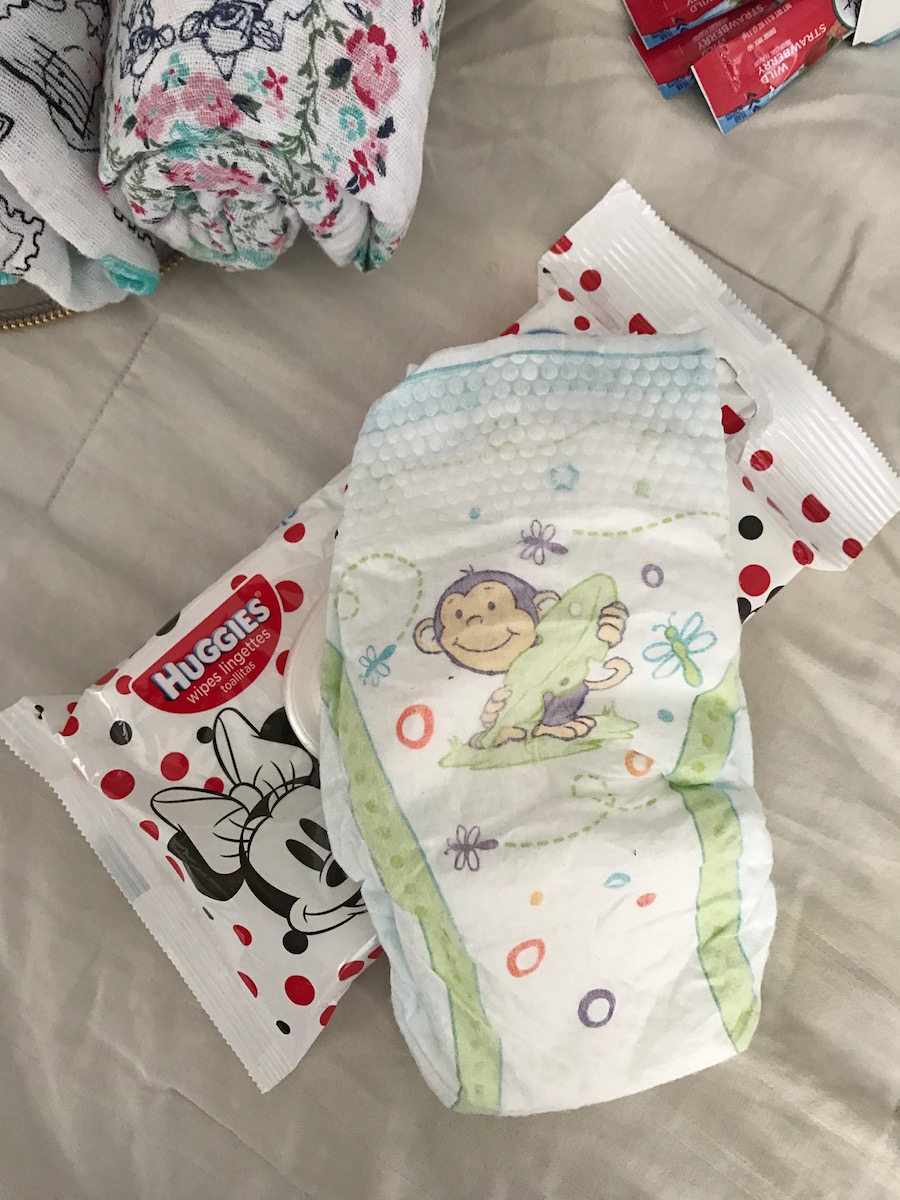 Extra Shirt for the kids: Ok, so this could be considered over prepared but I do like to have an extra shirt on hand for the kids & extra onesie for Roey because they tend to get so dirty throughout the day. It's nice to freshen them up. If we stay on Disney grounds we usually go back to the hotel midday to rest for a bit and change there. Now, we have bought a couple extra shirts why we were there because Mase got his so wet and messy (that's always an option & kinda fun). Also I pack Tide to Go!
Light Blanket: The kids sometimes like to rest and cuddle up in their strollers I always make sure they each have a light blanket. You all know that Aden + Anais are my favorite and their  adorable Disney Collection is golden! A blanket is also nice for some of the rides. Although it can be hot when you're waiting inside for a ride or on the actually ride they usually have the air conditioner going. For us adults it feels like heaven but for the kids it can give them a chill!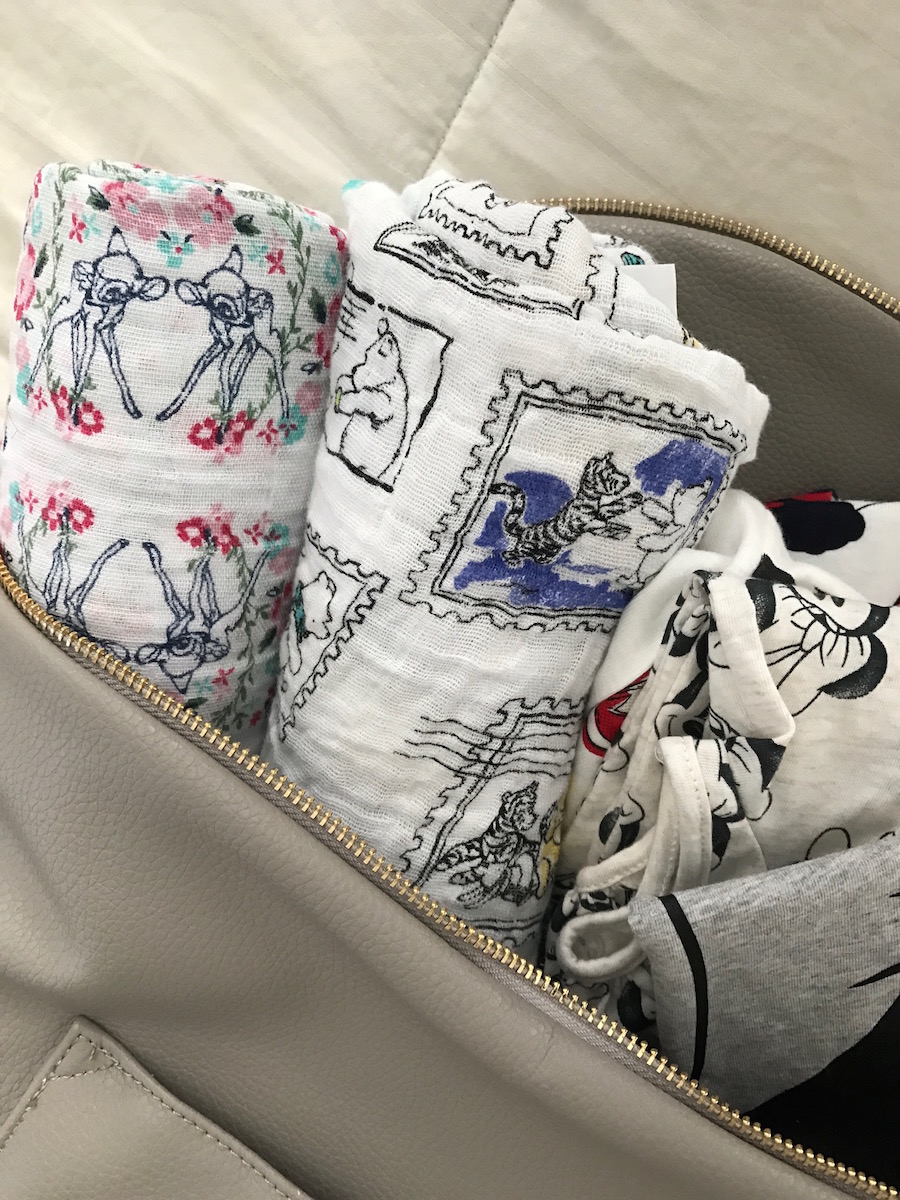 Hand Sanitizer, Antibacterial Wipes, Lotion, Gum, and Bandaids: These are all self explanatory but good to have on your list so you don't forget one! Perfect for a little snack in the park while walking from ride to ride and you don't want to stop to wash your hands or if you're in line. Bandaids are so nice to have too! Last but not least, gum! They don't have any gum to purchase at the park so pack it! They always come in handy!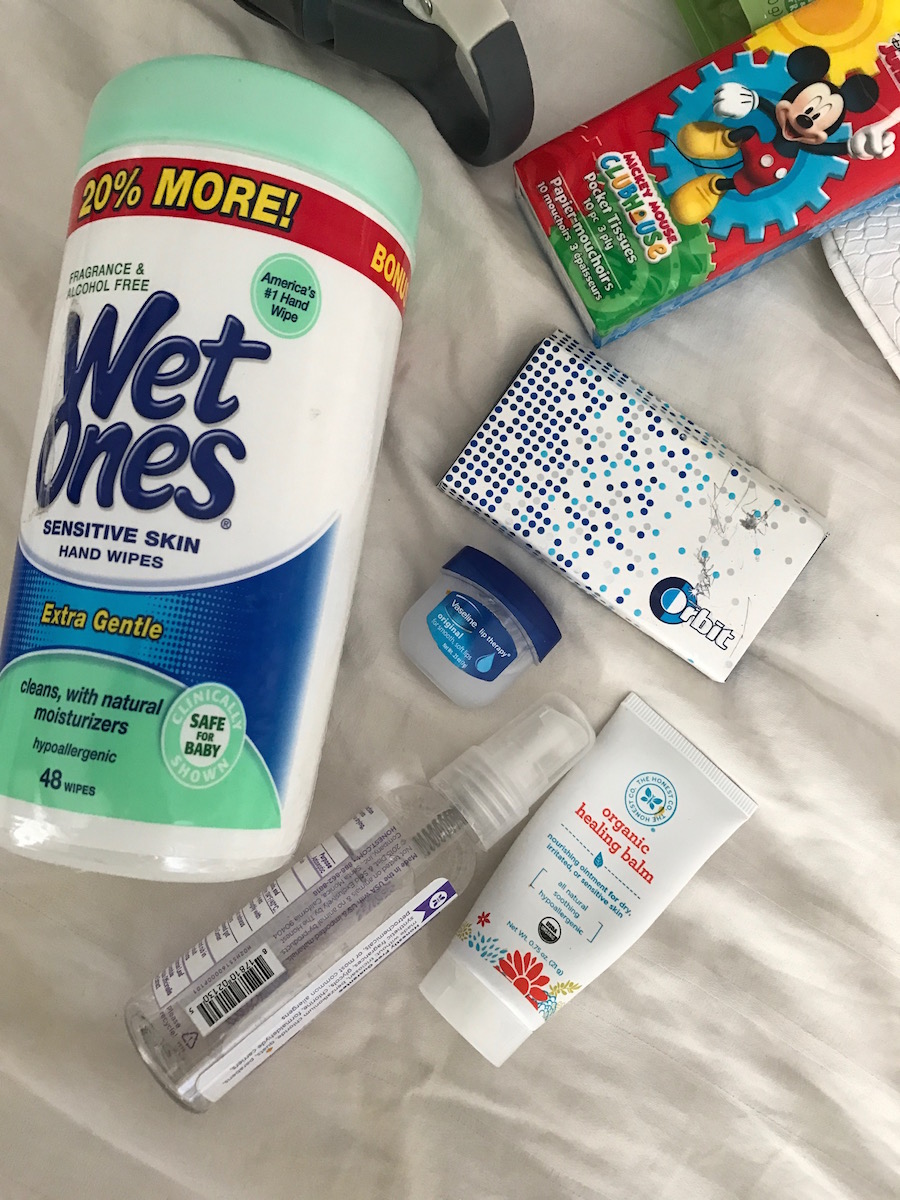 Dollar Store Items: Glow Sticks, Tissues, Cups, poncho, and whatever else you wanted to bring.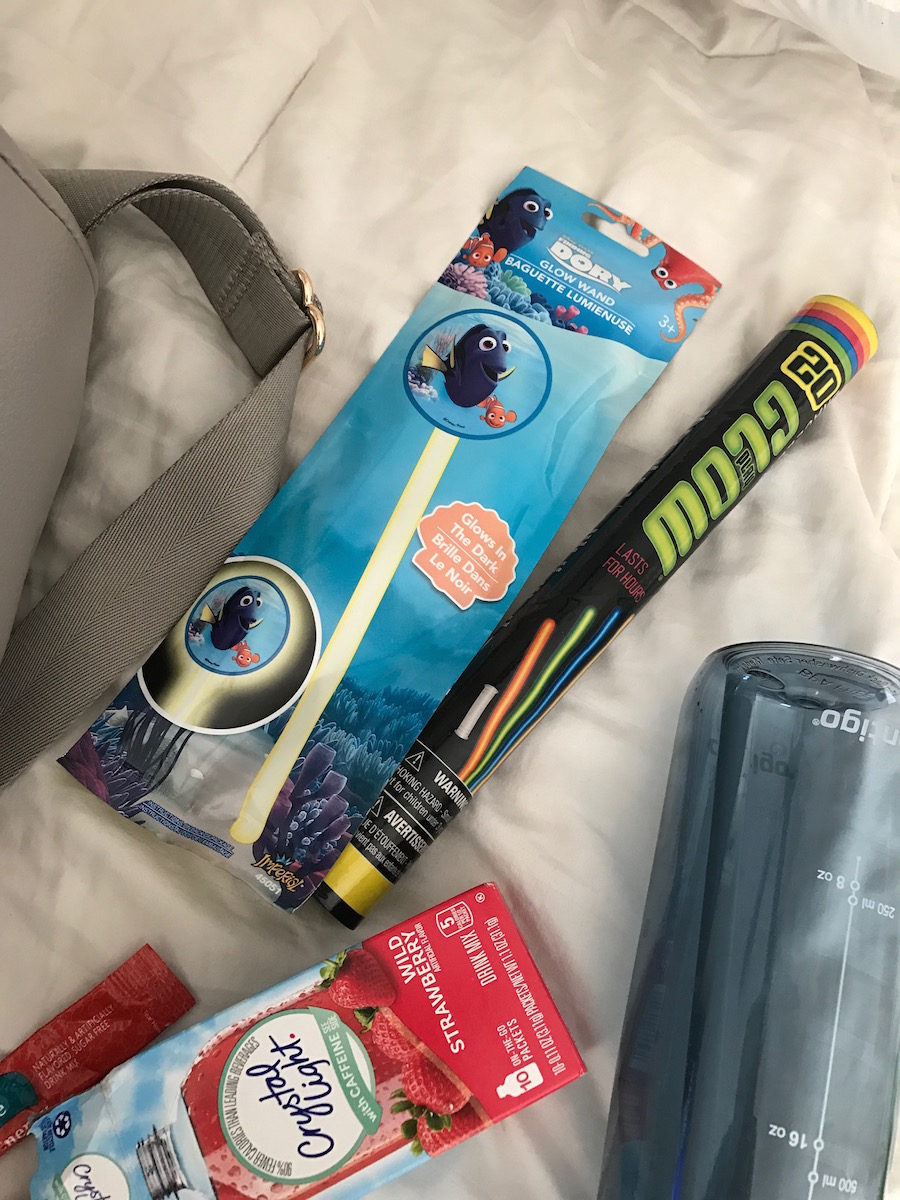 ---
I don't wear my Fawn Design Bag the whole time. I usually put it on my stroller and get it out as I need it. But I do carry a small purse cross body bag with me at all times. This is my golden weapon. I have made a personal little list of what I keep in here. It sounds a little silly but I use all of these item every single time. 
SMALL PERSONAL BAG
Cash + Credit Card
Fast Passes
Flossers (your teeth get gross after 10+ hours)
Red Lipstick
MAC Powder
Small Perfume (You start to stink)
Mini Brush
Hair Ties & Bobby Pins
Crystal Light Energy Packet (my emergency one, back up)
Chapstick
Hand Sanitizer
Small Tissues
Phone + Portable Phone Charger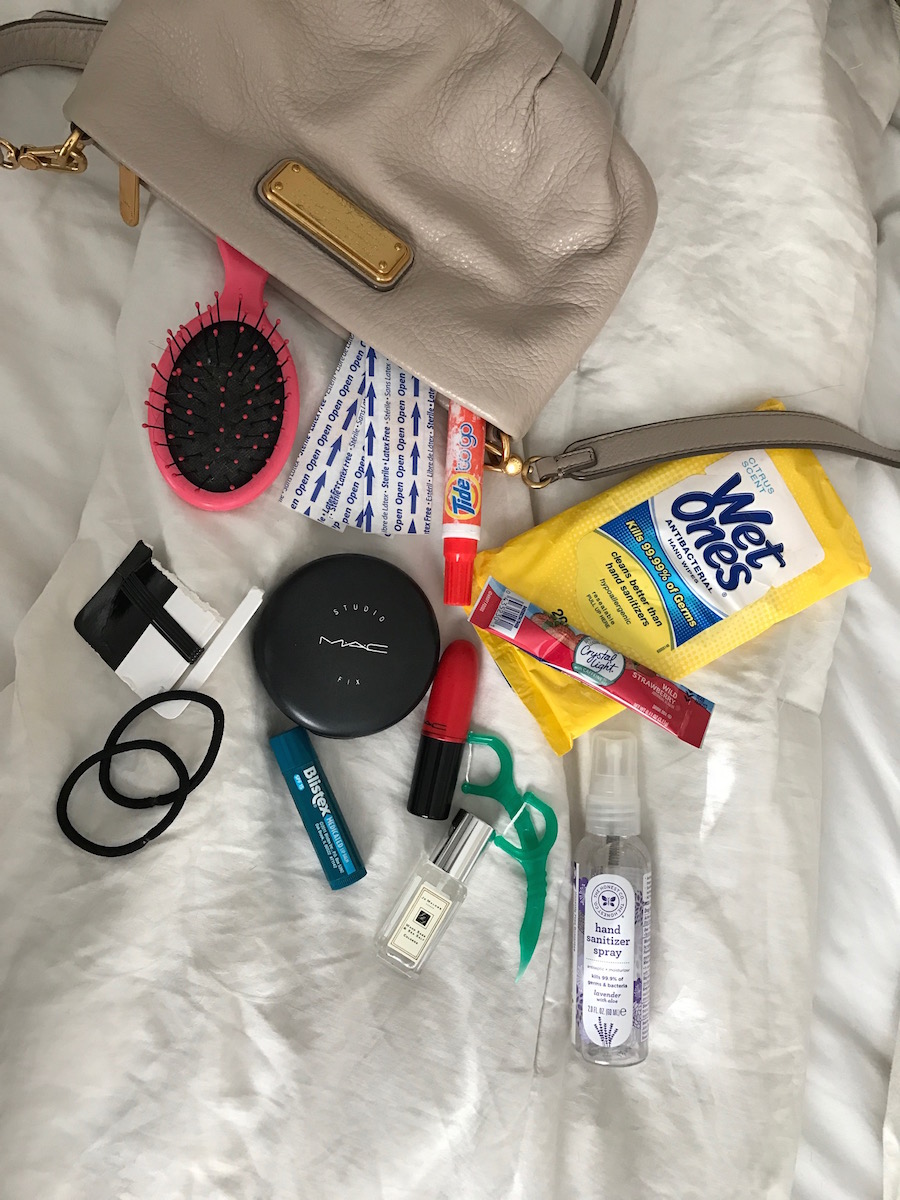 I hope this post helps you guys plan what you want to bring into the park. I know hearing what other people pack gives us suggestions of things we might not thought of so with that said I would love to hear of any suggestions you might have! Thanks for all your love and don't forget to check out the last 2 days post here! Monday: 8 Best Place to Buy Disney Apparel + Tuesday: 13 Dollar Store finds for Disney!