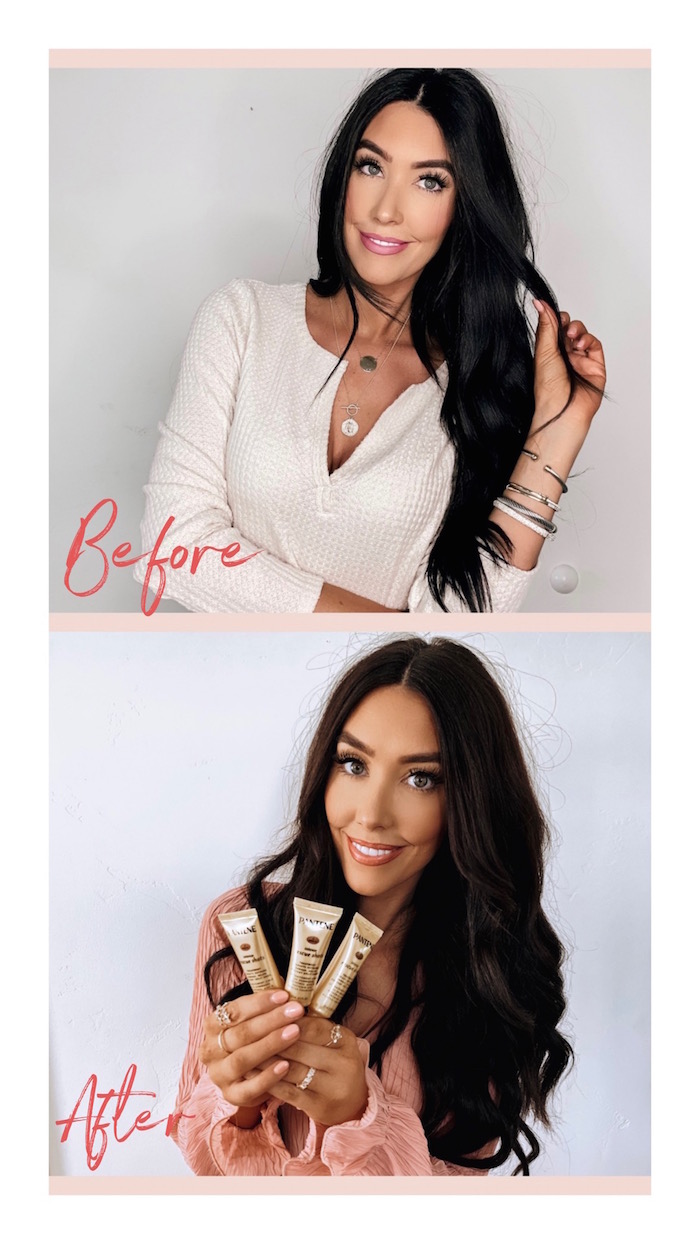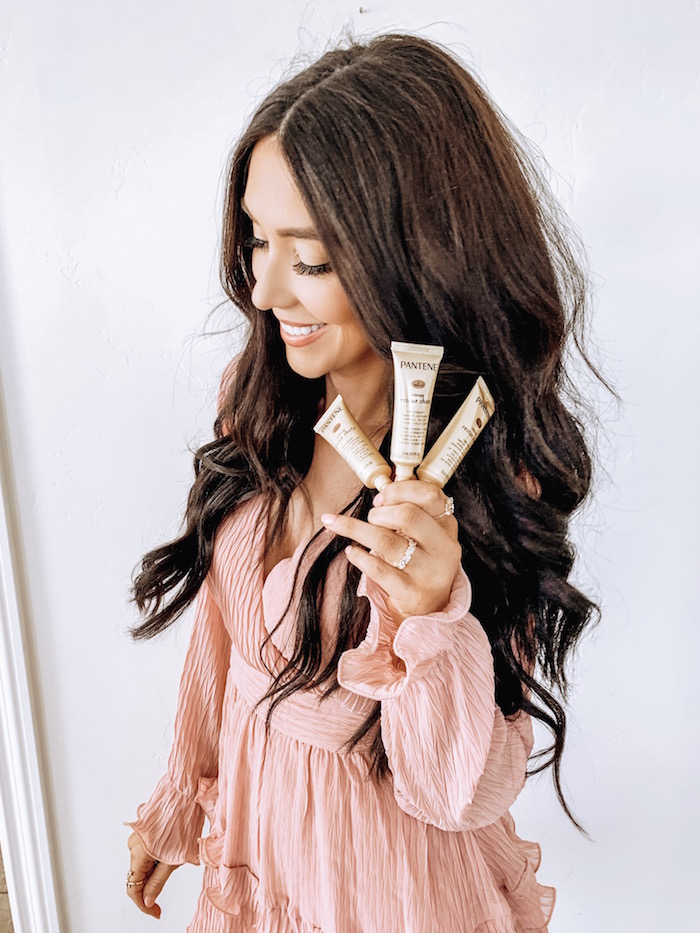 How to fix Damaged Hair in 1 Minute
with Pantene Pro-V
I'm so grateful to team up with Pantene for this blog post. Although this post has been sponsored, all opinions are my own.
You guys know I absolutely love all things haircare but what I love even more is easy haircare! It's no secret that I have been a loyalist for years now to Pantene. When it comes to my shampoo and conditioner their Sheer Volume is my absolute favorite. I'm talking more about that here if you gals are interested. Recently, I've been using their Intense Rescue Shots that provide deep conditioning and keep my hair looking shinier than ever, it has repaired damaged strands, and has made my hair so incredibly soft!
We practically lived at the pool this summer! Though we all loved it so much, my hair definitely paid the price! Between the baking sun changing my color, the drying of the chlorine, and not to mention curling it over and over again – it's safe to say my hair was in dire need of some TLC. That's when the Intense Rescue Shots came into play. Pantene challenged me to use this product after I spend my days in the sun and they have been such a game changer when it comes to my locks! My hair is noticeably shinier, so soft and silky, and feels so healthy – not brittle! I've been having the best hair days ever since I've been using it! I'm constantly getting compliments about how healthy it looks! Considering I'm constantly torturing my hair between styling it and the outdoor heat, the Intense Rescue Shots have been the perfect answer to more GREAT hair days! I can feel how much I'm damaging it each time I blow dry it, or re-curl it, or even worse re-curl it with hairspray on top and hear the singe (I know you guys know what I'm talking about). I get such peace of mind knowing I can mend my severely damaged hair by simply using the Intense Rescue Shots in place of my conditioner once a week! Not only are the Intense Rescue Shots perfect for hair that has been overexposed to the heat, it is also an amazing product for color-treated hair! If you have been coloring your hair or highlighting it, chances are you hair is in need of some real TLC too…and the Intense Rescue Shots are just your answer!
THE HOW TO:
I only wash my hair once a week and I have been using the Intense Rescue Shots in place of my conditioner! Since I only wash my hair one time throughout the week it makes it super easy to integrate this treatment since they are directed for weekly use! So let me share with you my easy regimen that I know will help you guys out too! I first wash my hair with the Pantene Pro V Sheer Volume Shampoo (as I mentioned, it's my favorite ever) I then rinse that out thoroughly and follow up with the Intense Rescue Shots. Do not worry about overdosing on the product because each ampoule is meant for one use, so have at it! Start by applying the product from root to tip, focusing on the parts of your hair that are most damaged. Mine would be my ends. Now here is the kicker, only leave it in for 30 seconds! Then rinse out for 30 seconds! Do not leave it in any longer to avoid weighed-down hair! This is something I just love about the product because unlike other hair treatments, it provides a much deeper conditioning without leaving it in forever and weighing it down.
I'm sharing a photo of my before and after below. We were headed to LA for the weekend and I snapped a photo right before I hopped in the shower and used the Intense Rescue Shots  so I could have fresh hair for the trip! The second photo is after I styled my hair after using the treatment and I love how you can see the shine in the photo, the dimension of my hair, and the health! The first picture it falls so flat, zero shine, and looks so brittle!
All in all, this is a product you will not find me without. It has helped my hair game so much. I feel confident when it comes to my hair and look keeping it at it's best. If you're interested in trying this product for yourself and transforming your hair, it's available at Walmart. Show me your before and after shots by using the hashtag #PanteneToTheRescue!