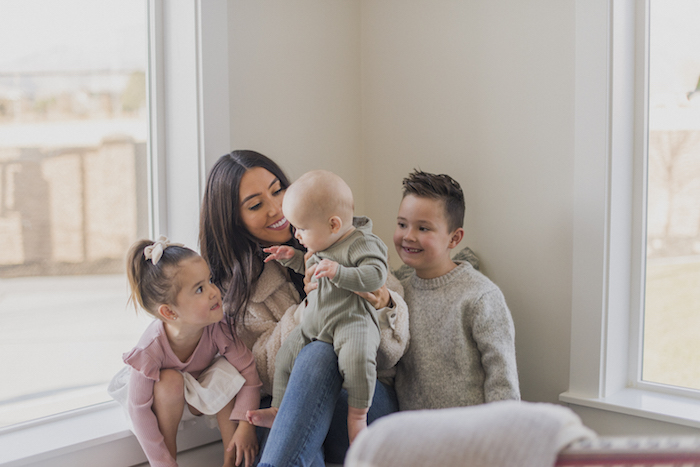 I  don't even know what to say about this crazy time we are going through right now. I'm so grateful to have my family under our roof right now and trying my best to keep our germs at bay! If you want to know more about keeping germs at bay read this post. As crazy as it might seem to abruptly have school called off for the next couple weeks it is for the best of everyone! We need this time to simmer down, be grateful for our loved ones, and make the most out of this time.
I  has many of you ask for ideas of things to do with the kids and things at home. Right now we are going to start a little "homeschool" nothing super formal but a decent schedule and playtime. I'm listing a bunch of ideas below for things to do with our sweet little ones. Remember this time is a gift. Our kids will remember this in history – it's up to us to keep it bright + light!
I  saw this schedule floating around and thought it was great to share.
Here are some Instagram's I  LOVE to follow for little kids. Great ideas that you can make your own.
Here is a list of Educational TV Shows my Kids LOVE on NetFlix:
Magic School Bus
Magic School Bus Rides Again (They have an episode about germs my kids love)
StoryBots – My kids LOVE this one. It's funny and really great for kids to learn about normal questions they have.
The Blue Planet – Mason loves this. Talks about the Earth a ton and amazing pictures!
The Brain Child – Great to answer kids questions. Very interesting.
Emotion – Talks about kids emotion and understand others
Dream Big – Mason LOVES this! Shows how things work + building!
You could easily do a fun lesson around one of these shows and then show it after the lesson. My kids LOVE that!
List of items to get from Amazon to help with kids:
Here are some games + fun activities we have around our house that we love and go to over and over again.  Our absolute favorite has been Perfection + SpotIt.

Things my kids love to do:
Make Playdoh
Scavenger Hunt
Trace + Shade Leafs
Finger Paint
Paint Rocks
Play Store
Play Bank
Go on Walks
Have a Tea Party
Movie Night w/Fort
Make Chocolate Chip Cookies (my famous recipe is here)
Make up a dance routine
Make up a handshake (they love this right now)
Play Library
Play Keepy Uppy with Balloons
Have a spa party
Exercise together
This is googledoc has a list of Virtual Field Trips:
Virtual Museum Tours
This website has a list of 12 Famous Museums that offer Virtual Tours you can enjoy with your family.
Also I 'm Listing a ton of Education Companies Offering Free Subscriptions for Kids Learning: