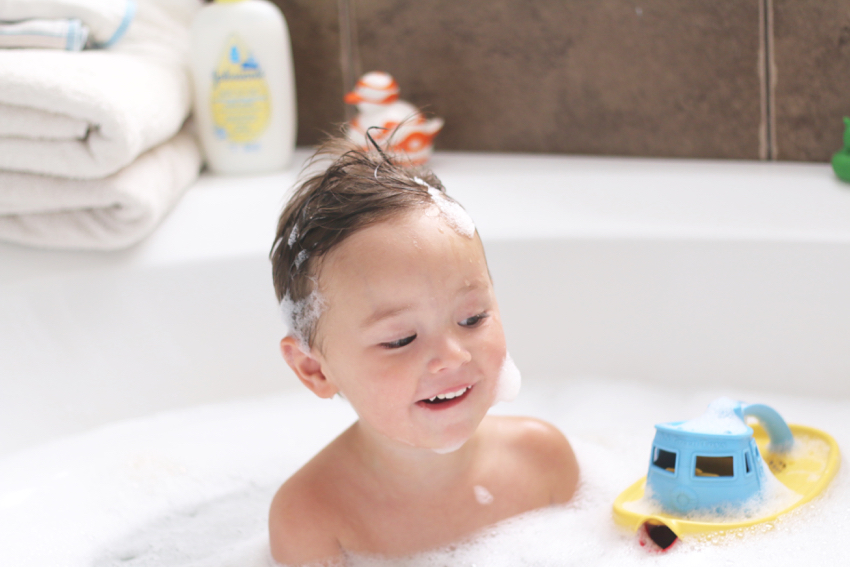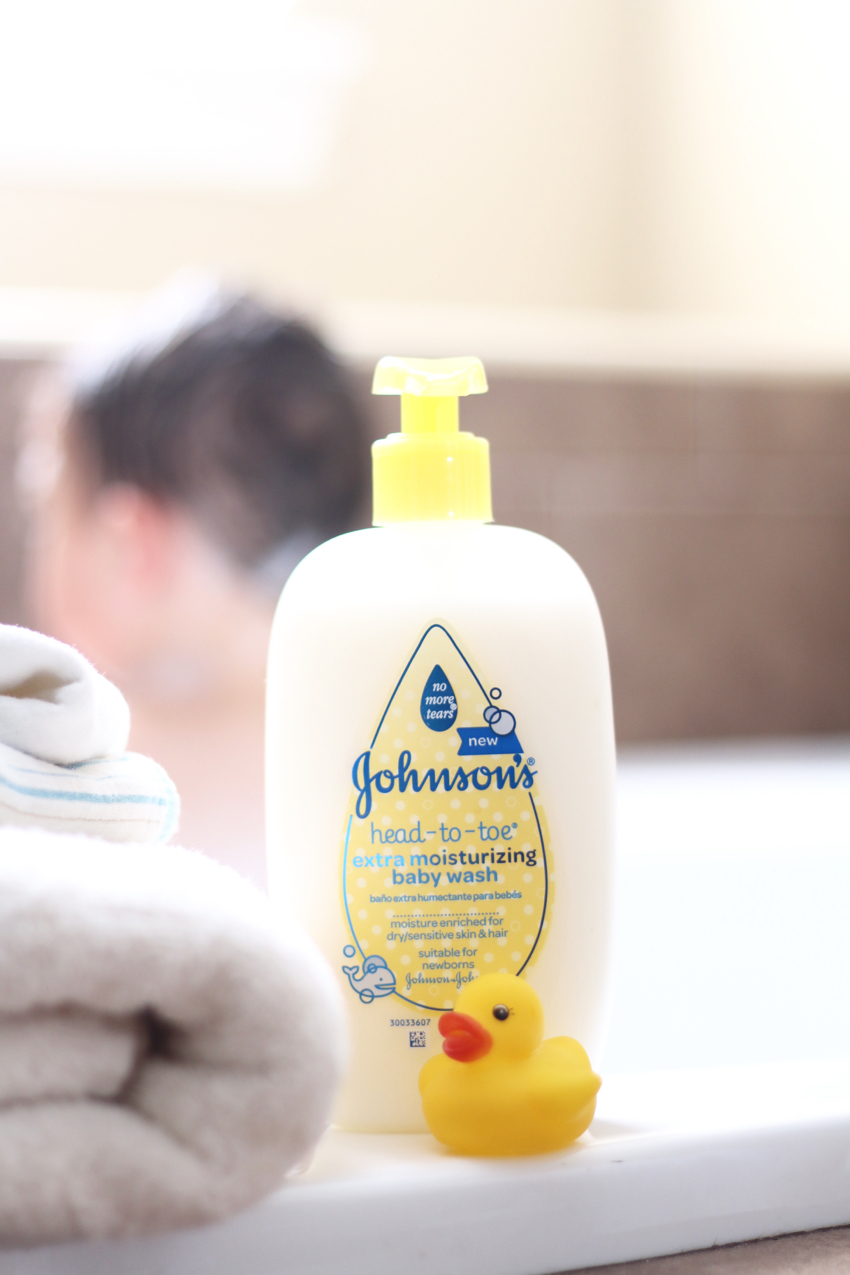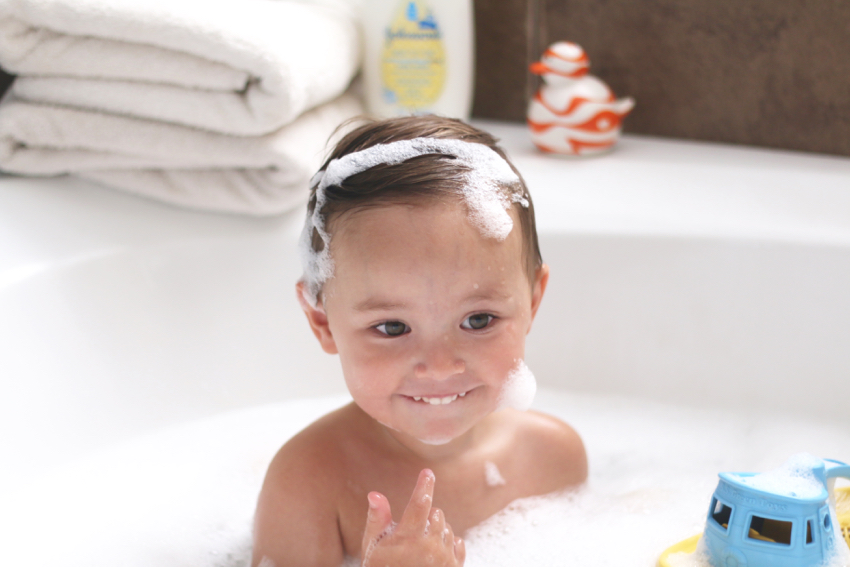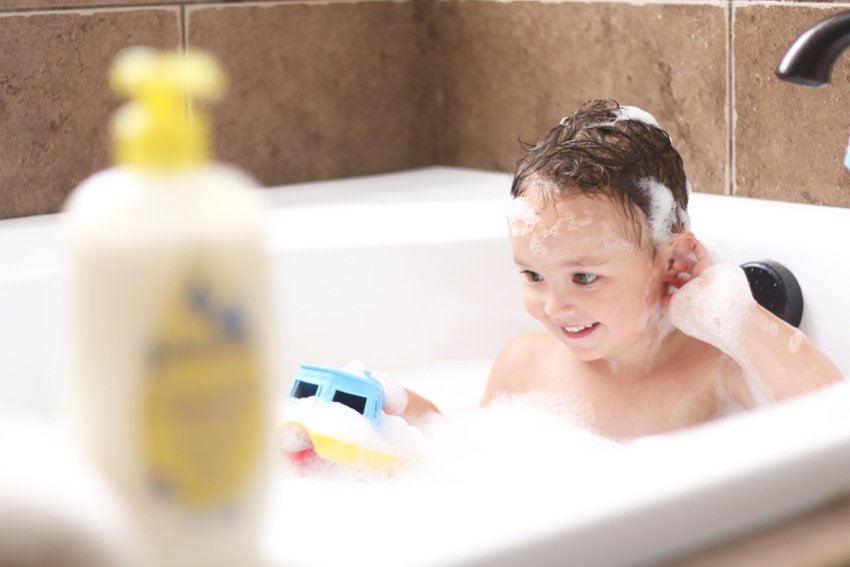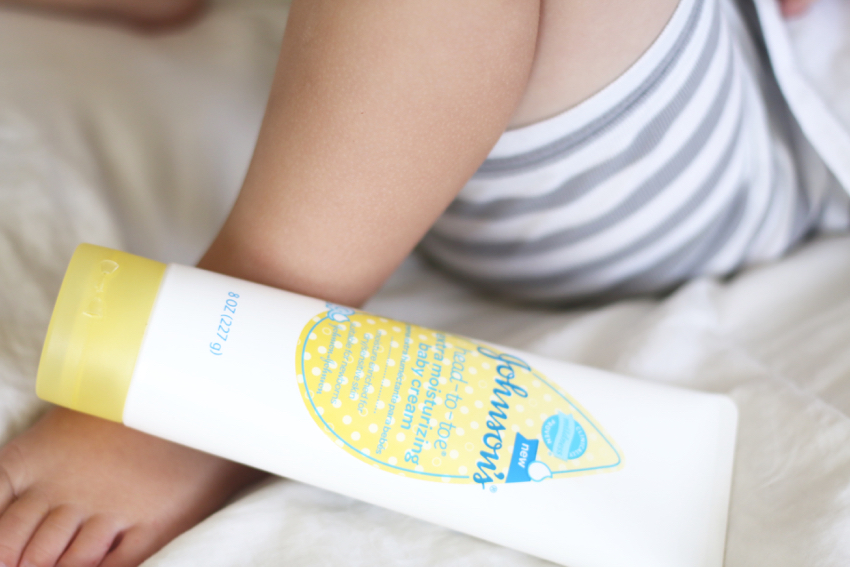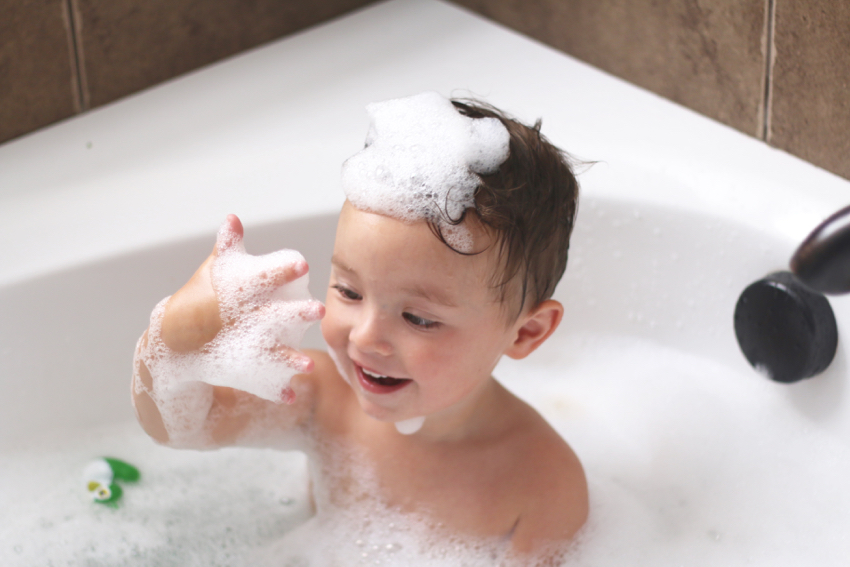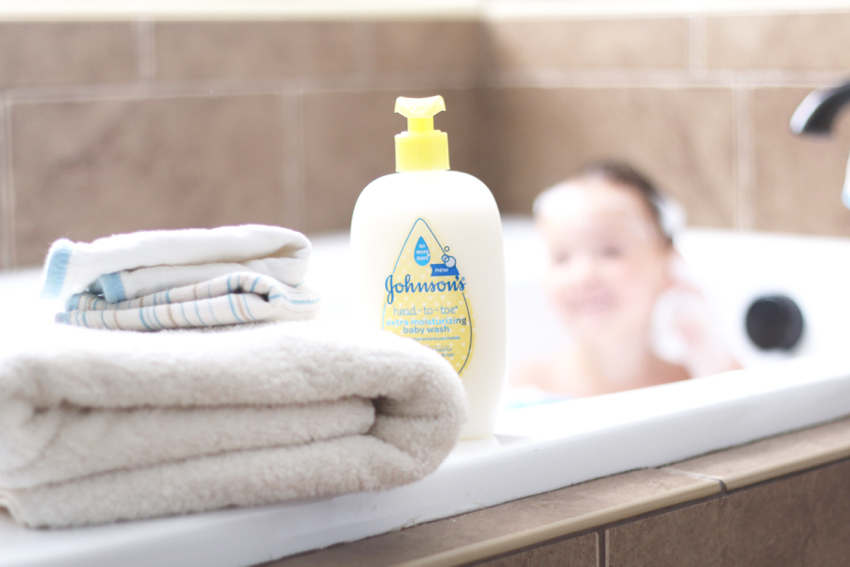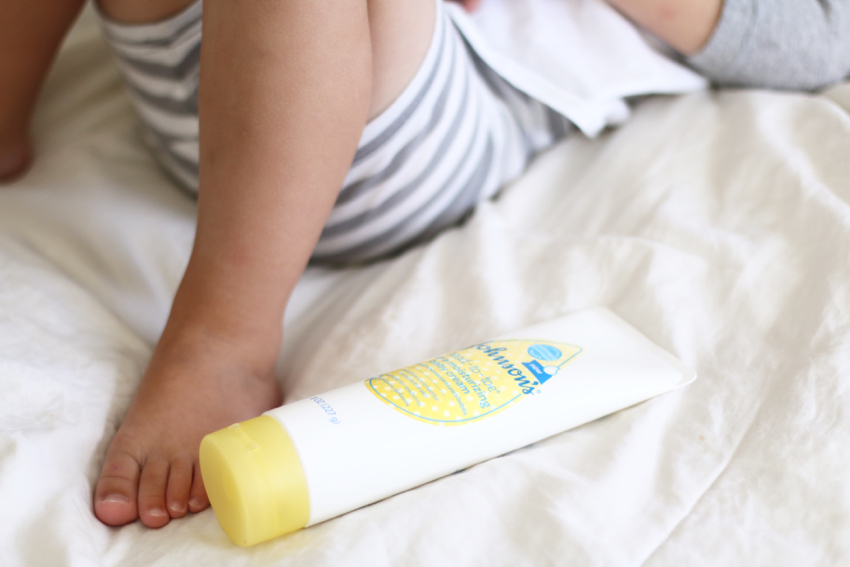 We are obsessed with the summer sun around these neck of the woods! There are few and far days in-between of us being at the pool, outside, or playing at the beach! Nothing makes Mason happier than to be outside and running around! I love living in Utah especially over the summer months. I grew up in Vegas so I am use to the hot & dry climate. I would take dry over humidity any day. I have lots of thick, curly hair so I'm sure you can imagine the nightmare the humidity makes. With all that said Mason has the driest skin! It breaks my heart to see him itch and get so many dry patches. I'm constantly lathering lotion on him and on the look out for new products! I have linked a video at the end of the post about Bath Time for Sensitive Skin so make sure not to miss it if you have the same problem in your family!
We started using Johnson's® Head-to-Toe® Extra Moisturizing Baby Wash and we are raving fans! For years, hospitals around the world have trusted Johnson's® Head-to-Toe® Baby Wash for baby's first bath. Now, Johnson's® is introducing the complementary Johnson's® Head-to-Toe® Baby Lotio­­n, which is perfectly pH-balanced and infused with vitamin E and baby oil for baby's tender skin. This line is perfect for my little boy! He has such sensitive Johnson's® Head-to-Toe we have seen a world of difference! 
Our favorite products are the Johnson's® Head-to-Toe® Extra Moisturizing Baby Wash & the Johnson's® Head-to-Toe® Extra Moisturizing Baby Cream. We love the wash because it is so creamy and I don't have to worry about it drying out his skin like so many other soaps do. He can enjoy his bath without itching the whole time. Right after the bath I quickly follow up the the Baby Cream! I love the consistency of this cream and the moister it gives! It's a thicker cream that rubs into the skin easily! I have noticed a huge difference in Mason's skin since we started using it and he never complains about it being sticky! 
Bath time is one of my favorite times of the day! I love the laughs we share together and getting to review how the day went. I think there is something so special about a quality nighttime routine to get you refreshed for the day and ready to relax. I'm the kind of mom who has to set out the PJ's, towels, creams, and toothbrush out before the bath so everything can run as smooth as possible because I've learned that being prepared is the best thing you can do for the unknown behavior of kids. Knowing that all my ducks are in a line helps me to feel relax and spending some extra bubble time with Mase. I have complied a list of Summer Skin Tips I use for our family. These tips help Mason have a the healtiest skin possible and helps this mommy be prepared.
---
TIPS
1.) Lotion as soon you leave the pool/beach even if you are going to take a bath at home
2. ) Use a moisturizing body wash such as Johnson's® Head-to-Toe® Extra Moisturizing Baby Wash
3. ) Within 2 minutes of your little one getting out of the bath apply a moisturizer (the pores are still open and it penetrates deeper) We use Johnson's® Head-to-Toe® Extra Moisturizing Baby Cream
4. ) Before the bath beings have everything you need for the night ready. Example, PJ's, Creams, Toothbrush
5. ) Stick to a similar schedule each night. Kids thrive of schedules and like to know what to expect.
---
You can check out more about JOHNSON'S® Baby® here: 
Social Channels: Facebook, Instagram, and Twitter